This article first appeared in City & Country, The Edge Malaysia Weekly, on December 21, 2020 - December 27, 2020.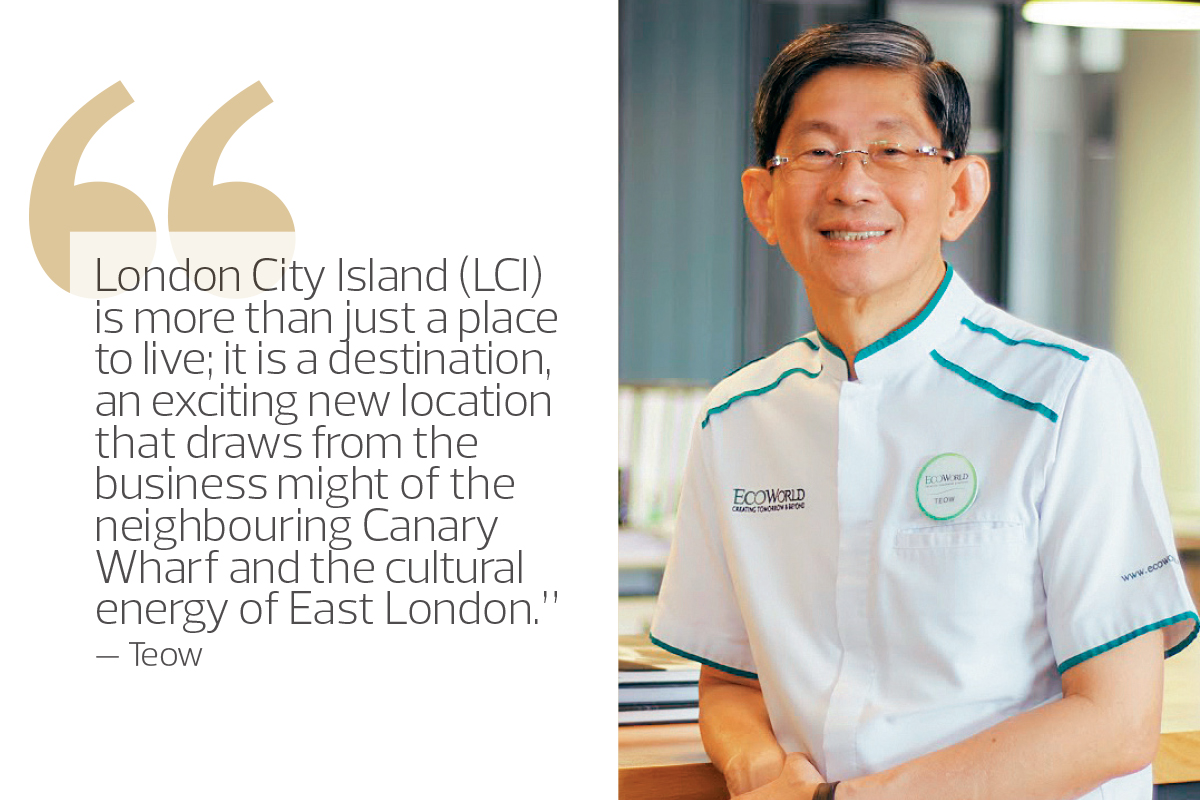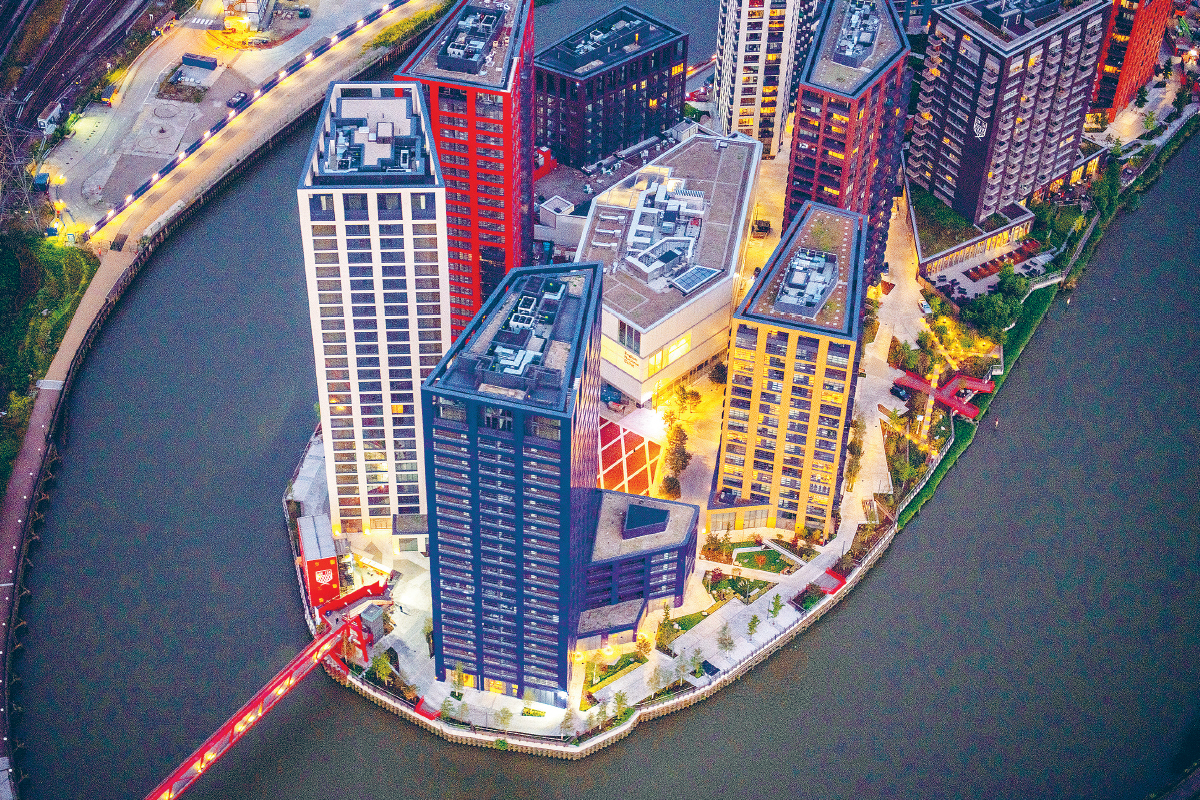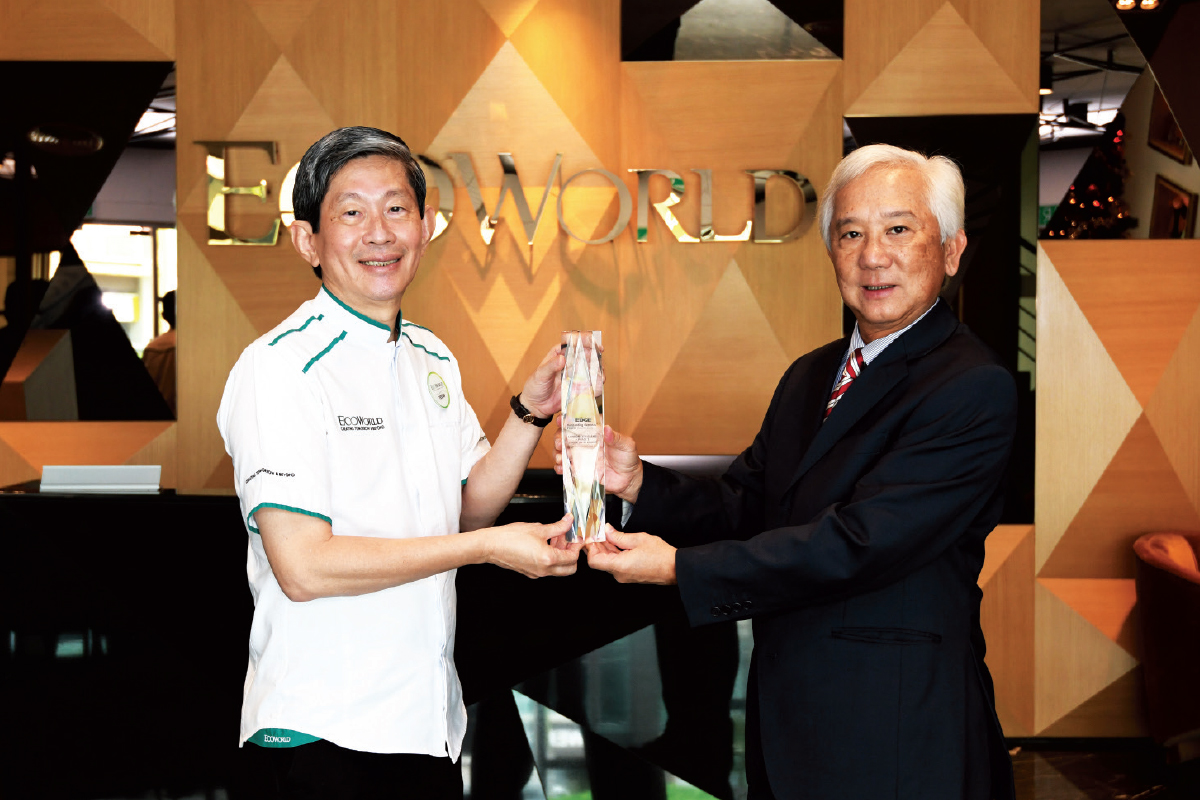 Teow receiving the award from The Edge Media Group publisher and group CEO Datuk Ho Kay Tat
Joint Winner | London City Island – Phase 2 | Eco World International Bhd
The vision was to position London City Island (LCI) as an arts and cultural destination and make its mark on London. Five years after its launch, Eco World International Bhd ­(EcoWorld International) has achieved more than what it set out to do.
The 12-acre LCI in East London is almost ­fully completed, with the final component of seven townhouses nearing its scheduled completion. And EcoWorld International now has 18 ongoing and upcoming projects in the UK and Australia with a gross development value (GDV) of £4.8 billion (RM26 billion) and A$716 million (RM2.17 billion) respectively.
LCI Phase 2 is one of the recipients of The Edge Malaysia Outstanding Overseas Project Award 2020. The award recognises overseas property developments that showcase not just the daring but also the capability and tenacity of Malaysian developers.
LCI is part of a portfolio of three projects developed in a joint venture with UK-based developer Ballymore Group under Eco World Ballymore Holding Co Ltd. The other two projects are Embassy Gardens in prime Central London and Wardian London in Canary Wharf.
According to president and CEO Datuk Teow Leong Seng, EcoWorld International was drawn by the reputation and track record of Ballymore as a premier London-based developer, and they shared a common ethos in vision and corporate values.
"The partnership was attractive because it gives us access to three very different projects in three different locations. Embassy Gardens is the most expensive, followed by Wardian, [while] LCI is the most affordable.
"LCI is on an island and is strategically located. It is about three minutes to Canary Wharf on the Jubilee Line and [after] another 15 minutes, you will be in Bond Street," says Teow via Zoom recently.
Situated on a 12-acre island on Leamouth Peninsula, East London, the mixed-use regeneration development's master plan comprises two phases that offer over 1,700 homes as well as restaurants, shops, office space and creative hubs. LCI was master-planned by Skidmore, Owings & Merrill and designed by Glenn Howells Architects.
"The whole of LCI is master-planned as one, with six residential blocks in Phase 2 encircling Hopewell Square, where the English National Ballet is located. Life revolves around the cultural offerings on the island," says Teow.
With a GDV of £691 million, Phase 2 has been well-received by local and international buyers, with a take-up rate of 91% as at Oct 31, 2020. The units were sold at RM1.67 million to RM7.41 million.
"Unit sizes range from 398 to 4,342 sq ft, with options of studios, 1-, 2- and 3-bedders all the way to penthouses and 4-bedroom townhouses. [There is] something for everyone at various price points, which are relatively affordable by London standards," says Teow.
EcoWorld International has seen sustained interest in its London projects from both local and foreign purchasers. "Buying interest was sparked by the stamp duty holiday, which exempts the first £500,000 of the purchase price from stamp duty levy. Pent-up demand for housing from local owner-occupiers and the city's desirability as the world's top real estate investment destination also continued to drive property transactions in London," says Teow.
EcoWorld International recorded £67 million in sales in London in 3Q2020 and a further £19 million in sales in August, bringing its year-to-date sales to £198 million. Including Australia, the developer's total sales as at Aug 21, 2020 have exceeded RM1 billion, which is 40% higher than the sales recorded in the same period of FY2019.
An integrated artistic hub
According to Teow, the architecture of LCI was inspired by the area's maritime history, which can be seen in the trademark seafaring red tiles throughout the island. It was also inspired by the waterfront skyline of Manhattan and Chicago. The bold use of primary colours and a similar sense of jagged geometry to brighten the skyline has transformed the site from a former margarine factory into a mini Manhattan.
"First and foremost, East London is where the historic Docklands is located, and there are a lot of regeneration activities going on. The government is investing a lot in the infrastructure to improve connectivity. It is also an important arts, cultural and creative hub. So, when we looked at the location of the project, we knew it could become an arts and cultural destination," says Teow.
The guiding principle for LCI, shares Teow, was the creation of an integrated artistic hub that complements the regenerative achievements of the area.
Sitting at the heart of LCI is Hopewell Square, the new home to the English National Ballet, which was officially opened in September 2019. The five-storey 93,000 sq ft performance space includes eight large studio spaces and public spaces on the ground floor to encourage engagement with the local community.
"LCI's cultural hub status has been further cemented by the arrival of Arebyte Gallery and creative workspaces, Trinity Art Gallery and The Woods Studios. Other partnerships include London Film School, which is relocating in 2021, and a collaboration with The Line — London's first dedicated modern and contemporary art walk running through the island," says Teow.
He notes that East London is now home to the city's digital and technological businesses, from start-ups to global companies. "As a result of this influx of modern business, it is now an incredibly trendy part of the city, just like Shoreditch and Dalston. We wanted to ride East London's growing popularity and bring life to the area," says Teow.
"With the English National Ballet and London Film School, we have created a sense of place and purpose. LCI is now home to a large number of creatives such as filmmakers, ceramicists, photographers and animators."
Connectivity is the key
Building LCI was not without its challenges, chief among which was its geography as "island-like", where tight construction space and vehicular access made it difficult for logistics management.
"To overcome these challenges, we made a decision early on to use the Hurks precast system of construction. It addresses some of these challenges by alleviating site congestion issues, allowing a faster construction timeframe, achieving better consistency in quality and mitigating workmanship issues," says Teow.
The developer believed connectivity was the key to unlocking the real value of the site, so it built a dedicated pedestrian bridge — the Red Bridge — over River Lea to the Canning Town tube station on the Jubilee Line and the Docklands Light Railway.
"The 260ft Red Bridge is now a striking feature on LCI. The bridge enables residents and the surrounding communities to move on and off the island with ease, making it easy for non-residents to utilise the new high-quality amenities and ultimately adding vibrancy to life on the island," says Teow.
"The river authority also required this bridge to be able to be raised to allow taller river craft to pass. The solution was to build the bridge supported on telescopic hydraulic supports," says Teow.
LCI is easily one of the best-connected sites in London, with fast access to Canary Wharf, West End and the City and within seven minutes to London City Airport.
According to Teow, Crossrail at the nearby Canary Wharf will improve connectivity further by providing access to Bond Street in 13 minutes and Heathrow Airport in less than 40 minutes.
"We are happy to note that despite the hurdles we faced such as Brexit, the Covid-19 pandemic and economic challenges, we have nearly completed LCI," says Teow.
He believes what truly makes LCI a great success is the community of people who call this island home. "LCI is teeming with life, with an amazing array of things going on all the time," he says.
LCI is the perfect example of placemaking at its finest. It is more than just a place to live; it is a destination, an exciting new location that draws from the business might of the neighbouring Canary Wharf and the cultural energy of East London," concludes Teow.