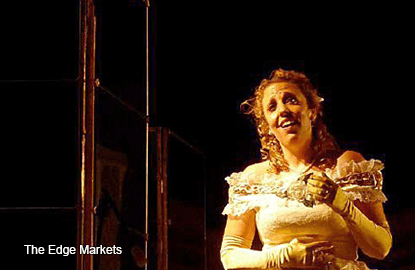 We don't get a lot of traditional, Western-style operas in Malaysia very much, and for good reason — they are incredibly elaborate affairs, right down from the ornate sets, lavish costumes and full orchestras. Properly produced operas are an endeavour we don't have the space, the resources or the audience to support, and it is what stopped Dama Orchestra co-founder Khor Seng Chew from indulging in his long-standing love for this genre of  the arts, or bringing one to Malaysia.
He considered the idea of staging an abridged version for years, but wasn't sure how the end product would look like. Inspiration came in the form of shortened versions of full operas that he saw in London recently. "They were shorter and less elaborate, yet lost nothing in terms of the integrity of the production. I still got to enjoy the essence of the opera, and it was just as enjoyable right from the music to the storyline," Khor said. "So, that's why I decided to do something similar here." 
And that is how Malaysian audiences will get to see a locally produced version of Italian opera La Traviata, Giuseppe Verdi's tragic tale of a Parisian courtesan who sacrifices all for love. Dama's inaugural production of a reduced-cast opera work, it will be presented wholly in Italian, complete with integrated stage direction, costumes, lighting design and surtitles in Mandarin and English.
For Dama's first attempt at this abridged opera, Khor opted for a well-loved production that wouldn't be altogether foreign for local listeners. "The music of La Traviata is breathtakingly beautiful and the storyline is not a difficult one — actually, it incorporates so many elements that are common even today, so it won't be something too difficult for audiences to appreciate," he said.
Khor, along with Dama's other co-founder Pun Kai Loon, relied on their extensive network of contacts to cast their version of La Traviata. An open online audition drew entries from all over the world, from opera singers who were enthralled with the idea of a reduced-cast and length version of this opera. The final cast of three was eventually confirmed with Spanish soprano Sonia Rodriguez Bermejo in the main role of Violetta Valéry, while the roles of Giorgio Germont and his son Aldredo are being played by South Korean stars Jidan Kim and Hara Jeon, respectively. 
From its original length of approximately 160 minutes, this local production runs at a modest 75 minutes. After Khor picked out the most moving and powerful pieces of music in the opera, Pun — the production's director — stepped in to write an English narration that would help piece the whole story together. The text is drafted with input from Kuala Lumpur Shakespeare Players founder Lim Kien Lee, who will be the show's narrator as well. 
"Because I'm not an opera fan, I had to do a lot of reading and research in order to understand the subtexts of the play and the messages in each of the songs," Pun added. "The additional challenge is that opera performers tend to focus on the singing, with the effort almost purely concentrated on the top half of their bodies. In our production, we want to get the actors to be more spontaneous, interact more with each other and the audience, and pay more attention to their acting."
The cast, who will meet for the first time when they arrive in Kuala Lumpur for final rehearsals, have been more than excited about this unconventional approach to operatic theatre. "We have to find a balance between their existing skill and the slightly different direction that we are taking," Khor said. "They are very keen to explore this new idea, as well as work with audiences in this part of the world which they have never done before."
While it looks like Khor and Pun have thought everything through, they take great pains to point out that this version of La Traviata is an experiment on their part. "Our objective is to enhance the appreciation and understanding of operas, and make them more accessible," Khor said. "It is very understandable for people to be intimidated by the thought of watching an opera, and our goal is to take the complication out of it. The end goal is to develop a following that will grow with this experiment of ours, creating a new audience for opera."
---
Catch La Traviata from Friday to Aug 16 (9pm) at the Theatre Lounge Café, Plaza Damas 3, Desa Sri Hartamas, Kuala Lumpur. Cover charge is RM100 (standard seat) and RM167 (sofa seat). Call (03) 6730 7982 to book.
This article first appeared in Digital Edge Daily, on August 3, 2015.