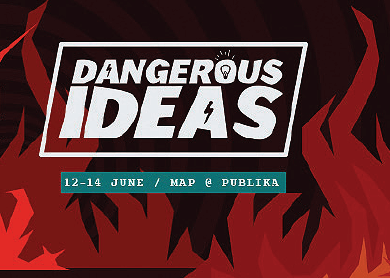 Third Cooler Lumpur Festival aims to take the conversation over the edge
THE foremost and only festival of ideas in Southeast Asia, The Cooler Lumpur Festival 2015, returns for the third time, and it is more "dangerous" than it has ever been. 
It's also all about ideas. Curated by creative media agency PopDigital in partnership with the British Council Malaysia, Embassy of the United States and BMW Malaysia, the theme this year is Dangerous Ideas, and the focus is on unearthing and exploring "how ideas shape our behaviour, environment and societies", said Hardesh Singh, the festival's executive director. 
After a debut theme of #WORD in 2013 exploring the written and spoken words, the multidisciplinary festival followed up with #FAST the year after, which promoted the sharing and engaging of new ideas as a driving force for fast-forwarding development. 
Over 5, 000 attendees took part, featuring contributions from artists, musicians, writers and thinkers that included Man Asian Literary Prize winner Miguel Syjuco, Man Booker-nominated writer Adam Foulds and 2013 Stonewall Awards Writer of the Year winner Damian Barr. 
The theme for this year's edition — which runs from June 12 to 14 — pushes the envelope further on the premise that "great ideas are the root of all human progress" and "dangerous ideas change the world".  
"Malaysians are on the verge of a conversation," observes programme director Umapagan Ampikaipakan. "We're not there yet, but interestingly we have found, even last year, that every time I looked out into an audience during question and answer time, when people are talking … I can see people almost throwing their hands up and on the verge of wanting to contribute to the conversation. I think it's our job to tip them over the edge." 
Nevertheless, the organisers insist they are not interested in inciting any revolt or rebellion. "It is really about us creating a platform for Malaysians to come together to talk about the issues we think should be talked about," said Hardesh, joking that he hopes he will be able to go home on the 15th after the festival and sleep soundly without any problems. 
"The inspiration for 'Dangerous Ideas' is simply that in order to move forward as people, as a community, as a country, we need to start talking about ideas," he continued. "Granted, with what's going on in our country, regardless of which side you take or which side you sit on, the most important thing is to create space for people to come and debate and discuss, whether you agree or disagree." 
The Cooler Lumpur Festival will kick off on Friday with the third instalment of the highly successful Poskod Journalism Campus, which targets journalists and editors and brings them together to exchange, learn and network within the media industry. 
This will be followed by some entertainment in the evening, including a special first time-ever live showcase of The Wknd Sessions, featuring some of Malaysia's independent musicians, as well as Time Out KL's Sick & Twisted Comedy Night. 
From award-winning novelists, poets and writers to journalists, lecturers, comic artists, social activists and philosophers, over 20 speakers and  guests from America, Britain, Germany, India, Singapore and Malaysia will host talks, workshops and discussions throughout the festival. 
Promising a programme without mediocre "filler" events, Umapagan quipped: "People will be cursing us because they won't be able to go for all of it. It's that good." 
As for expectations and goals, Hardesh said their driving force is just to contribute by creating that space for something that can only happen organically. He summarised: "To change, whether it is for good or for bad, means we don't always have control and we will have to face some dangerous options. A space for us to talk about ideas can seem dangerous, but the options and insights derived from talking about ideas can cause us to pause and think a little bit more before we take the next step." 
---
The Cooler Lumpur Festival: DANGEROUS IDEAS will be held in various locations throughout Publika, Solaris Dutamas. For full programme schedule and more information, visit www.coolerlumpur.com. Except for selected workshops, entry is free of charge with activities for participants of all ages.
Dangerous Ideas: What not to miss at the festival
June 12 (Friday)
 
POSKOD Journalism Campus
Too Fast, Too Furious? 
The Pace of Journalism Today
2pm to 3pm @ Black Box
Featuring upcoming satirical news portal Cilisos.my editor-in-chief Chak Onn Lau, Malay Mail Online executive editor Leslie Lau and American GQ magazine culture writer Lindy West (pic) as panellists, the discussion explores the need for speed in journalism today, and its consequences. 
Writing About the Arts by Kate Bassett Workshop
4.30pm to 6.30pm @ Classroom
Aimed at those who aspire to write about the arts or deepen their skills in critiquing theatre and performing arts. Kate Bassett (The Independent, The Times) will share from her substantial experience on what makes a critic's review stand out from anyone else's opinion. Price: RM35. Tickets can be purchased at http://writing-about-the-arts.peatix.com. 
June 13 (Saturday) 
What Would You Write About If You Weren't Afraid?
10am to 11am @ Black Box
Myanmar's longest-serving political prisoner and writer, Letyar Tun, will be joined by Marina Mahathir and Indian novelist Ira Trivedi (pic) in a conversation about the inner fear that holds us back when it comes to vocalising or penning words that would invite scorn or retribution. They invite writers to consider: What would it be like to write fearlessly? The session will be moderated by Pusaka founder Eddin Khoo. 
Killing Sacred Cows: Comedy in the Age of Offence
3.30pm to 4.30pm @ Hope City Arts Space
The question is: Should nothing be sacred in comedy? Veteran comedian Harith Iskandar leads the discussion on where the line is drawn when it comes to pushing limits for comedy. He will be joined by Lindy West and moderator Ezra Zaid of PopTeeVee. 
Boys and Girls Together: Sex and Sexuality in the 21st Century
4.30pm to 5.30pm @ Black Box
Her book, India in Love: Marriage and Sexuality in the 21st Century became a landmark book on India's new social revolution. Ira Trivedi will address the taboos and things that society as a whole has kept in closets and beneath covers, in light of the 'tidal wave' of social and sexual change around us. How are we adapting our sexual values and relationships in the face of such a revolution? She is joined by Malaysian sexuality-rights advocate Pang Khee Teik and Suri Kempe from Sisters In Islam. 
Have MERCY, Will Aid: A Conversation with Dr Heng Aik Cheng
6pm to 7pm @ Black Box
Vice-president of Mercy Malaysia Dr Heng is an orthopaedic surgeon and traumatologist who has been involved in missions to the Philippines, Iraq, North Korea, Sudan, Pakistan, Myanmar, Yogjakarta, Gaza, Padang and Chile. He also most recently led the first mission team to the earthquake in Nepal. He will be doing a 101 session on aid missions and volunteering. 
EnglishJer Presents: Hundred/Hundred
10am to 10pm @ Boulevard, PUBLIKA
Calling young Malaysians for a writing challenge. Submit a creative writing piece (poems, short story, etc) under a unifying theme. The catch: It must be exactly 100 words. The top 100 will have their work framed and displayed in a special gallery while the top 10 will have their work translated into illustrations. The competition is held both on Saturday and Sunday. 
June 14, Sunday 
Designed to Offend: Are Pictures More Dangerous Than Words?
11.30am to 12.30pm @ Black Box
Malaysian comic artist Zunar, whose works have landed him several sedition charges, will talk about the power of images and whether there is truly potential in cartoons to create a threat to existing order. In light of arrests and mass murder of caricaturists in recent times, the topic is incredibly relevant. 
Star Wars and Shakespeare: A Conversation with Ian Doescher
10m to 11am @ Black Box
Star Wars fans take note! Imagine if William Shakespeare had written the epic space saga. Now you can with Ian Doescher, the author of William Shakespear's Star Wars Trilogy, a parodic retelling of the film series in 16th-century language and style. He may even share from his upcoming prequel series books, The Clone Army Attacketh (July) and The Tragedy of the Sith's Revenge (September).
Where Is the Great Malaysian Movie? A Conversation with Kamil Othman
7pm to 8pm @ Black Box
In a rare no-holds-barred conversation, director-general of the National Film Development Corporation Malaysia, Kamil Othman will preside over an honest reflection of contemporary Malaysian cinema's struggles and often disappointing works, and what can be done to save our local cinema.
This article first appeared in The Edge Financial Daily, on June 8, 2015.