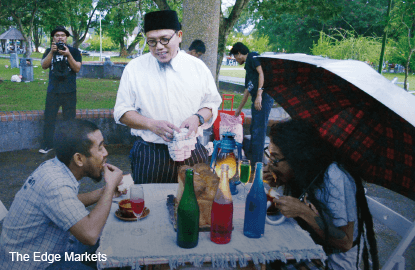 This article first appeared in The Edge Financial Daily, on April 4, 2016.
IN more than his 20 over years of practice, artist Noor Azizan Rahman Paiman — popularly known as Paiman — has never wavered in his obsession with current affairs and ongoings in Malaysia's political and social landscape. Taking on a role of an observer, documenter or as he likes to call it, "backdated reporter", Paiman, 46, eschews direct commentary in his artworks in favour of sardonic humour and satirical caricatures.
His new solo exhibition with Fuman Art Gallery, Inventory, traces the emergence of his distinctive style from its early days in 1997 to the more focused and layered works of his recent years, including experimentation with different mediums. Featuring rarely seen older works from his archive of various collections as well as specially created new works based on performance art, the Perak-based contemporary artist, who also lectures in Universiti Technology Mara, has always aimed for his works to stir the viewer into thinking and rethinking, using his art as a catalyst.
"I create works when I feel something disturbs me. But I'm not biased towards any political party or agenda … I don't have the strength to make a
judgement. But I observe and see things open-endedly," says Paiman. And in a true Malaysian way, humour is the artist's language. "I have been taught to say something in a polite way. I won't point a finger or say a situation is right or wrong, but I document it with a sense of fiction to express my thoughts," he explains.
This philosophy is best summed up in his 2012 series, Ali Baba and the Forty Thieves, where the artist paints a series of oil on canvas works based on events that happened in Malaysia as far back as 1970. "I remember these events, even though I was very young during some, like the AIA building hostage situation, or when they captured Botak Chin. There was also the corruption case of the Menteri Besar when Muhammad Ali and Joe Bugner had that big fight here," recounts Paiman. "I reinvent these issues and stories to remind people about history. By seeing them, they can recall and see things from another dimension."
Inventory also showcases the artist's experimentation with different mediums in recent years. "I like to work with relevant context and materials," he says, "For me, the medium can be anything to convey what I want to say best."
A particularly interesting series of works is Toaster Bread, a mixed media collective in which Paiman made paper from the old newspapers lying around. "I like to read newspapers, but after today, tomorrow the paper doesn't have any value," says Paiman. As such, he began cleansing, mixing and eventually compressing them into something entirely different. "It is then a piece of 'information' that has been transformed. I cut it and saw it looks like wholemeal bread," laughs Paiman. "The idea then came from there."
He then picked 12 political and social figures based on events and news topics from 2015, such as Tan Sri T Ananda Krishnan, Nurul Izzah Anwar, Datuk Seri Azalina Othman Said, and former Selangor Menteri Besar Dr Mohamad Khir Toyo, and painted their image on 'toast breads'. "I created a 'toast' effect because these issues are still hot and sizzling. And as they are still ongoing, that's why it is 'Toaster' and not 'Toasted'," he smiles.
Another medium that features in this exhibition is photography, with three distinct series' of images documented various performance art works he's completed. The oldest is Menu Pilihan Rakyat, which revisits the 2013 general elections, where Paiman presented bystanders at a field in Ipoh a meal of bread and a choice of red, green, and blue drink, on the day before voting.  In the Buang Shui series, he compares politicians jumping parties and leaving alliances to the Chinese cleansing ritual of warding off bad luck, akin to them trying to rid themselves of their past.
Another series of new works is Kerajaan Langit, which sees the artist covered with a futuristic mask, carrying a briefcase and sitting down in a chair in various shots taken in different open space backgrounds. "I liked the title — it comes from the religious sect Sky Kingdom that was based in Terengganu. Moreover, the 'sky' holds a lot of power, with satellites and all up there," quips Paiman.
Associating it with the idea of power and its connotations, the work symbolically questions the identity of power and those who hold it. The last photograph, with the Palace of Justice in Putrajaya as the backdrop, brings the message home: Can a person with power manipulate and control everything? Ultimately, who can judge us?
He readily admits that his work is not for those who are uninterested in the going-ons in Malaysian politics and social issues. Nevertheless, he says the viewer is welcome to interpret them any way which they like. "There are a lot of ways to appreciate art. Sometimes we admire its beauty, but my work is about the information in it. It's like what Redza Piyadasa — one of Malaysia's most important artists — said, 'If people buy my work, it is buying my experience'."
---
Inventory will be showcased at Fuman Art Gallery at Wisma Samudra, 1 Jalan Kontraktor U1/14, Hicom-Glenmarie Industrial Park, Shah Alam, until May 8. To make an appointment, call (012) 229 8364 or email [email protected].