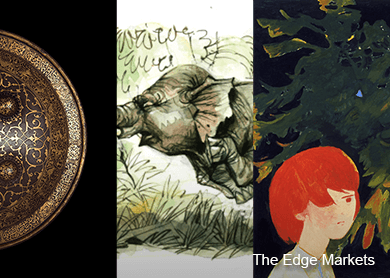 WINTER GARDEN: THE EXPLORATION OF MICROPOP IMAGINATION IN CONTEMPORARY JAPANESE ART 
The Japanese Foundation brings you an exhibition curated by art critic Midori Matsui. The exhibition will explore the theme of reality as a product of "micropop imagination". This term is used to interpret the way in which 14 Japanese artists update fragments of information and knowledge through their artwork in fresh and innovative ways. Ranging from avant garde to quirky illustrations, discover the world of Japanese contemporary art. 
---
University of Malaya Art Gallery, Level 5, Chancellery Building, University of Malaya, Jalan Universiti, KL. From June 5 to 22.
Opening hours: 9.30am to 5pm (Mon-Fri). For enquiries, contact (03) 2284 6228.
LAGI-LAGI GILA-GILA 
Revisit Malaysia's iconic humour magazine Gila-Gila with the Lagi-Lagi Gila-Gila exhibition at Galeri Petronas. Launched in 1978, Gila-Gila was Malaysia's first humour magazine. The exhibition features almost 500 pieces of original artworks ranging from comic strips, editorial cartoons and sketches. Jointly curated by Galeri Petronas and Gila-Gila founder Jaafar Taib, it explores the historical contributions of the magazine to contemporary society by focusing on the work of the magazine's cartoonists. 
---
Galeri Petronas, Level 3, Suria KLCC, Jalan Ampang, KL. Until July 15. Opening hours: 10am to 8pm (daily). Visit www.galeripetronas.com.my for more information. 
SYMBOLS OF POWER AND BEAUTY
The Islamic Arts Museum presents an exhibition that displays arms, armour and accessories from the Islamic world. It will feature over 200 artifacts from the museum's collection and is divided into seven chapters. The artifacts come from all over the Islamic world, from North Africa to Southeast Asia. It highlights the beauty and symbolism of Islamic arms and armour by showing their different uses such as for hunting, royal attire and expeditions. 
---
Islamic Arts Museum, Jalan Lembah Perdana, KL. Until Aug 31. Opening hours: 10am to 6pm (daily). Call (03) 2274 2020 for more information.
This article first appeared in The Edge haven, on Issue #73 June + July 2015.