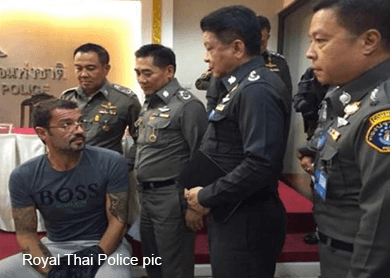 (June 24): Xavier Andre Justo, the former employee of PetroSaudi International now in custody of the Thai police for alleged blackmail over leaked information about dealings with 1Malaysia Development Bhd (1MDB), is believed to be have been member of the oil company's board of directors.
Checks by The Malaysian Insider on the Swiss national show that he was not merely an IT executive, as reported by Thai media following his arrest on Koh Samui, Thailand, on Monday.
The Checkcompany website showed that Justo, 49, was a director in two companies, PetroSaudi Energy and Trading, and PetroSaudi International (UK).
He was listed director of the first company from March 28, 2011 until April 22, the same year, and of the UK company from June 28, 2010 until April 22, 2011.
On another website, Dellam Corporate Information Limited, Justo is also listed as a director in two companies under PetroSaudi International (UK) Limited.
Justo was arrested on Koh Samui with computers, hard drives and other data storage devices in his possession, The Bangkok Post had reported, quoting police.
Thai police said he had been an IT executive with PetroSaudi and was wanted for leaking information about its deals with the troubled Malaysian state investor.
Justo demanded 90 million baht (RM9.9 million) from the company in exchange for not disclosing confidential information to rival companies but denied asking for nearly RM10 million more in a blackmail attempt with information regarding 1MDB, Thai police had said.
The Bangkok Post also said Thai police believed Justo leaked information about PetroSaudi to a "UK-based news website" which the paper identified as the London-based Sarawak Report.
Citing Malaysian sources, the paper said the leaks and reports by the website was "part of a plot to discredit" Prime Minister Datuk Seri Najib Razak, who is also finance minister and chairman of 1MDB's advisory board.
Sarawak Report editor Clare Rewcastle Brown also claimed that Justo was not a mere IT executive, but a senior director of the company.
"PetroSaudi International have now effectively acknowledged that this material from their servers is authentic, by accusing this former employee of having stolen it – they describe him as an 'IT worker', but in fact he was a senior director of the company," she wrote in a open letter to the Swiss Foreign Ministry which is posted on the website.
Rewcastle Brown said she was writing on behalf of Justo to ask his country's authorities to investigate alleged fraud involving PetroSaudi and 1MDB for the sake of justice for the Swiss national.
An international cyber security firm, however, has deemed the information leaked to Sarawak Report as having been tampered with to "create the most damaging story possible".
An anonymous spokesperson from the firm, Protection Group International (PGI), was quoted by pro-government newspaper the New Straits Times (NST), as saying that the data was stolen from PetroSaudi and subsequently edited before it was published on the Internet.
"Our investigation is still ongoing, but it is clear that we are looking at a case of large-scale data theft, and our analysis substantiates that (Xavier Andre) Justo is the source of the data published on Sarawak Report," an expert from PGI was quoted as saying.
"There are many inconsistencies between the published data and the data which still exists on files within PetroSaudi relating to that period of time. Simply put, it is incomplete data, creatively selected and edited to fit a desired narrative," the NST quoted the PGI source as saying.
NST reported that PGI was hired to investigate the source of the data published on the Internet and verify its authenticity.
Sarawak Report had in February alleged that businessman Low Taek Jho, or Jho Low, engineered PetroSaudi's US$2.5 billion joint venture with 1MDB in 2009 in order to siphon off US$700 million from the deal.
It also said the US$1.5 billion in assets PetroSaudi had injected into the joint venture did not actually belong to the firm.
The joint venture deal ended six months later, with 1MDB's investment of US$1 billion converted into Mubaraha notes, which 1MDB president and group executive director Arul Kanda Kandasamy has said was paid back in full.
1MDB also refuted claims of wrongdoing, stressing that the joint venture resulted in a profit of US$488 million.
In a statement today, 1MDB said it had taken note of Justo's arrest for attempted blackmail and extortion and that some leaked emails had been tampered with.
"1MDB is confident that the lawful  authorities will thoroughly investigate, establish the facts and take appropriate action under the law." – The Malaysian Insider