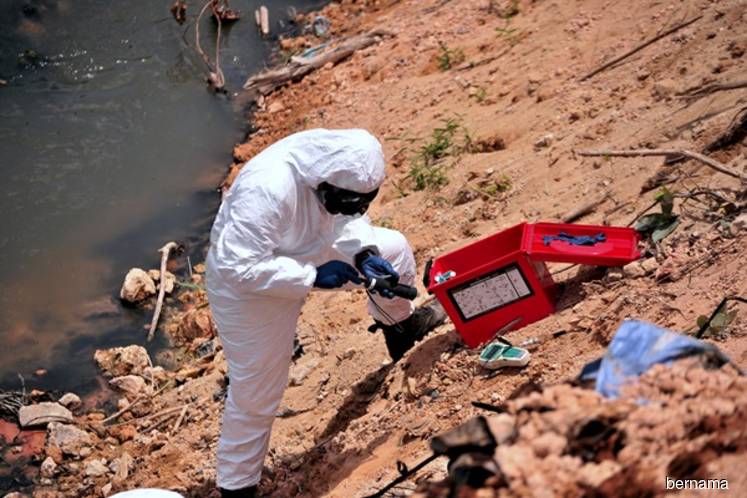 SUBANG (March 14): The Malaysian Armed Forces (ATM) has dispatched two teams with the expertise to survey and clean up the pollution in Pasir Gudang, following the dumping of chemical wastes into Sungai Kim Kim in the area.
Armed Forces Chief Tan Sri Zulkifli Zainal Abidin said the teams, namely the Chemical, Biological, Radiological and Nuclear (CBRN) survey team and CBRN response team, arrived at Pasir Gudang this afternoon.
He added that ATM will help coordinate the disaster relief needs at the scene.
Zulkifli said the CBRN teams comprised personnel of the 12th Squadron of the Royal Engineers Regiment with four officers and 21 other members of various ranks, led by Lt Col Norhelmi Ismail.
He said the team was equipped with specialised equipment which included detector sampling equipment, protective suits, breathing apparatus, gloves and masks.
Zulkifli said that CBRN response team was preparing to help the authorities carry out the task of cleaning the poisonous polluted chemicals in the area and will assist the Hazardous Materials (Hazmat) Unit in implementing on-site operations.
In addition, Zulkifli said the Army had also sent a Casualty Evacuation Unit from its 2nd Medical Battalion which included a medical officer and three paramedics together with an ambulance.
"The ATM will monitor the pollution level at Sungai Kim Kim from time to time and assistance would be provided according to operational requirements," he said.
The chemical pollution along Sungai Kim Kim last Thursday had led to more than 1,000 people being hospitalised, many of whom are schoolchildren.
The Education Ministry had also directed the 111 schools in Pasir Gudang area to be closed.