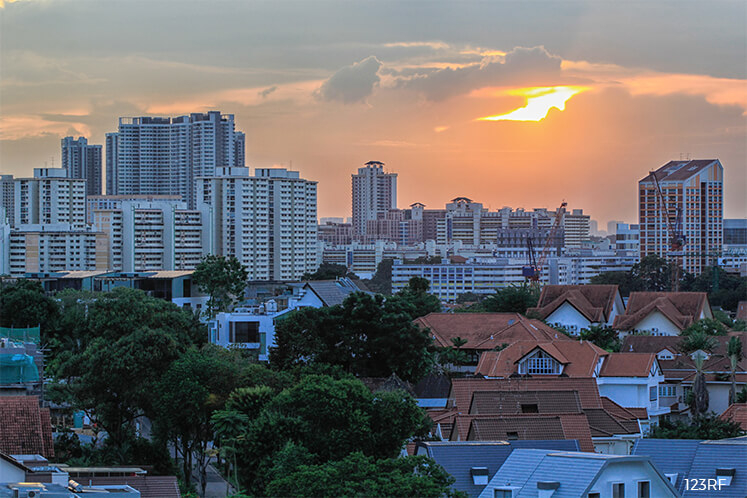 SINGAPORE (May 18): DBS Vickers recommends investors to remain "overweight" on the office and industrial Singapore REIT (S-REIT) sectors due to the prospects of an improving Singapore GDP, as well as the expected easing of supply pressures come 2018.
"With upside to Singapore GDP growth forecasts, we believe this would translate to stronger pre-leasing activities at various new office buildings and takeups in the industrial space (Hi-Tech space and business parks). We remain confident of recovery in office rents by the end of 2017/early 2018, which should act as a catalyst to help close the c.20% discount to book values for the office sector," explain analysts Mervin Song and Rachel Tan in a Wednesday report.
Their top "buy" pick in the office sector is Keppel REIT with a target price of S$1.23 as it provides the largest exposure to premium Grade 'A' buildings in Singapore, which the analysts believe will be best placed to take advantage of the expected upswing in the Singapore office market next year.
In the industrial field, Ascendas REIT (A-REIT) and Mapletree Logistics Trust (MLT) are DBS' top "buy" rated picks with S$2.65 and S$1.28 price targets for their financial flexibility to pursue acquisitions or redevelopments.
A-REIT has a large diversified portfolio and strong balance sheet with sufficient headroom to pursue DPU-accretive acquisitions, say Song and Tan, while MLT has replaced Mapletree Commercial Trust (MCT) for its better risk-reward profile and the fact that it has largely completed the repositioning of its portfolio, which had been negatively impacted by the conversion of several single-tenanted properties to multi-tenanted ones.
Song and Tan are also turning positive on the hospitality sector on the belief that the end of its two-year downturn is in sight. This is because the overhang of new supply should materially decline to 1% growth versus 5-6% over the past two years to boost demand from 2018, which is a biannual conference year, in their view.
Their top "buy" picks within the sector are therefore CDL Hospitality Trusts (CD REIT) and Far East Hospitality Trust (FEHT) with price targets of S$1.75 and 66 Singapore cents respectively – on the belief that the former offers investors the best leverage to an eventual recovery in the market, and provides an additional boost via its recent acquisitions.
While 1H17 will mark a cyclical low in FEHT's earnings given the pressure from new hotel supply in the same period, Song and Tan are expecting a recovery in the market from 2018 in addition to the potential use of its strong balance sheet for acquisitions.
"We are also sensing increasing optimism from various hoteliers that we are approaching a near-term cyclical low. Given already depressed valuations and relative illiquidity of the sector, we recommend investors to be early, rather than wait for evidence of a turnaround in 2018," add the analysts.
As at 11.50am, units of Keppel REIT, A-REIT, MLT, CD REIT and FEHT are trading at S$1.07, S$2.55, S$1.12, S$1.56 and 60 Singapore cents respectively.