This article first appeared in Personal Wealth, The Edge Malaysia Weekly, on April 20, 2020 - April 26, 2020.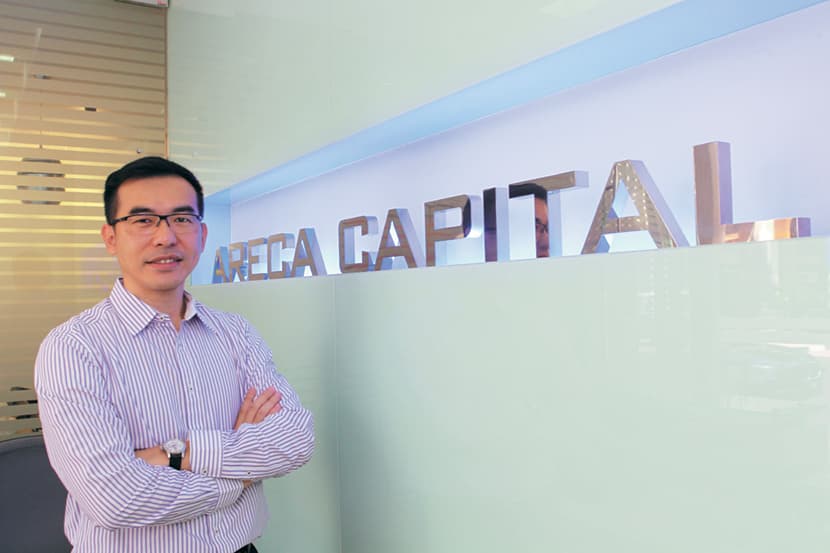 We are seeing deep value emerging from the recent selldown. Good stocks are being sold almost indiscriminately alongside the bad ones. > Wong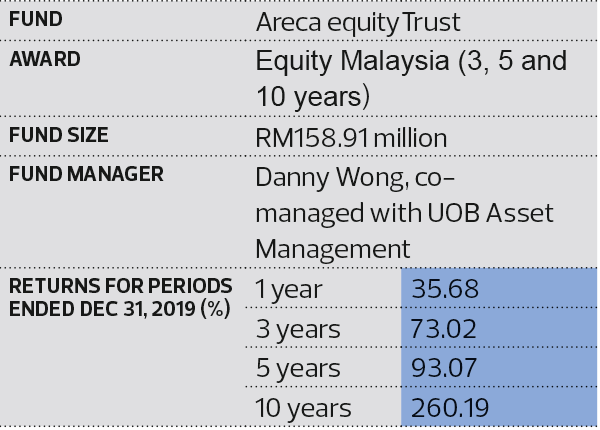 Areca Capital Sdn Bhd bagged three awards at the Refinitiv Lipper Fund Awards 2020. This marks three consecutive years that the fund house has swept the awards for Best Equity Malaysia in the three, five and 10-year categories.
Despite the uncertainties in financial markets last year, Areca equityTrust Fund (AeTF) provided investors with a return of 35.68% over one year and 260.19% over a decade.
With the volatility that markets have had to deal with over the last few years, Areca Capital has been able to quickly change course to safeguard investor returns. Looking back to 2017, CEO and fund manager Danny Wong says the firm was well positioned in the small and mid-cap space during the rally that year.
"Having recorded substantial gains, we actively took profit before moving into defensive large-cap stocks in 2018. With the challenges that year — trade tensions escalating into a trade war and the contagion sell-off hitting emerging markets like Argentina, Turkey and Mexico — we began moving back into the small and mid-cap space in early 2019 as we started to see value."
During volatile periods, it is more crucial than ever to remain flexible. "We must be quick to seize opportunities or react to ever-changing market conditions," he says.
Wong attributes AeTF's success to the firm's investing approach, which takes into account asset allocation, sectoral and thematic strategies as well as stock-picking skills. "For example, in 2019, we constructed our asset allocation based on 80% equity and 20% cash. We then decided on the sector or thematic play, revolving around themes such as future-proofing and technology. From there, our stock-picking skills came into play. This combination has served us well."
Simply put, Wong and his team pursue a top-down approach, combined with winning bottom-up stock-picking techniques. While this may yield stocks that do not always fall within so-called preferred sectors, the counters are still attractive investment candidates.
This disciplined and methodical approach has enabled Wong and his team to achieve a trio of victories with AeTF. "There is really no secret ingredient. We simply must continue to adopt a disciplined investing strategy."  
Another winning element is Areca Capital's ability to provide investors with consistent market updates. In times of market turbulence, client servicing capabilities become key differentiators in the market, says Wong. This was done to ensure that the fund size remained stable and investors remained invested.
This year has seen unprecedented market movements.
Several black swan events have caused financial markets to tumble sharply. Surprisingly, however, it has been a good year so far for the fund house as it got the majority of its sectoral and stock calls right by moving between the large and small-cap spaces, says Wong.
"Nevertheless, one of the challenges has been a lack of policy clarity, which means we have had to be very active and hands-on to react at a moment's notice. Another challenge has been to manage inconsistent inflows into the fund," he adds.
Unsurprisingly, Wong sees a fraught 2020 going forward. For him, the overarching risk right now is just how big of an impact the Covid-19 pandemic will have on the local and global economy. Even so, with big risks come big opportunities.
"We are seeing deep value emerging from the recent selldown. Good stocks are being sold almost indiscriminately alongside the bad ones. Some blue chips are trading at 10-year lows and some even at 20-year lows," he says.  
In this environment, Wong is exploring themes such as stocks with attractive and sustainable dividend yields as he expects interest rates to remain low. "We are also looking at the future-proofing theme. So, things like 5G and technology will continue to be a long-term theme," he says.
While 2020 has been a difficult year so far, the market has had its mettle frequently tested over the last decade, says Wong. "We have gone through a number of quite serious crises, namely the 2008 global financial crisis, the European Union sovereign debt crisis, the so-called US taper tantrum, China's slowdown shock, crude oil price collapses, 1Malaysia Development Bhd-related issues, Brexit, the Donald Trump effect and, more recently, the emerging market contagion risk. Thankfully, we have come out on top. And for us, this simply highlights the importance of focusing on the fundamentals and investing for the long term."