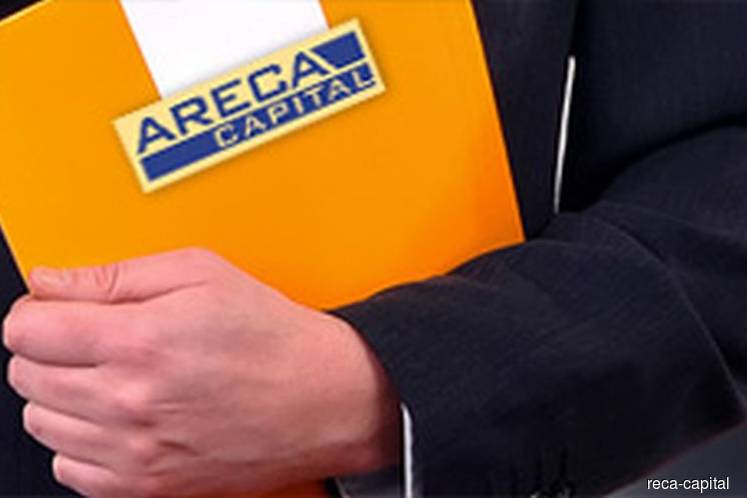 KUALA LUMPUR (July 11): Areca Capital Sdn Bhd (Areca) is partnering with BOCHK Asset Management Limited (BOCHKAM) and has selected BOCHKAM's BOCHK All Weather China High Yield Bond Fund for its Areca Flexi fixedINCOME Fund (AFFIF).
Danny Wong Teck Meng, founder and Chief Executive Officer (CEO) of Areca Capital Sdn Bhd said the company is diversifying its investment portfolio in AFFIF so that investors can have a wider choice of investment options.
"The BOCHKAM's All Weather China High Yield Bond Fund fits well with our AFFIF's fund strategy. Most importantly, it suits our investors' risk profile," Wong said in a statement.
On April 30,  Areca performed its initial investment amounting to RMB1.62 million into the BOCHK All Weather China High Yield Bond Fund.
When asked the reason in choosing the RMB fund, he added, "We ventured into RMB funds as we have seen the growth in demand and stable appreciation of the currency since its opening up 10 years ago. We believe now is a good time to include RMB selections into our fund investment portfolio."
"The fixed income Fund will complement Areca EquityTRUST Fund for asset allocation and diversification purpose for our clients," he added.
Areca EquityTRUST Fund has won the Lipper Best Fund Award, Malaysia Equity under three years, five years and 10 years categories for two consecutive years in 2018 and 2019.
Moving forward, Areca hopes to explore more investment opportunities with BOCHKAM through investment by other funds managed by Areca or the possible distribution of BOCHKAM's funds through Areca's third-party funds platform.
Shen Hua, CEO of BOCHKAM, said the strategic partnership with Areca highlights the growing importance of RMB bonds as a new asset class for investors globally.
He added that "ever since the RMB internationalisation, we saw pick-ups and more demand of RMB denominated products".
As the biggest RMB offshore centre, Shen said BOCHK committed to provide their best facilitation in driving the development of RMB offshore market and look forward to supporting upcoming collaborations exploration with Areca and welcome any potential cooperation with other asset management companies in Malaysia.
BOCHK All Weather China High Yield Bond Fund is a sub-fund of BOCHK Wealth Creation Series, an open-ended unit trust established as an umbrella fund pursuant to the Trust Deed and governed by the laws of Hong Kong.
The investment objective of the Sub-Fund is to generate long-term capital growth and income in RMB terms by investing primarily in fixed income and debt securities denominated in RMB or other currencies.
BOCHK Asset Management Limited is a wholly-owned subsidiary of BOC Hong Kong (Holdings) Ltd. BOCHKAM is committed to providing retail and institutional investors with a wide array of Bond, Equity and Alternative Investments products, such as private equity and real estate investments, as well as comprehensive investment solutions tailored to their risk/return profile and investment objectives.
For Areca Capital, it is a fund management company licensed by the Securities Commission Malaysia to manage and distribute private mandates, unit trust funds and regulated activity of financial planning.