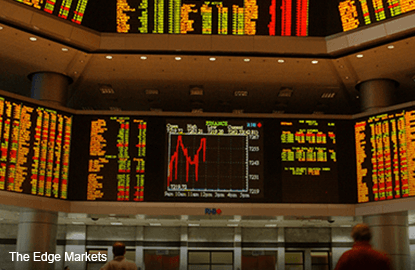 This article first appeared in Corporate, The Edge Malaysia Weekly, on June 27 - July 3, 2016.
WITH brokerage commissions thinning and the global macroeconomic environment looking bleak, it is certainly a challenging time for the stockbroking industry. Over the years, some players have exited the business and with the current tougher environment, could more mergers and acquisitions take place in the near future?
In the past four months, three takeover exercises were launched on companies that are or were once in the stockbroking business. They are standalone stockbroking company KAF-Seagroatt & Campbell Bhd, ECM Libra Financial Group Bhd and Hwang Capital Bhd. The latter two have sold their investment banking business, under which their profitable stockbroking operations were parked.
In all three cases, the offer prices were below the fair values of the companies.
Industry observers say the timing might be right for takeover initiators to make their move as prices are not too inflated in today's depressed market conditions.
Are the three takeover offers a sign of more to come? Which are the standalone stockbrokers left in the rapidly shrinking playing field?
Aside from the banks, there are only a few listed companies that have a standalone stockbroking presence compared with the 50 or so that were operating in the mid-1980s.
They include Apex Equities Holding Bhd's JF Apex Securities, Insas Bhd's M&A Securities, Berjaya Corp Bhd's Inter-Pacific Securities, TA Enterprise Bhd's TA Securities Holdings and Olympia Industries Bhd's Jupiter Securities. There is also K&N Kenanga Bhd, the last listed standalone investment bank.
All of them, with the exception of Apex, are trading below their respective net asset value.
With net cash of RM123.4 million, Apex is trading at RM1.68, which is 18.3% higher than its net assets per share of RM1.42 as at March 31, 2016. For its first quarter ended March 31, revenue from the brokerage segment decreased 23.7% year on year (y-o-y) to RM7.8 million while its segment profit dipped 14% to RM2.5 million. Stockbroking is its main business.
MUI Group's listed stockbroking business Pan Malaysia Holdings Bhd has been a long-time acquisition target of low-profile investor Datuk Dr Yu Kuan Chon. The acquisition of the company, which runs PM Securities, has been ongoing since December 2014. Talks have been extended a number of times, with the most recent extension given on June 21 and expiring on July 11. In announcements to Bursa Malaysia, Pan Malaysia notes that the parties are working toward fulfilling some conditions precedent.
UOB Kay Hian head of research Vincent Khoo says the operating environment for stockbrokers has become a lot more challenging. "Everybody is struggling — from the big to the small players. Competition has increased in the midst of regulation changes as well as much-thinning fees and margins.
"Just to give you an example. The brokerage rate was 1% or 100 basis points in the 1980s and early 1990s. As an extreme example, the (institutional) rates for Direct Market Access (DMA) can go down as low as two basis points or 0.02% while regionally, the fee can be as low as one basis point or 0.01%. That is how low it can go nowadays," he adds.
Khoo says the fees and margins of stockbroking houses are a lot lower these days, partly due to online trading and the evolution of the industry. "Investors can trade using DMA online and, as a result, fees for that are very low. Back in the 1980s and 1990s, institutional investors could not trade using DMA but had to go through a stockbroker. Today, large institutional investors can trade directly," he says.
From July 1, Morgan Stanley will cut broker commissions in Australia by up to A$70,000 to make its business in the retail stockbroking and financial advice segment more sustainable.
Stock market trades have been thinning as well. In 2015, Bursa Malaysia saw lower average daily values of RM2.1 billion for on-market and direct business trades. This was down 4% y-o-y from RM2.2 billion before.
A head of research says stockbroking earnings are very volatile. "The earnings for stockbroking is highly cyclical."
ECM and Hwang exited the stockbroking business when they sold their investment banking businesses in 2012 and 2014 respectively. ECM's sale was transacted at 1.27 times price-to-book while Hwang's was at 1.3 times.
Both of them were looking for a new business as they were sitting on a nice cash pile, but to date, they have yet to find a suitable new venture.
Hwang has RM250 million cash left from the RM1.36 billion sale of HwangDBS Investment Bank Bhd to Affin Holdings Bhd two years ago. Meanwhile, ECM has cash of RM105.38 million or 36.7 sen per share.
Meanwhile, KAF, ECM and Hwang's independent advisers have concluded that the takeover offers to minority shareholders were not fair but reasonable. ECM's offer price stood at 37 sen, 22.9% lower than the independent adviser's fair value of 48 sen while KAF's offer of RM2.70 was below the fair value of its share at RM2.75 derived from adjusted net assets.
As for Hwang, the RM2.65 offer price was 17.7% lower than the group's net assets of RM3.22 per share as at Jan 31.
It is worth noting that the local standalone stockbroking business has also caught the interest of foreign investors.
Singapore's UOB Kay Hian Holdings acquired stockbroking outfits Innosabah Securities and A.A. Anthony Securities in 2011 and 2012 respectively.
On June 30, 2009, Prime Minister Datuk Seri Najib Razak announced liberalisation measures for equity holdings in capital market intermediaries. They include raising the foreign ownership of stockbrokers and unit trust management companies to 70% from 49% previously.