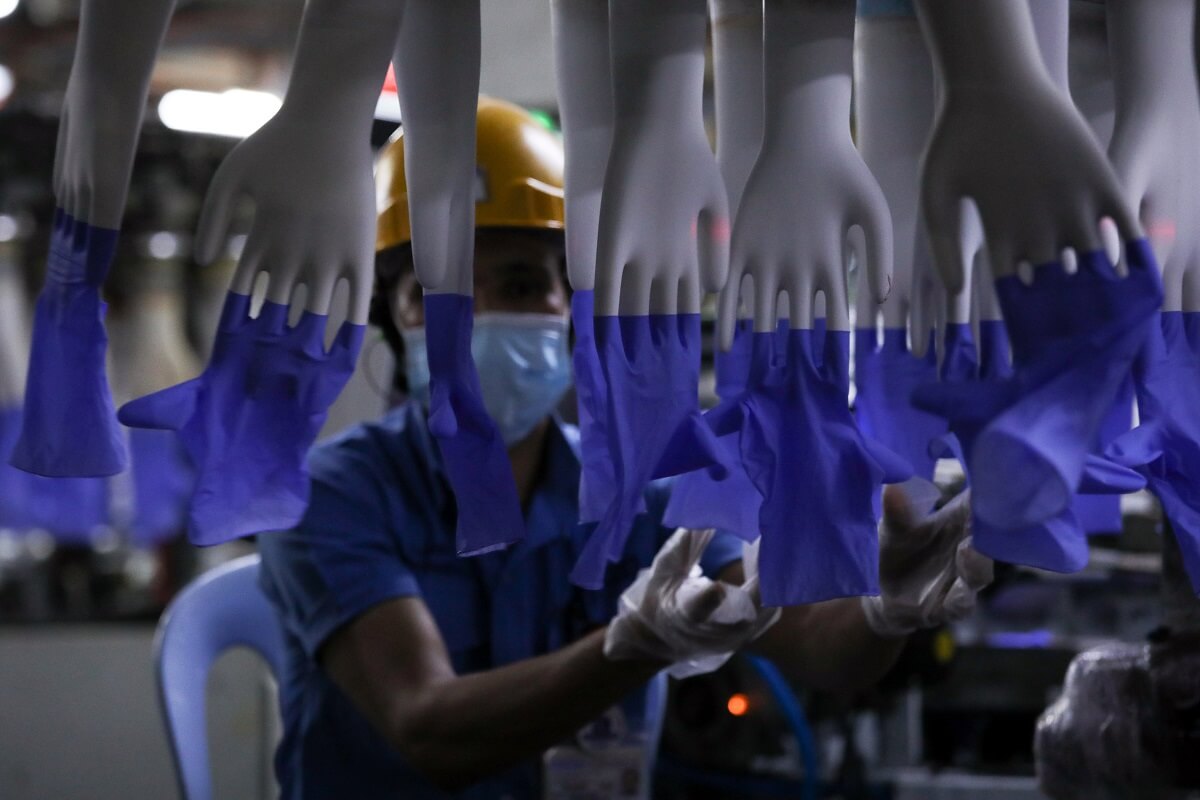 KUALA LUMPUR (Oct 15): While Top Glove Corp Bhd has yet to resolve its labour issue with the US Customs and Border Protection (CBP), the US Department of Labour (DOL) has now put Malaysian-made rubber gloves on the list of products that use child or forced labour.
This raises the question as to whether Malaysian glove makers are losing the sizeable US export market as a result.
Investment analysts, however, shrug off any such concern, pointing to the continuous strong demand for gloves with the ongoing pandemic, even though the US is a sizable market to the glove manufacturers.
The DOL recently released its updated 2020 List of Goods Produced by Child Labor or Forced Labor at the end of last month. In addition to three other categories already on the list, namely electronics, garments and palm oil, this makes rubber gloves the fourth item to be added to the list under Malaysia.
According to a local analyst, he says there is no near-term impact on Malaysian glove makers, other than bad publicity.
Still, being included in the list is seen as another blow to the industry after Top Glove and WRP Asia Pacific Sdn Bhd were placed on the CBP's detention list on allegations of forced labour, which prevented the imports of their products into the US. WRP's ban has since been lifted in March.
Meanwhile, Top Glove says it will pay RM136 million over the next 10 months to compensate its migrant workers as part of its efforts to resolve the issue, higher than its previously-estimated sum of RM53 million. Nonetheless, the world's largest glove maker has yet to resolve the issue after more than three months.
According to Malacca Securities Sdn Bhd head of research Loui Low, he believes the news of the report is just a recycling of old facts, but notes that it could have some negative trading interest on glove stocks today.
Most of the Big Four glove stocks, whose share prices have soared sky-high this year, backed by the strong global demand for disposable rubber gloves and hike on average selling prices, dominated Bursa Malaysia's top losers earlier today.
At market close, Top Glove was down 14 sen or 1.48% at RM9.34. The stock, which opened at a high of RM9.60 this morning, fell as much as 37 sen to a low of RM9.23 earlier. Also closing in the red were Supermax Corp Bhd which slipped 10 sen or 0.94% to RM10.54, and Hartalega Holdings Bhd which fell 10 sen or 0.55% to RM18.06. 
Of the Big Four, only Kossan Rubber Industries Bhd, which fell 1.5% to RM7.86 earlier in the day, closed unchanged at RM7.98 after paring its losses.
Low says the DOL list is likely to add pressure to glove makers like Top Glove, whose largest export market is the US and Canada with a combined 27% out of 195 export markets. 
In the report by DOL, it claimed that forced labour in Malaysia occurred among adults, predominantly by an estimated 42,500 migrant workers from Bangladesh, India, Myanmar and Nepal, who are employed in more than 100 rubber glove factories.
"Workers are frequently subject to high recruitment fees to secure employment that often keeps them in debt bondage; forced to work overtime in excess of the time allowed by Malaysian law; and work in factories where temperatures can reach dangerous levels. Additionally, labourers work under the threat of penalties, which include the withholding of wages, restricted movement, and the withholding of their identification documents," the report said.
Such transgressions satisfy the International Labour Organisation's forced labour indicators.
While the list contains no punitive actions, it is meant to serve as a catalyst for strategic and focused coordination and collaboration to address the issues of forced labour and child labour, it said.
Meanwhile, the Malaysian Rubber Glove Manufacturers Association (Margma) said it appreciates the "strategic and focused coordination and collaboration" among relevant parties to address the issue of forced labour and child labour raised by the DOL, and that it has taken heed of the inclusion of rubber gloves in the DOL list.
However, the public and global community must not misread the report, which is retrospective and not punitive in nature, said newly-installed MARGMA president Dr Supramaniam Shanmugam.
"In addition, the report also does not take into account the latest developments on social compliance including the remediation to the foreign workers in recent months," he said.
He also noted that several major rubber glove manufacturers have since June 2020 committed more than RM250 million to remediate foreign workers for the recruitment fees previously paid by the workers to agents in their home countries, without the knowledge of their respective employers in Malaysia.  
"Meanwhile, in order to be [in] full compliance and avoid getting involved in forced labour practices, MARGMA members have reported that they are practising immediate repatriation if any foreign worker poses debt-bondage risk, or for being dishonest in claiming no debt-bondage during their entrance interviews. The services of the recruitment agent responsible for their hiring will also be terminated in tandem. Moving forward on recruitment fees, the industry has committed to zero cost policy since November 2019," he added.
(Report updated @21:29)
Read also:
Glove makers hail efforts taken to address labour issues raised by US