This article first appeared in The Edge Malaysia Weekly, on April 22, 2019 - April 28, 2019.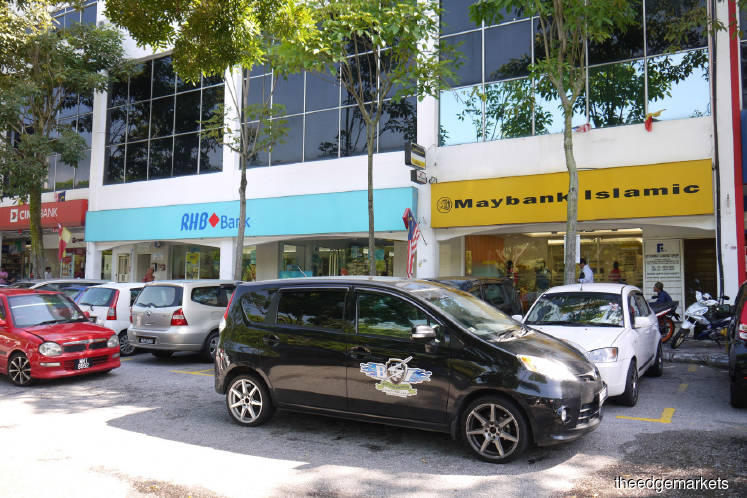 Photo By Abdul Ghani Ismail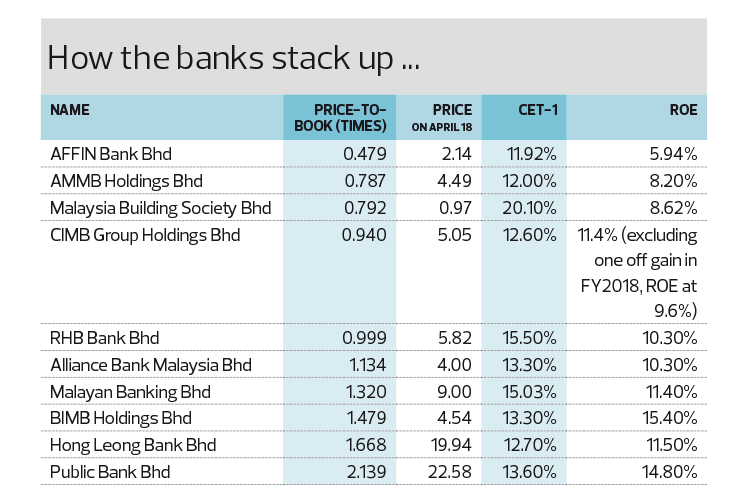 Source: bloomberg, annual report
HALF of the banks listed on Bursa Malaysia have fallen below book value, prompting questions as to why and whether they now make for a more attractive investment case.
Bank valuations are often tied to their returns, and if a bank does not generate a return on equity (ROE) of at least 10.5% to 11%, its valuation is likely to be below book, a senior banking analyst with a foreign research house observes.
He says the key to value hunting when it comes to banks trading below book is to look for profit growth potential, coupled with the capacity to lighten up capital.
Banks currently trading below book — based on the order of lowest valuation — are Affin Bank Holdings, AMMB Holdings Bhd, Malaysia Building Society Bhd (MBSB), CIMB Group Holdings Bhd and RHB Bank Bhd.
Of the lot, the banking analyst finds RHB attractive as it has room for improvement through profit growth as well as lightening up on capital and releasing more capital to shareholders, given that it has one of the highest common equity tier-1 (CET-1) ratio of 15.5%. "Even with the latest capital buffer requirement of between 0.5% and 1% for D-SIBs (domestic systemically important banks) and the countercyclical buffer, RHB has room to release surplus capital," he says.
(CET-1 is a component of tier-1 capital that consists mostly of common stock held by a bank or financial institution. Banks are expected to meet the minimum CET-1 ratio of 4.5%.)
As for CIMB, he reckons value can emerge should the bank's plan to grow its Indonesian business take off. "CIMB looks interesting too as the stock price has weakened a lot. Its prospect for growth is Indonesia — it is one of the biggest drivers for its Foward23 plan. The Indonesian election results with Jokowi (Joko Widodo) winning should help CIMB as one of the things he is supportive of is infrastructure growth, and with that, loan demand will increase.
"Another upside for the Indonesian banking business is the potential of the central bank reducing interest rates. If that happens, it will be good for margins for the banks there, which is the reverse of Malaysia," he adds.
He explains that for Indonesia, in the event of a rate cut, not only do deposits reprice faster than loans but funding costs for banks also come down first compared with Malaysia, where deposits do not reprice as fast but loan yield comes off first.
Aberdeen Standard Invesments investment manager Evan Cheah is adopting a wait-and-see approach. "CIMB will have to prove that it can walk the talk with its latest strategy. It is a tough industry. As for its Indonesian business, Jokowi's win may help in terms of the economy, but that may only be for the short term. Fundamentally, CIMB in Indonesia has a lot to do to compete with the top four banks in the country. Can it compete with the bigger boys?"
Banks may be trading below book, but focusing on the fundamentals is key, he stresses. "It's not just about valuation but also what the management of these banks is doing, plus their earnings track record over the years."
On AMMB, the banking analyst opines that the sale of its insurance business could act as a key re-rating catalyst for the stock as "that would boost its capital and bring its ROE closer to 10%".
"We've seen AMMB make strides such as selling off its NPLs (non-performing loans) and [it has also] tidied up its non-core assets by disposing of some … that is positive," says Cheah.
As for MBSB, which merged with Asian Finance Bank last year, he is keeping an eye on how the newly merged entity will "propel itself to the next level and how long that will take".
Although Affin's valuation is the lowest at 0.479 times book, it is seen as one of the weaker banks operationally. Industry observers and analysts agree that its competitive edge lies in its asset management segment.
Why the divergence in value?
Banking analysts say the divergence in valuations boils down to the ROE, with banks generating below 10.5% likely to trade below their book value.
Looking at banks' ROEs in the quarter ended Dec 31, 2018, there appears to be a correlation between ROE and stock valuation for most of the banks.
Affin had the lowest ROE of 5.94% for FY2018, followed by AMMB at 8.2% (for the nine months to end-December 2018).
MBSB's ROE was 8.62% for FY2018 while CIMB is at 11.4% but excluding its one-off gains that year, achieved an ROE of 9.6%. RHB's ROE stood at 10.3%.
The order of ROE for this group of banks trading below book matches that of their price-to-book (P/B) ratios.
Those trading above book value are Alliance Bank Malaysia Bhd, Malayan Banking Bhd, BIMB Holdings Bhd, Hong Leong Bank Bhd and Public Bank Bhd. Aberdeen's Cheah points out that most of these banks have posted decent earnings over a long-term horizon, and this is important.
"Alliance, the smallest one that is punching above its weight, is one of two banks that have seen NIM (net interest margin) growth in the midst of an industry trend of narrowing margins. RHB is the other bank that is seeing its NIMs expand," he says.
"The overall banking sector is seeing intense competition in cost of funds."
ROEs and NIMs aside, another thing to bear in mind when it comes to banks and valuations is capital. "If a bank generates ROE but is undercapitalised, it is meaningless," says the banking analyst.
The ROE for the group of banks trading above book is not in the same order as their P/B ratios. BIMB has the highest ROE of 15.4% but comes in third, after Hong Leong and Public Bank, in terms of valuation.
Interestingly, Alliance's ROE of 10.3% — the same as RHB's — falls below the analyst's 10.5% benchmark and yet it trades above P/B at 1.13 times. However, this was for its nine months ended December 2018.
The country's biggest banking group, Maybank, recorded an ROE of 11.4%, slightly below Hong Leong's 11.5%, for the six-month period ended December 2018.
Public Bank is still the outperformer of the lot, commanding the highest valuation of 2.14 times P/B and registering an ROE of 14.8% for FY2018.
The M&A angle
Could more mergers and acquisitions be in the offing owing to lower valuations?
The banking analyst indicates that it is likely, but points out that a lot hinges on pricing and timing.
The proposed CIMB-RHB merger did not happen in 2014 owing to the wide valuation gap between them — 1.6 times P/B for CIMB and 1.2 times P/B for RHB — he says, but notes that both have similar valuations today with no premium to book.
"It's easier to do an M&A today," he adds, stressing that there has to be value-add in merging. "It is about merging with a bank that will help you make a difference in counter-positioning … because if there isn't, why go ahead with it?"
Cheah believes an M&A exercise is likely to happen in the industry as "we are overbanked".
"Whether or not it will happen is tricky as we have seen two failed mergers in recent years. We are looking at the banks closely just because their valuations are attractive. Each of them has specific issues, so we are still cautious. Plus, there is the overall potential rate cut and should the FTSE downgrade happen ... those are also risks to consider," he cautions of global index provider FTSE Russell's threat to downgrade Malaysian government bonds in its World Government Bond Index in September.