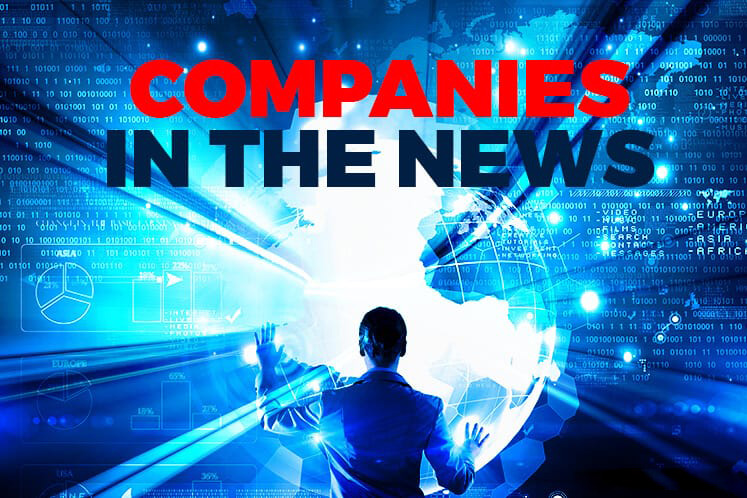 KUALA LUMPUR (June 3): Based on corporate announcements and news flow today, stocks in focus on Thursday (June 4) may include: ARB Bhd, Ho Hup Construction Company Bhd, My EG Services Bhd, Prestariang Bhd, Sapura Energy Bhd, Seacera Group Bhd, Yee Lee Corp Bhd, Xidelang Holdings Ltd, DiGi.Com Bhd, Maxis Bhd, Telekom Malaysia Bhd and Axiata Group Bhd.
ARB Bhd has inked a business partnership as well as an outsourcing agreement with Singapore-based Asterisk Computer (Far East) Pte Ltd (Asterisk) for the deployment of enterprise application software (EAS) solutions in Malaysia and Singapore.
Under the outsourcing agreement, Asterisk will engage ARB's unit Databook Pte Ltd to design, develop and implement EAS solutions and to provide enterprise solutions related consulting services to Asterisk on project basis.
Ho Hup Construction Company Bhd, which bagged RM102.5 million worth of jobs for the East Coast Rail Link (ECRL) project recently, aims to allocate a substantial portion of the contract value to local vendors.
CEO Datuk Derek Wong Kit Leong said the group's construction team is now finalising with local vendors and suppliers for the necessary engineering equipment, materials and other supplies for the jobs.
My EG Services Bhd has incorporated a new wholly-owned subsidiary known as MYEG Medical Services Sdn Bhd to market medical products and services in the country including health screening solutions and management services.
This follows last month's launch of the e-government service provider's one-stop portal for employers to register and manage the COVID-19 health screening of their workforce. The portal is an option for companies that wish to streamline the process of getting workers tested, providing employers with the necessary tools to register and receive confirmation of the eligibility of their workforce for the Prihatin screening programme.
Prestariang Bhd has divested its equity interest in Australian Securities Exchange-listed OpenLearning Ltd, for A$1.92 million (RM5.52 million). The disposal of the 6.88% stake was done via an off-market block trade transaction. The group plans to utilise the proceeds as rolling working capital to finance sales of its software and services business.
Sapura Energy Bhd has secured five new contracts for its engineering and construction (E&C) division worth a total of RM766 million combined.
They include a contract for the PRP7 pipeline replacement project by Brunei Shell Petroleum Co Sdn Bhd in Brunei and an engineering, procurement, construction and installation contract for the single buoy mooring (SBM) Pipeline Rejuvenation Phase II Project in Singapore by Shell Eastern Petroleum (Pte) Ltd.
On the home front, Sapura Offshore bagged an award under the Umbrella Contract for Pan Malaysia Transportation & Installation of Offshore Facilities (2017-2020) from Hess Exploration and Production Malaysia B.V. that is to be completed by 4QFY21.
The remaining two contracts were for pipeline and offshore projects in Thailand.
Yee Lee Corp Bhd, which has received a voluntary general offer from its founder and executive chairman Datuk Lim Ah Heng @ Lim Kok Cheong and several joint offerors, said the offer has turned mandatory after one of the offerors upped its stake to beyond the 33% threshold.
Yee Lee said Langit Makmur Sdn Bhd had acquired 463,000 new Yee Lee shares from the open market at the offer price of RM2.06 per share, thus raising its stake from 32.99% to 33.23%, triggering the change of the offer to a mandatory one.
Langit Makmur is a special-purpose vehicle incorporated by Singapore-based Dymon Asia Private Equity (SE Asia) Fund II Pte Ltd, and one of the joint offerors in the takeover bid that also includes Lim's wife Datin Chua Shok Tim @ Chua Siok Hoon, and his son, Yee Lee executive director and group managing director Lim Ee Young.
Xidelang Holdings Ltd has inked an agreement with Seacera Group Bhd's unit Seacera Polymer Sdn Bhd for the distribution of the former's non-medical purpose protective clothing products in the country.
Xidelang said the deal allows it to expand its sources of income through diversification of its client portfolios.
Under the distribution agreement, Seacera has the exclusive right to resell and distribute the products nationwide, which would be manufactured by Xidelang's existing production facilities.
The deal allows Seacera to incorporate, combine, integrate or modify the products and sell them either alone or in combination with other products under the latter's own label.
The Ministry of Communications and Multimedia has cancelled its order made on May 15 to award portions of the 700 megahertz (MHz) band to DiGi.Com Bhd, Maxis Bhd, Telekom Malaysia Bhd (TM), Altel Communications Sdn Bhd and Axiata Group Bhd.
Its Minister Datuk Saifuddin Abdullah said 18 instruments including Ministerial orders and findings regarding the usage of spectrum frequencies in the 700MHz, 900MHz and 2600MHz had been presented to him. He cited "technical issues, laws and the need to follow a clear process" for the cancellation.