This article first appeared in Personal Wealth, The Edge Malaysia Weekly, on April 30, 2018 - May 06, 2018.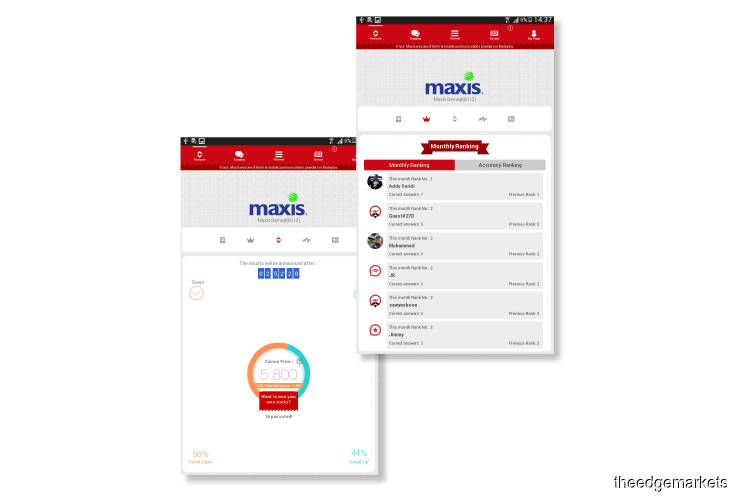 Those looking to dip their toes in the local stock market can pick up some of the basics with the Asukabu! app. It gives users a foundation in investing using Malaysian stock market data, without having to risk a single sen.
Every day, the app displays a local stock on its landing page, which features a timer ticking down to the close of trade on Bursa Malaysia. At this point, the share price is revealed and users know whether they have accurately predicted the movement of the stock.
This is no mere guessing game, however, as there are various tabs on the app that display historical stock price movements, recent headlines in the news and preliminary information on the stock. Users are encouraged to pore over the data and make an informed decision on where the counter will end at the close of trade.
There are even a number of tables that rank users according to the accuracy of their predictions. A user is also able to access another's profile page to view a complete list of his forecasts.
Boasting a relatively clean and easy- to-navigate user interface, the app is designed in such a way that users are logged in for as long as possible and learn from one another. There are several themed bulletin boards built into the app, which allow users to interact with one another.
Registered users have the added advantage of being able to create their own bulletin boards, on which others are able to participate. This is crowd-sourced learning at its best.
In keeping with the overall objective of learning to invest, there is a "school" built into the app, with a surprisingly large number of investment themes, topics and issues to learn about. Interestingly enough, the content — everything from compound interest and expense tracking to cash positions, initial public offerings and even insider trading — is presented in the form of "chat bubbles" between fictional characters.
The content is delivered primarily in English, albeit being heavily tailored to a Malaysian audience. The app is replete with local catchphrases and common conversational cues.
The free Asukabu! app is available for both Android and iOS devices.