This article first appeared in Personal Wealth, The Edge Malaysia Weekly, on March 18, 2019 - March 24, 2019.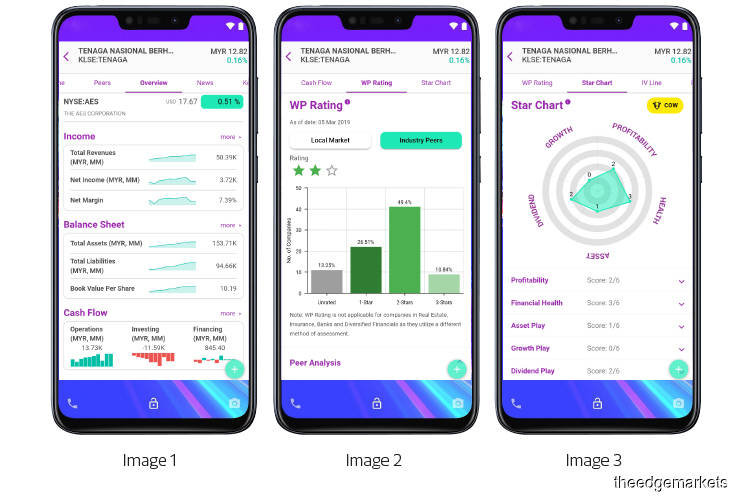 When it comes to online investing tools, investors are spoilt for choice. However, many of these tools are not user-friendly and can be difficult to manoeuvre. Clunky interface, limited information and a lack of proper explanations are just some of the complaints of users.
To solve these problems, 8Bit Global Pte Ltd (a joint venture between 8VIC Global and 8I Holdings) has developed WealthPark, a smart investing technology platform that provides information on companies listed on stock exchanges around the world.
Gary Yeow, director of 8VIC Malaysia Sdn Bhd, says WealthPark was designed to provide investors with a faster, smarter and easier-to-use investment tool. "We know a lot of investors do not have the time [to assess companies]. But they want simple digestible information at their fingertips. WealthPark does most of the work for them. Investors only need five minutes to read up on a company before making a buy or sell decision."
WealthPark gives users access to comprehensive data on companies across 11 categories. They can view up to 10 years' worth of information, including the companies' income, balance sheet and cash flow statements and growth performance. The information is accompanied with visuals such as charts and tables for a better overview (see Image 1).
WealthPark provides investors with information on companies listed on 24 stock exchanges around the world, including the New York Stock Exchange, Nasdaq, Australian Securities Exchange, Tokyo Stock Exchange, Stock Exchange of Thailand and Bursa Malaysia.
The platform's raw data is acquired from Capital IQ, the research division of Standard and Poor's. Then, it is turned into a simple dashboard interface by WealthPark. While the data is not provided in real time (up to 12 hours delay), Yeow says this should not be a problem to its target users as the tool is intended for long-term value investors who are not looking to make a quick profit.
He adds that the amount of data available can be overwhelming, especially to beginner investors. That is why almost every single label on WealthPark can be clicked on for further explanation. Some even come with video tutorials that investors can refer to.
Subscribers have access to the WealthPark Learn Facebook page, which provides user support and additional learning materials. The company also holds classes every fortnight for investors who wish to learn more about how they can leverage the tool to make better investment decisions.
WealthPark has a lot of features that allow investors to make quick assessments. One of them is WP Rating, a probabilistic framework developed by WealthPark and Singapore-based research firm Hidden Champions Capital Management (see Image 2).
The rating examines 13 areas of investment risk due to potential aggressive accounting undertaken by the companies, which are rated either one, two or three stars to denote the level of investment risk. Investors may want to keep this in mind when making their investment decisions, says Yeow.
"The WP Rating is one of the features we provide that the other tools in the market do not. The areas we examine include shareholder dilution, where a company can decrease existing shareholders' ownership of a company with the issuance of new equity. Another area we examine is window dressing, where a company understates its expenses and overstates its profit to present a better-looking financial report," he adds.
Hong Kong-based China Resources Cement Holdings Ltd, for example, is given three stars. All 13 areas of investment risk are given green labels, which indicate that the level of risk is low.
A feature that will help investors quickly understand the key aspects of a company is Star Chart, which summarises 107 data points of a company to give investors a visual snapshot of its strengths and weaknesses. The summarised data covers the company's profitability, financial health, assets held, growth and dividends paid out (see Image 3).
To make the data more interesting, the companies are given animal classifications. According to Yeow, there are six animals. For example, the gorilla represents companies that have continually achieved stable and high revenue and/or earnings growth due to their unique and strong competitive advantage.
These companies also have the ability to reinvest and compound their earnings at high rates of return, which are suitable for investors who want to explore or invest in companies for capital gains. "Similar to gorilla, cheetah companies have achieved high revenue and/or earnings growth, but may not necessarily be stable," says Yeow.
The other four animals are cow (companies that may pay out consistent and sustainable dividends), elephant (companies that are asset-heavy), sloth (companies with slower revenue or earnings growth than the industry average). Meanwhile the non-animal classification "UFO" refer to companies that cannot be classified.
Most value investors calculate a company's intrinsic value using fundamental analysis to determine whether it is currently under or overvalued. To save investors time, WealthPark does the calculations and visualises them on a line chart.
The platform has a healthy pipeline of things it wants to introduce in the future, says Yeow. One that is currently being tested is the portfolio feature, which will allow investors to manually add into these portfolios companies that they are invested in to track the profit and loss of their previous investments. The feature will also be able to calculate investors' currency gain or loss.
"This is a handy feature for those who tend to forget their investments, especially those they made more than three years ago," says Yeow.
WealthPark is also testing the peers feature, which is currently at the beta stage. This feature lets investors compare a company with other similar ones listed on other stock exchanges. This is especially important when assessing companies with a monopoly in the industry, such as Tenaga Nasional Bhd, says Yeow. The companies can be compared by either their gross profit margins, WP Ratings or returns on equity, among others.
According to WealthPark, Tenaga's top peers are Osaka Gas Co Ltd (listed on the Tokyo Stock Exchange), NRG Energy Inc and The AES Corp (both listed on the New York Stock Exchange).
The platform will introduce more stock exchanges in the near future. WealthPark's current users are 8VIC graduates and attendees of events organised by the company. The tool will be officially launched to the public in May.
WealthPark is available in seven languages, including Bahasa Malaysia, Japanese and Thai. There are three pricing structures. Investors who choose to subscribe to only one stock exchange will be charged US$120 a year. Subscribing to seven exchanges will cost them US$365 a year while subscribing to all exchanges will set investors back US$1,299 a year.
The mobile app is available on Google Play and the App Store. Users can also access the platform on their desktops.