This article first appeared in Personal Wealth, The Edge Malaysia Weekly, on December 17, 2018 - December 23, 2018.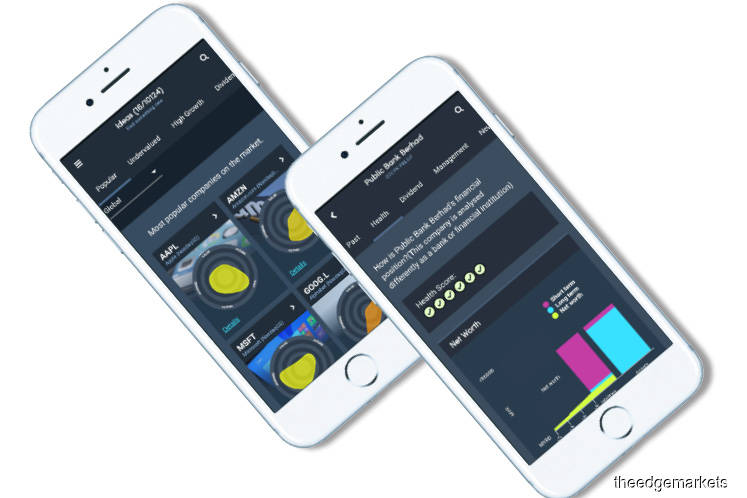 Simply Wall St is a portfolio visualisation service that aims to help investors understand their portfolio and market performance using easy-to-comprehend graphics. The Sydney-based start-up was founded by self-taught investor Al Bentley.
He started the company because he had observed that many retail investors bought stocks based on hype or random hunches because they found proper research too complicated. He figured that with infographics, retail investors would find it easier to make sense of the data in financial reports and make better decisions.
Drawing on data from S&P Global, the software builds infographics that reflect the performance of stocks and portfolios. The financial data it covers include past financial performance from reports, future estimates, market ratios, dividends, industry averages and data on the management and board of directors.
There is a feature called Snowflake that gives users an instant snapshot of a company's value, future earnings potential, financial health, past earnings performance and dividend-paying potential. An indicator points out the factors that are most relevant to the company. For instance, if the company is undervalued, has good financial results and low debt, the indicator points towards these factors.
Users can import their existing portfolios to the system or link it to their brokers to see an infographic report on the strengths and weaknesses of their portfolios. The brokerage firms that can be linked to the app include Interactive Brokers, Vanguard, Fidelity and E*trade.
The ringgit is currently not used as a portfolio currency in the app, but the Singapore dollar and Indian rupee are. Simply Wall St covers 41 exchanges across 27 markets, including Canada, the US, the UK, Hong Kong, Malaysia and Singapore.
The free version, called the Learner Plan, offers a limited number of company reports per month. The Investor Plan costs US$115 a year and offers features such as unlimited company reports, three portfolios and unlimited transactions within a portfolio.
The Pro Plan costs US$340 a year and offers up to 12 portfolios and other features. The app is available for both Android and iOS operating systems.