This article first appeared in Personal Wealth, The Edge Malaysia Weekly, on November 26, 2018 - December 02, 2018.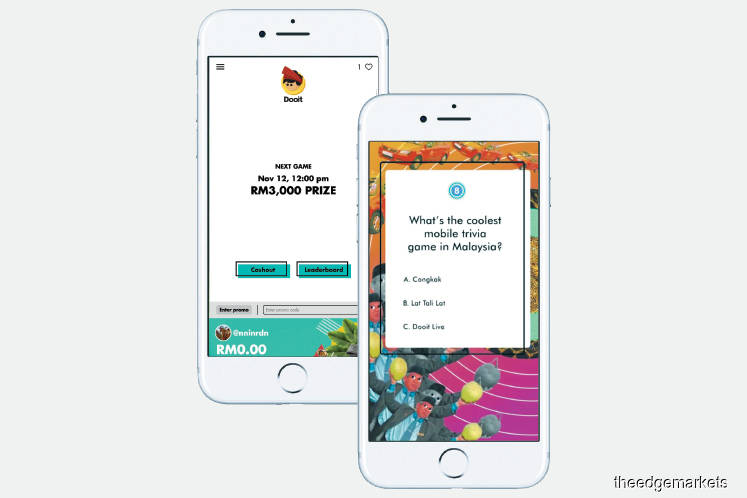 Trivia game shows used to be popular in Malaysia. Contestants would attempt to answer the questions on television programmes such as Roda Impian or Who Wants to Be a Millionaire?
Thanks to the advancement in technology, Malaysians need not only dream of winning big on game shows. Dooit Live, a free-to-play live trivia game show app that was launched in August, gives users the opportunity to win money by answering multiple-choice questions correctly.
The questions cover a wide range of topics, including movie titles, local food and beverages, basic maths concepts, famous places and international celebrities. There is no limit to how much money a person can win as the cash prizes vary in every game.
Upon turning on the app, Dooit Live displays the date, time and prize pool of the next game. Users who get all 11 questions right earn a share of the pool. For example, if the prize pool is RM2,000 and there are 100 winners, they get RM20 each.
During the live game session, users are able to see how many players they are competing against. If they get a question wrong or are not able to answer in time, they are eliminated from the game. To continue playing after being eliminated, they can use the game's in-app lifeline PUSO, which they can gain by inviting others to play.
Users can receive their cash prizes through their bank account, although they would have to win at least RM50 to do so. As this involves a financial transaction, the app requires users to perform a know-your-customer exercise as well, which may take a few days to be approved.