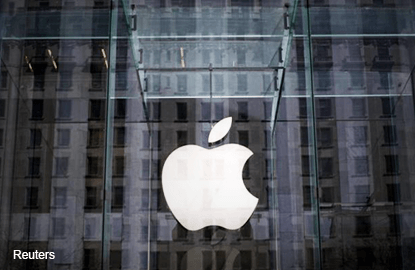 SAN FRANCISCO (March 22): Apple Inc. unveiled a new, smaller iPhone that will start at $399, seeking to jump-start sales of its flagship product by enticing more users to upgrade, especially in high-growth markets such as China and India.
The iPhone SE has a 4-inch-screen, comes in four stainless-steel finishes, and incorporates the faster A9 processor that also runs the larger iPhone 6S handsets, Apple Vice President Greg Joswiak said at an event Monday at the company's Cupertino, California, headquarters. Apple also showed off a new iPad, incorporating the power and some features of its larger Pro model for business users, and cut the price of its year-old Apple Watch.
The revamped compact iPhone arrives two months after Apple said quarterly sales will probably decline for the first time since 2003, heightening concern that demand for high-end smartphones has reached its peak. Customers' eagerness to freshen their handsets regularly has waned in the past two years, and the updated model could encourage those holdouts to buy a new iPhone. The company said it sold 30 million of the older 4-inch iPhones last year, including the majority of its Chinese sales -- a market where it risks losing share without an updated lower-end option.
"The iPhone SE will improve traction in emerging markets," said Bill Kreher, a St. Louis-based senior technology analyst at Edward Jones & Co. "Apple needs to better position itself against the plethora of Android-based devices that are available at low price points, and we think they effectively accomplished that here."
FBI Standoff
Earlier, Chief Executive Officer Tim Cook opened the event by wading into the political debate over privacy and encryption. Cook was first to take the stage, and immediately addressed Apple's legal standoff with the FBI over a court order requiring the company to help the U.S. unlock the handset of a terrorist who killed 14 people in San Bernardino last year. Cook said he's humbled by the support Apple has received from Americans.
"We did not expect to be in this position, at odds with our own government, but we believe strongly we have a responsibility to help you protect your data and your privacy," he said. "We will not shrink from this responsibility."
In a series of filings over the past month, Apple has repeatedly sought to frame the FBI debate as a potential threat to the privacy of hundreds of millions of iPhone users around the world. For its part, the U.S. Justice Department wants to keep the discussion focused on the individual handset that is the subject of the case.
A hearing scheduled Tuesday before a judge in Riverside, California, was canceled after the Justice Department said in a court filing Monday that it may have learned of a way to break into the locked iPhone without the company's help. The judge ordered the government to file a report on the status of its efforts by April 5.
"We need to decide as a nation how much power the government should have over our data and over our privacy," Cook said earlier. As he exited the stage at the close of the event, the company's music choice seemed to underscore his message: speakers played a version of Tom Petty's song "I Won't Back Down."
SE Features
The iPhone SE comes with 16 or 64 gigabytes of storage, with the latter model costing $499. IPhone SE has full support for the Siri voice-enabled digital assistant, a 12-megapixel camera, and includes features found on the larger phones like Apple Pay and the more secure Touch ID fingerprint scanner.
With the SE's pricing, Apple is "getting serious about gaining more share in the mid-priced smartphone market vs. competitors like Samsung, Huawei, Oppo and LG, as the growth in the premium priced segment is slowing," said New York-based Bloomberg Intelligence analyst John Butler. "A move to broaden its presence in the mid-priced segment represents Apple's bid to sustain growth."
While analysts from UBS Group AG to RBC Capital Markets predict about 15 million annual shipments of Apple's new handset, introducing the product in the spring may help bolster revenue over the summer, when sales traditionally dip. Apple sold 231 million iPhones in the last fiscal year.
"From a value proposition standpoint, we think it'll find its niche," Edward Jones's Kreher said. "At the same time, it's important to know that Apple's iPhone 7 update in September will be more critical."
Orders for the new smartphone and iPad begin Thursday, and both will be shipped starting March 31. The company also showed new band styles for Apple Watch, made of woven nylon. Prices for that device will now start at $299, down from $349.
Before the hardware announcements, executives came on stage to emphasize Apple's corporate responsibility efforts. Lisa Jackson, head of Apple's environment, policy and social initiatives, unveiled a robot dubbed Liam that disassembles used iPhones in order to recycle components, while Chief Operating Officer Jeff Williams highlighted a new health monitoring and tracking app called CareKit. The tool builds on the existing HealthKit research app.
Smaller Pro
Phil Schiller, Apple's senior vice president and head of marketing, led the unveiling of the iPad Pro with a 9.7-inch display, a smaller version of the 12.9-inch Pro tablet designed for business users that was first introduced in September. The new Pro will start at $599 for a 32-gigabyte model.
Apple chose to introduce a new 9.7-inch model because "it has remained our most popular size," Schiller said.
Revenue from Apple's tablet, introduced in 2010, fell by 21 percent in the three months that ended in December, with existing users seeing no need to buy updated models and more people choosing larger phones instead. The company sold 16.1 million of the devices in the quarter, a 25 percent decline from the holiday quarter a year earlier.
Tablet shipments are forecast to decline 5.9 percent to 195 million units in 2016, according to market researcher IDC. Apple is projected to win 22 percent of the worldwide market in 2020, a decline from 29 percent this year, according to an IDC report earlier this month. Still, Schiller underscored that Apple's goal with the iPad is winning over users whose PCs are becoming outdated, especially as the handheld devices add more of the larger machines' functionality.
"There are over 600 million PCs in use today that are over five years old," Schiller said. "This is really sad."