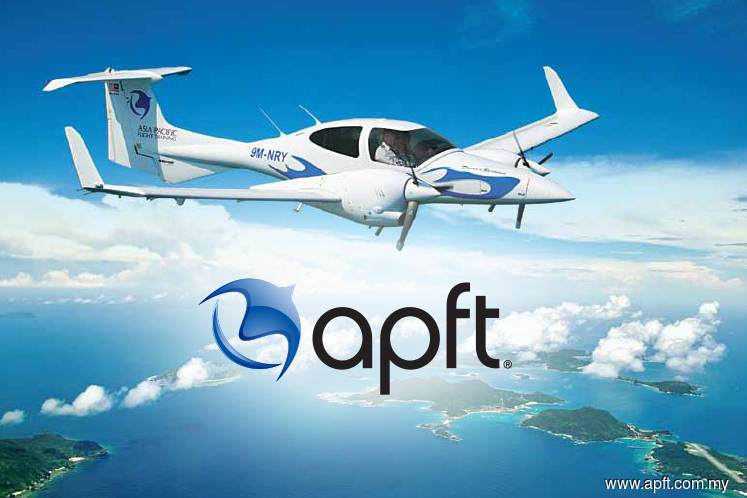 KUALA LUMPUR (Jan 8): Practice Note 17 company APFT Bhd has aborted its plan to collaborate with Malaysian Aviation Training Academy Sdn Bhd (MATA), an aircraft maintenance academy, to provide training for aviation professionals in the country.
The decision comes as its wholly-owned subsidiary APFT Aviation Sdn Bhd (AASB) had been served with a notice of application for interim injunction seeking to repossess its fleet of 16 aircraft.
In a bourse filing today, APFT said it has issued a letter to MATA to terminate the memorandum of business collaboration agreement entered into by the two companies on July 8 last year.
It went on to explain that on Aug 28, 2019, AASB was served with a notice of application for interim injunction by the liquidator of Asia Pacific Flight Training Sdn Bhd (APFTSB), where the liquidator is seeking to repossess 16 aircraft which were transferred to AASB as intercompany debt settlement.
"The injunction, among others, restrains AASB from dealing, charging, disposing, transferring and/or exercising any rights arising from the aircraft," said APFT.
It also noted that on June 24, 2019, Kelab Aero Perak had wrongfully terminated its tenancy agreement with AASB.
As a result, APFT and its subsidiaries have no place of operations for their flight training school, continuing airworthiness management organisation or maintenance organisation approval Part 145 venture.
It added that this also made it difficult for APFT to collaborate with MATA in obtaining various licences under the Civil Aviation Authority of Malaysia (CAAM) such as approved flying training organisation, maintenance, repair and overhaul and air operator certificate as planned, until it has secured an appropriate base of operations.
"APFT is also unable to proceed with the application for the activities of licences with CAAM.
"In view of the development, the board of directors has resolved to terminate the agreement with MATA and not to proceed with its self-rescue plan to regularise its financial position," said the group.
With APFT pooling its resources with MATA, it was supposed to form the largest aviation training centre in the country.
While its flight training, maintenance repair and overhaul and engineering training activities and businesses are hindered for the time being, APFT said not all its aviation activities are affected and the group can still carry out other aviation activities such as potential air charter services subject to the relevant approvals being obtained.
In September last year, APFT's external auditors had expressed doubts over the flight training company's ability to continue as a going concern as it was unable to issue an opinion on the group's financial statements for the period Feb 1, 2018 to April 30, 2019.
APFT shares were untraded today. It last closed at one sen, bringing a market capitalisation of RM13.42 million.