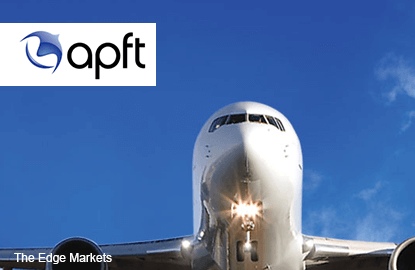 KUALA LUMPUR (Dec 29): APFT Bhd posted a net loss of RM3.32 million in the first financial year ended Oct 31, 2016 (1QFY17) whereas revenue stood at RM15.16 million.
In its filing to Bursa Malaysia today, the flight training provider said a total of RM3.47 million in loss before taxation was made in 1QFY17, mainly due to a decrease in revenue.
There is no comparative financial information for the quarter as the company changed its financial year end from March 31 to July 31.
On the outlook, the group said the Asia Pacific Flight Training Academy, which it owns and operates, has been focusing on helicopter training and is currently training the Malaysian Fire and Rescue Department cadets.
"We are quite confident [that] other agencies [will] send their staff to train in the helicopter licence programme," it said.
Meanwhile, the contract with the Education ministry for the Diploma Vocational Malaysia (DVM) is ongoing, with additional students seen registering for the programme this year and another 50 students set to be recruited in 2017.
"Our 'pertauliahan' renewal by [the Skills Development Department] has been approved and we are now on a recruitment drive for the [Sijil Kemahiran Malaysia] programme funded by the [National Higher Education Fund Corp or PTPTN]," it said.
The Maintenance Training Academy has also been conducting training for a client in Abu Dhabi, which has requested to send its students to the academy for the European Aviation Safety Agency Category A (EASA CAT A) programme.
"We have been approached by the Middle Eastern and African nations to provide assistance in aviation, oil and gas industry especially in training and setting up of services. Initially, we can expect them to send their students to us for the training," the group added.
Additionally, APFT's Korean collaborator has established its marketing of the group's products in Korea and is expecting to bring in students in the first quarter of 2017.
APFT's share price closed 14.3% higher at 4 sen, valuing it at RM19.09 million.