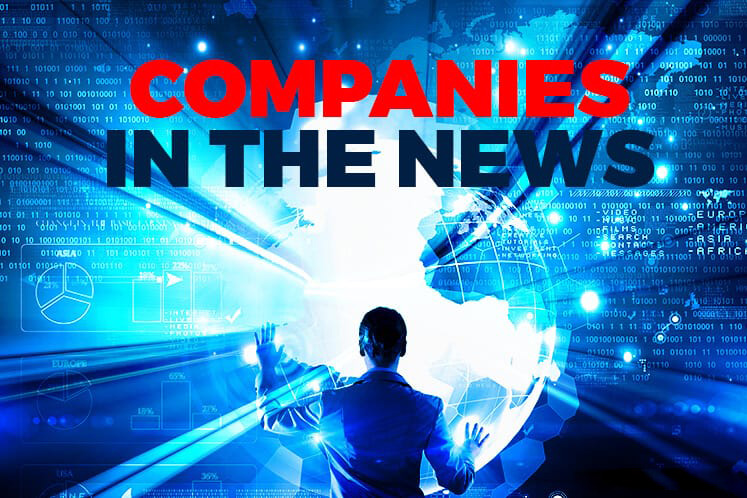 KUALA LUMPUR (Jan 30): Based on corporate announcements and news flow today, companies in focus on Thursday (Jan 31) may include: APFT Bhd, Amanah Harta PNB, Bursa Malaysia Bhd, Chin Hin Group Bhd, Ark Resources Holdings Bhd, Berjaya Corp Bhd, Genting Bhd, Merge Energy Bhd, Uzma Bhd and Alam Maritim Resources Bhd.
APFT Bhd has dropped its lawsuit against its former executive chairman, Datuk Faruk Othman, for alleged misappropriation of funds saying that the suit has been discontinued with no order as to cost, and with no liberty to file afresh.
Filed on July 18, 2018, the suit alleged that Farouk had misappropriated APFT's funds, causing the company to trigger the Practice Note 17 status and breaching Bursa Malaysia's Main Market-listing requirements.
Amanah Harta PNB reported a net profit of RM2.7 million for its fourth quarter ended Dec 31, 2018, against RM9 million in the prior year quarter. It attributed the 70% fall to an unrealised gain of RM6.2 million in 2017. Earnings per share fell to 1.23 sen from 4.09 sen previously.
However, revenue increased 6.61% to RM8.13 million from RM7.62 million a year ago on the back of new tenancies in its Plaza VADS property.
The Finance Minister appointed Datuk Shireen Ann Zaharah Muhiudeen to be Bursa Malaysia Bhd's new non-executive chairman, effective March 1, succeeding outgoing chairman Tan Sri Amirsham A Aziz.
Amirsham will step down on Feb 28 after holding the position for nearly four years since March 1, 2015.
Shireen, who has over 30 years of experience in focused fund management of emerging Asia equity markets, will also be made Public Interest Director.
Chin Hin Group Bhd's unit, Chin Hin Academy Sdn Bhd (CHA), is teaming up with a Singaporean company, Bimage Consulting Pte Ltd, to provide consultancy and solutions for construction players in Malaysia.
It signed a one-year agreement with Bimage, which is primarily involved in providing consulting and services in digitizing construction and infrastructure processes
CHA will gather market intelligence, provide insights, assist in the preparation of proposals, and introduce prospective customers to Bimage, while will prepare proposals and attend meetings related to business development, sales, technical and pricing matters, Chin Hin said.
Ark Resources Holdings Bhd has entered into a joint venture agreement with Koperasi Kampung Melayu Balik Pulau Bhd (KKMBPB) to develop a piece of land in Balik Pulau, Penang.
The agreement will see the group developing the KKMBPB's 89.89 acres of land into a mixed-use development with a minimum gross development value (GDV) of RM600 million.
Berjaya Corp Bhd and its wholly-owned subsidiary Juara Sejati Sdn Bhd have entered into an agreement with Penta Master Fund Ltd, PCM Industrial LP and Penta Asia Long/Short Fund Ltd to acquire 4.61% of Berjaya Land Bhd for RM87.4 million.
The group said the 230 million Berjaya Land shares will be acquired for a total purchase consideration of RM87.4 million or 38 sen per share, to be fully satisfied via the issuance of 291.3 million Berjaya Corp shares at an issue price of 30 sen per share.
Genting Bhd said its subsidiary will be issuing bonds to raise US$775 million to prepay some existing debt facilities and for general corporate purposes.
The guaranteed secured senior notes with a coupon rate of 6.875% per annum, payable on a semi-annual basis, will be issued by its 57.89%-owned indirect subsidiary, LLPL Capital Pte Ltd. The notes will have a tenure of 20 years and be unconditionally and irrevocably guaranteed by PT Lestari Banten Energi (the guarantor), which is a 55%-owned indirect subsidiary of Genting.
Merge Energy Bhd CEO Datuk Abdul Jalil Abdul Karim tendered his resignation to pursue other interests. He served  as the CEO of the water treatment plant construction and project management company since February 2011.
Uzma Bhd has refuted a blog post's claim made against the company, its executives and its main customer. The group did not specify the allegations or the name of the publisher of the blog post.
It was reported yesterday via Sabahkini2.com report that Uzma received preferential treatment from Petronas.
Alam Maritim Resources Bhd said a turnaround in its financial year ending Dec 31, 2019 (FY19) is unlikely as impairments continue throughout the year, while the contracts the offshore vessel group secured last year will only see a full contribution in FY20.
Its managing director Datuk Azmi Ahmad said the group is in the midst of getting its operations in order and its financial performance this year will continue to be affected by several factors.