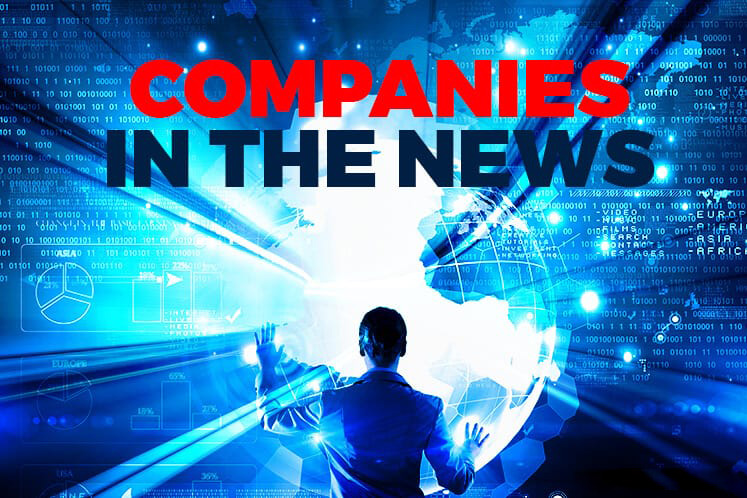 KUALA LUMPUR (Jan 19): Based on corporate announcements and news flow today, stocks in focus on Monday (Jan 22) may include the following: APFT Bhd, ACME Holdings Bhd, Berjaya Land Bhd, Comintel Corp Bhd, Atta Global Group Bhd, IOI Corp Bhd, NWP Holdings Bhd, PRG Holdings Bhd, Freight Management Holdings Bhd and British American Tobacco (M) Bhd.
APFT Bhd has fallen into Practice Note 17 (PN17) status after its former external auditors expressed an emphasis of matter on the company's ability to continue as a going concern based on its audited financial statements for its financial year ended July 31, 2016.
The company's auditors, Messrs SJ Grant Thornton, had also highlighted that its shareholders' equity on a consolidated basis stood at 34.6%, which was below 50% of its issued and paid-up capital as at Sept 30, 2017.
ACME Holdings Bhd is looking to raise up to RM6.99 million via a private placement to expand its manufacturing segment with a new furniture production line.
The group has proposed a private placement of up to 21.85 million new shares, or 10% of its total issued shares, at an indicative issue price of 32 sen per share.
Berjaya Land Bhd's 51%-owned unit Berjaya (China) Great Mall Co Ltd (GMOC) today submitted a notice of arbitration against Beijing SkyOcean International Holdings Ltd to seek recovery of an outstanding payment of 974.07 million renminbi (RM598.97 million).
Under the terms of its disposal of the Berjaya (China) Great Mall Recreation Centre to Beijing SkyOcean for 2.08 billion renminbi, the purchaser was supposed to pay a balance 1.015 billion renminbi by November 2017, which has not been remitted as at December last year.
GMOC has yet to receive the payment for the remaining adjusted cash consideration of 974.07 million renminbi.
Comintel Corp Bhd has entered into talks with Thanh Cong Cooperative to install its green waste management waste-to-energy system at the Xuan Son municipal solid waste treatment plant in Hanoi, Vietnam.
The group's wholly-owned subsidiary, Green Waste Management Sdn Bhd (GWM), has entered into a letter of intent with Thanh Cong for the project, which see it appointed as the engineering, procurement and construction contractor for the supply, installation and commission of the system.
The plant has a design capacity to treat 600 tonnes of municipal solid waste per day and generate approximately five megawatts of electric energy.
Atta Global Group Bhd has proposed to diversify into property development, construction and property investment in anticipation of the commencement of a property development project by a subsidiary this year.
The steelmaker said its 55%-owned unit Tetap Gembira Development Sdn Bhd (TGDSB) intends to undertake a mixed development project, consisting of a 23-floor building in Penang.
IOI Corp Bhd is disposing of its specialty fats unit IOI Lipid Enzymtec Sdn Bhd (IOILE) to Loders Croklaan Group BV for RM330.5 million as part of its internal restructuring.
The disposal of IOILE is a condition of the group's disposal of a 70% stake in Loders Croklaan to global agribusiness and food company Bunge Ltd for RM3.94 billion cash, which it had announced in September last year.
Shares of NWP Holdings Bhd are set to resume trading on Monday (Jan 22) after the group published its FY17 annual report today.
The external auditors of the company issued a qualified opinion on the group's financial statements for the financial year ended Aug 31, 2017 (FY17), noting that it was unable to obtain sufficient audit evidence to determine the effect of several items on its financial accounts.
These include the carrying amount on NWP's investment in an associate, the carrying amount of an acquired yacht and details on other receivables, according to the independent auditors' report by Messrs Ecovis AHL PLT to the group today.
PRG Holdings Bhd halted its shares from trading at 4.22pm today until Monday 12 noon, ahead of the release of a material announcement.
Freight Management Holdings Bhd (FMH) said its wholly-owned subsidiary FM Global Logistics (M) Sdn Bhd has been granted a special incentive package from the Malaysian Investment Development Authority (Mida) for development of an e-Commerce fulfilment hub in Shah Alam, Selangor.
The special incentive will enable it to qualify for income tax exemption via Investment Tax Allowance (ITA) of 60% of qualifying capital expenditure within a five-year period, and the ITA can be utilised to deduct up to 70% of the statutory income for each year of assessment.
British American Tobacco (M) Bhd (BAT) refuted allegations that the industry's proposal to reintroduce small cigarette packs aims to increase the number of smokers in Malaysia.
BAT said the proposal is a pragmatic measure to merely provide a legal alternative to illegal cigarettes, and views with concern that the industry's intention to support the proposal has been taken out of context.