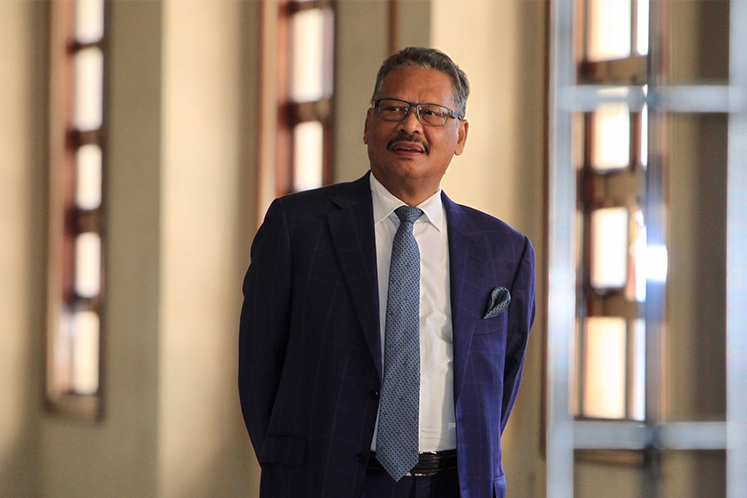 KUALA LUMPUR (June 14): Former attorney-general Tan Sri Mohamed Apandi Ali has claimed that Datuk Seri Gopal Sri Ram, as senior deputy public prosecutor (DPP) in Datuk Seri Najib Razak's 1Malaysia Development Bhd (1MDB) cases, has a "clear mission of bias" against the former premier.
The assertion came in an affidavit Apandi affirmed on Friday in support of Najib's application to remove Sri Ram, a former Federal Court judge, from prosecuting him in the 1MDB audit tampering trial that will resume tomorrow.
Prior to that, Apandi alleged in a social-media post last week that Sri Ram had been sent to see him in January 2018 by Tun Dr Mahathir Mohamad to persuade him to arrest Najib, the then prime minister.
In the affidavit, Apandi further said he communicated with Sri Ram via WhatsApp after the change of government on May 9, 2018 and asked the latter whether his job as attorney-general was on the line as Sri Ram was advising Dr Mahathir. In response, Apandi said Sri Ram said he wished Apandi had followed his advice and charged Najib.
"He also said in the same message that Najib and his wife are certain 'to face the music'," Apandi said in the affidavit, adding he told Sri Ram he had acted honestly in his role as attorney-general, based on the content of the investigation papers.
"Sri Ram replied to me that the mere fact that monies are in Najib's account by itself was sufficient to charge him. I was surprised by his attitude, which exemplified an unreasonable approach, especially coming from an ex-apex court judge and an eminent criminal defence counsel who had always been preaching the right to a fair trial, especially for an accused person.
"So, I retorted by saying that with regard to the RM2.6 billion case investigated by the Malaysian Anti-Corruption Commission (MACC), there were sufficient explanations by the accused that satisfied the investigation agency. I also said the MACC came out twice with press statements exculpating Najib," he added.
Apandi further claimed that Sri Ram responded by saying that a prosecutor was not concerned with the defence version, as all a prosecutor needed was prima facie evidence of a crime and for the accused to give his explanation in court.
"I have never heard of such a jaundiced view coming out from the mouth of such purportedly an experienced person. I concluded that Sri Ram had a mission of clear bias against Najib in all of his cases," the former attorney-general said in the affirmed document.
He further said he was "horrified" to learn that Sri Ram was appointed a senior DPP under Section 376(3) of the Criminal Procedure Code, which he said was a misnomer as he thinks a DPP must come from the Legal and Judicial Service.
Najib's application to remove Sri Ram is fixed for case management tomorrow before Justice Zaini.
The former premier's counsel Tan Sri Muhammad Shafee Abdullah told reporters on Friday that he would impress upon the court to hear the application first before continuing with the trial.
Read also:
Following Apandi's 'arrest Najib' claim, ex-PM wants Sri Ram removed from audit tampering trial