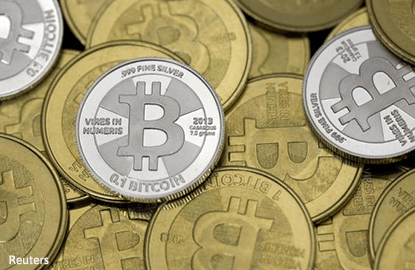 SINGAPORE (Sept 23): Results from State Street Corporation's latest survey suggests that  asset owners and managers in Asia Pacific (APAC) are not quite ready to adopt blockchain, despite generally positive sentiments of the technology in general.
Blockchain is a tamper-proof, de-centralised public ledger technology that underlies bitcoin, an electronic payment system.
(See also: IBM and Bank of Tokyo-Mitsubishi UFJ launch blockchain partnership)
(See also: Singapore financial services sector can be global blockchain leader)
In a Thursday release, the financial services firm reveals that 65% of APAC asset owners and managers expect blockchain technology to be "widely adopted in the investment industry in the next five years".
This figure is a stark contrast to the mere 33% of respondents who say they currently have blockchain initiatives underway to support their beliefs.
"What's clear from our research is that there's uncertainty around how to best plan for this emerging technology, and a need for more education," said Wai-Kwong Seck, chief executive officer for State Street in Asia Pacific.
While 62% of asset owners believe blockchain will achieve the scale needed for adoption, 43% said they don't know enough about the technology. Asset managers appeared less confident in terms of optimism in terms of scale (56%), with 50% noting they needed more education on blockchain.
Expectations of blockchain
Of those who expect blockchain to require staffing changes, the majority of respondents (75%) agree that blockchain will have the greatest impact on IT departments. According to State Street, this demonstrates that institutions recognise the need to introduce talent with the skills necessary to adapt to new technical demands. Other roles that APAC respondents believe would be affected are regulatory, investment and legal teams at 70%, 64% and 55% respectively.
More respondents are convinced that blockchain is most likely to be used privately by companies with their clients (40%), verses 36% who believe blockchain will be used broadly by the industry.
Singapore least optimistic
Only 40% of Singapore respondents believe that blockchain can achieve the scale necessary to support the needs of the financial industry, a far cry from the optimism of Australian asset owners and managers (70%). Furthermore, just 37% of Singapore's respondents think blockchain will significantly disrupt financial markets, such that the Republic comes in second lowest after Japan's 23%.
Security a concern
Another major concern is security, which State Street says has to be addressed before the finance industry begins adopting the technology on a wider scale. 67% of all respondents say they worry about how security implementation in blockchain will address existing and future requirements. This is particularly so among public pension funds, as well as among respondents in Singapore and Japan, says State Street.
The survey was commissioned by State Street and conducted by Oxford Economics and its results are as of Sept 2016.
Participants comprised 48 asset managers and 42 asset owners across Australia (30), Japan (30), Hong Kong (15) and Singapore (15) from asset management firms, private pension funds or retirement funds, and public pension and retirement funds.