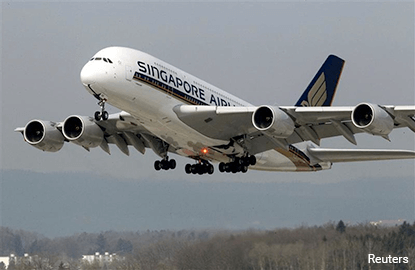 SINGAPORE (Sept 28): UOB Kay Hian is keeping its "hold" recommendation on Singapore Airlines (SIA) with a lower target price of S$10, due to ongoing structural challenges and lower revenue from the corporate travel segment.
In a Wednesday report, analyst K Ajith highlights that layoffs and moves by companies to conserve cash could affect the corporate travel market, which is likely to hit SIA as some 30% of its pax revenue comes from corporate travel.
"We believe SIA and Cathay Pacific (CX) face structural challenges at their respective hubs and that valuations will remain depressed until yields start creeping up, which is likely to happen only if fuel prices rebound," he adds.
This follows UOB's attendance of a recent conference held by Bank of China (BOC) Aviation, where International Air Transport Association's (IATA) chief economist, Brian Pierce, shared his views on the airline industry.
In Pierce's opinion, Asia-Pacific carriers' return on invested capital (ROIC) are still below their cost of capital, mainly because of weak revenue and losses in the air cargo segment. In contrast, the profitability of North American carriers has improved on the back of low fuel prices, good capacity management and improved gearing.
"Asia-Pacific carriers have a 40% share of the global air cargo traffic and the region still suffers from overcapacity and weak demand," Ajith elaborates.
"Except for regions with high corporate demand, we believe other Asia-Pacific regions, such as China and Thailand are likely to see yields stabilise or even improve, especially if crude oil prices rise," he adds.
Overall, Ajith is positive on the sector for three reasons, namely because of a reduced risk of steep foreign exchange (forex) losses as capex becomes increasingly funded by renminbi; expectations of yields to stabilise in 2H16; and the anticipation of demand dynamics to "remain favourable over the longer term".
UOB currently prefers Chinese airlines over SIA and Hong Kong Stock Exchange (HKSE) listed carrier Cathay Pacific (CX) for their attractive valuations, relatively low competition from low-cost carriers, and low cargo exposure.
The analyst thinks valuations for Chinese airlines remain attractive, having also displayed core net profit growth for 1H16. Among full service carriers under UOB's coverage, Air China had the highest ROIC at 7.9% in 2015, followed by China Eastern Airlines (CEA) at 7.2%.
"China's rise as the top travel market will imply substantial traffic growth potential for the three Chinese airline majors [Air China, CEA and China Southern Airlines (CSA)]," notes the analyst, who is convinced their dominance is likely to continue, as China places restrictions on new airline applications amid concerns over a shortage of technicians and ground staff.
As at 11:43 a.m., shares of SIA were trading 0.66% lower at S$10.55.