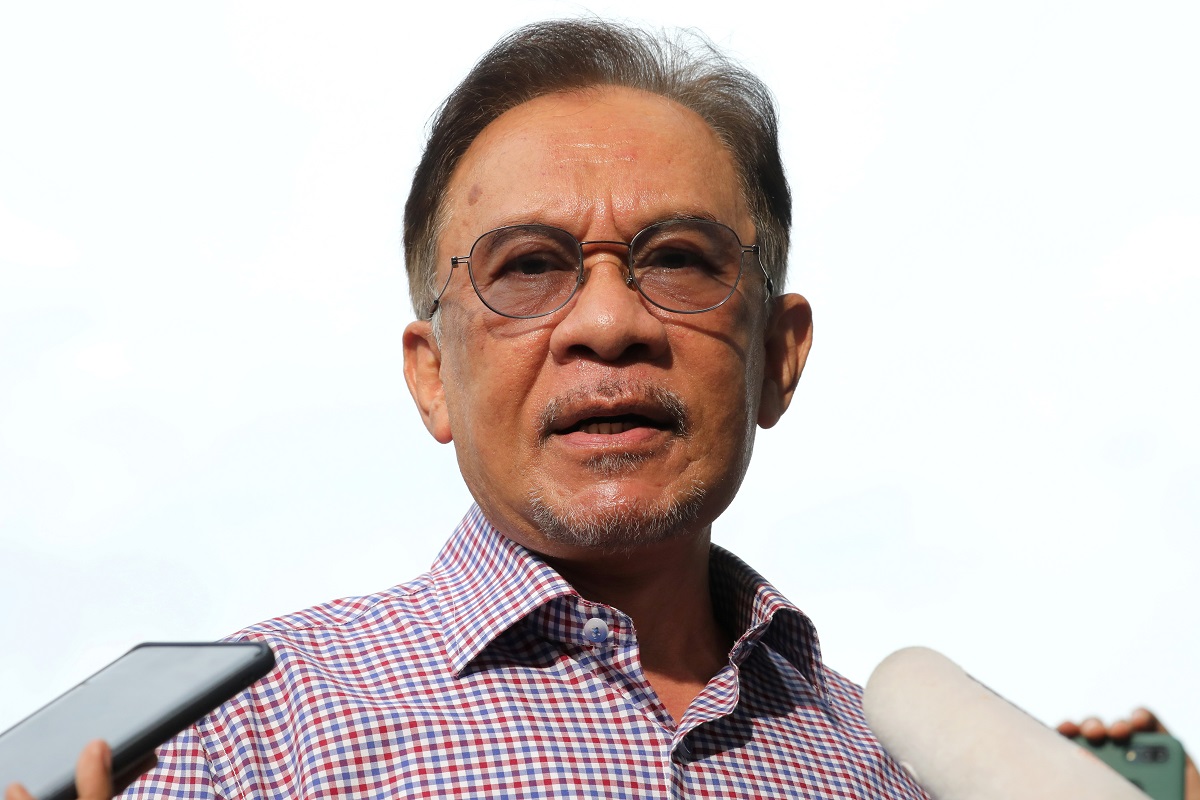 KUALA LUMPUR (April 10): Without confirming or denying if an audio recording of a conversation between two individuals with voices resembling PKR president Datuk Seri Anwar Ibrahim and Umno president Datuk Seri Dr Ahmad Zahid Hamidi is genuine, Anwar had this to say: If genuine, what is the problem?
When 'pressed' by the moderator at a dialogue session organised by the National Council of Professors (MPN) here today on the matter, the Opposition Leader questioned whether there were any criminal elements in the conversation.
"What is the problem? If it is true (the recording is genuine), is there any treachery there? Corruption? Is there a criminal offence? ... nothing.
"If there are no problems, what problems do you want to raise at a ceremony like this, what is the benefit for the people? I have made a statement, Zahid (Ahmad Zahid) has made a statement, enough ... move on," said Anwar, who is also the chairman of the Pakatan Harapan (PH) coalition, at the session titled "Bicara Tokoh: No Holds Barred".
Admitting that he had yet to lodge a police report on it due to his busy schedule, Anwar said he considered the audio dissemination was only politically motivated and that the real issue that needed to be addressed was who was spying and released the recording.
The audio recording, which allegedly took place after the Umno General Assembly last month, has been making rounds on social media. 
Today, Inspector-General of Police Tan Sri Abdul Hamid Bador said police will be recording statements from Anwar and Ahmad Zahid in connection with the audio clip.
He said an investigation paper had been opened following police reports lodged on it and that a copy of the audio recording had been sent to a forensic laboratory to determine its authenticity.
He also urged Anwar and Ahmad Zahid to come forward to lodge police reports if they think they have been victimised or slandered. 
Meanwhile, in Perlis, Umno Supreme Council (MT) member Datuk Zahidi Zainul Abidin said the individuals involved in the audio recording need to tell the people frankly about their true stand.
"They need to be honest with the people if there is a political alliance. Apart from that, it is necessary to lodge a police report on the audio issue for the police to confirm whether the audio is genuine or otherwise," the deputy communications and multimedia minister told reporters.
Umno and PKR are adversaries in the political arena.
In other developments, Zahidi, who is also the Padang Besar Umno division head, asked Umno not to use the upcoming General Election (GE) as an excuse to postpone the party's elections, which should be held within three years.
Umno vice president Datuk Seri Ismail Sabri Yaakob was previously reported as saying that according to the Umno constitution, the postponement of party elections was allowed for 18 months by the MT and that the maturity period of the current Umno leadership will end on June 30, 2021.