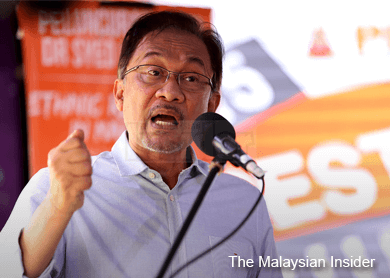 KUALA LUMPUR: With Penang, Kelantan and Selangor in limbo following Pakatan Rakyat's death, Datuk Seri Anwar Ibrahim delivered a message from prison, urging his former allies to work together to maintain the three opposition-led states.
The de facto PKR chief reminded the former component parties of Pakatan that, technically, they are still working together to oppose the Barisan Nasional (BN) government, even though Pakatan no longer formally exists.
"I have been following the latest developments that have jeopardised the formal coalition of Pakatan Rakyat," said Anwar in a message delivered through lawyer Sivarasa Rasiah.
"But on a substantial level, the cooperation among the three parties at the state government level and in Parliament to fight the BN government still goes on," he said.
"I would like to urge our partners to continue focusing their full attention on ensuring that the Selangor, Penang and Kelantan [state] governments care for the public's concerns, in accordance with the Pakatan Rakyat common policy."
He reminded DAP and PKR that the people's needs must still be served, adding that Malaysians are suffering from rising prices of goods and the goods and services tax.
The former opposition leader urged the party leaders to work together with non-governmental organisations to bring about change. — The Malaysian Insider
This article first appeared in The Edge Financial Daily, on June 19, 2015.