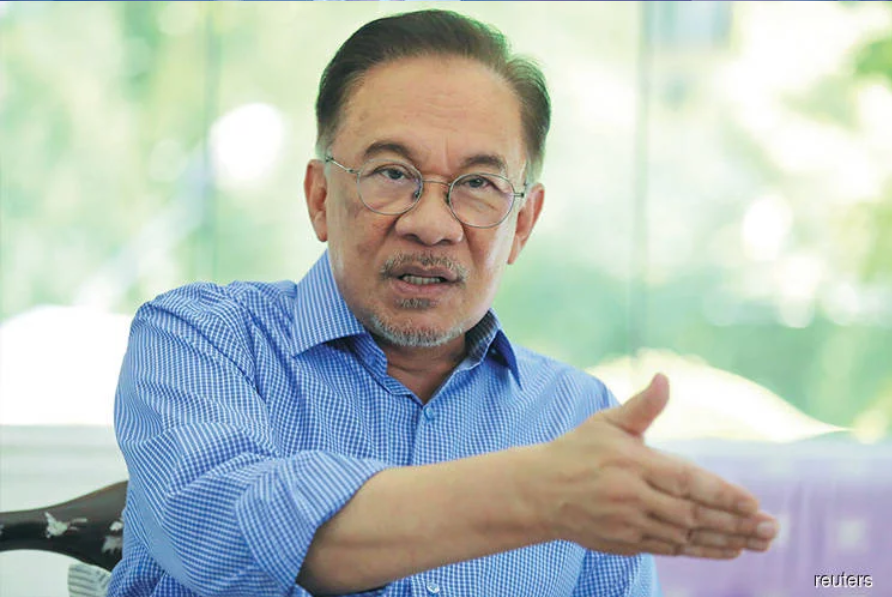 KUALA LUMPUR (Feb 23): Datuk Seri Anwar Ibrahim admitted that he was "shocked" by today's events which he called a "betrayal", following promises to hand over the premiership to him.
"There will be changes [in the government] and I expect them to happen soon, perhaps tomorrow.
"Although there was no announcement tonight, based on information I have received, there are ongoing efforts," the Port Dickson lawmaker told his supporters in a Facebook broadcast after weekly prayers at his Bukit Segambut residence tonight.
MPs from Barisan Nasional and Pakatan Harapan convened at the Sheraton Petaling Jaya for dinner, and a highly-anticipated announcement did not take place.
 
The dinner took place after a flurry of meetings that took place in the Klang Valley among political parties as speculation mounts that a new government may be very soon comprising Bersatu, a bloc of PKR MPs, certain Umno MPs, Gabungan Parti Sarawak (GPS), and Parti Islam Se-Malaysia .
Six party leaders, who include Bersatu president Tan Sri Muhyiddin Yassin, PKR deputy president Datuk Seri Mohd Azmin Ali, Datuk Seri Dr Ahmad Zahid Hamidi, and PAS president Datuk Seri Abdul Hadi Awang, has been granted an audience with the Yang di-Pertuan Agong Al-Sultan Abdullah Ri'ayatuddin Al-Mustafa Billah Shah, reported The Star.
The publication also reported that the Agong would grant an audience to Anwar and his wife and PKR president Datuk Seri Wan Azizah Wan Ismail.
Earlier this evening, more than 20 vehicles that are believed to belong to some senior politicians were seen entering the Istana Negara compound just before 6pm, tweeted Berita Harian.
Bersatu had just concluded a four-hour meeting at its headquarters in Petaling Jaya this afternoon and declined to disclose what was discussed, while a few kilometres down the road at the Sheraton PJ hotel, it is believed that a meeting involving what is dubbed as the "kartel faction" of PKR led by Azmin and deputy president Zuraida Kamaruddin is currently underway, reported the Malay Mail.
According to the newsportal and Malaysiakini, those spotted entering a meeting room in the hotel were Zuraida, who is also Housing and Locall Government Minister, Foreign Affairs Minister Datuk Saifuddin Abdullah, Works Minister Baru Bian, Batu Pahat MP Rashid Hasnon, Petaling Jaya MP Maria Chin Abdullah, and Segamat MP R Santhara Kumar.
Malay Mail quoted sources reported that Azmin is set to lead 15 MPs out of PKR to form a new government with the above-mentioned parties.
Meanwhile, Umno president Datuk Dr Ahmad Zahid Hamidi also cut short a retreat between the party and PAS at Janda Baik to convene a supreme council meeting today, Tan Sri Musa Annuar was quoted by Malay Mail as saying.
However, he said the reason for the meeting was unknown.
Malaysiakini also spotted Sarawak Chief Minister Abang Johari Openg and Sabah Chief Minister Datuk Seri Mohd Shafie Apdal in the same hotel where Abang Johari had chaired a meeting with GPS members earlier this afternoon.
GPS, which comprises four Sarawakian parties, have 18 MPs in parliament, while Warisan, which is led by Shafie Apdal, has nine MPs.
As of now, there is no official announcement or confirmation by any political parties on any of the news reports on possible changes in the country's political scene.