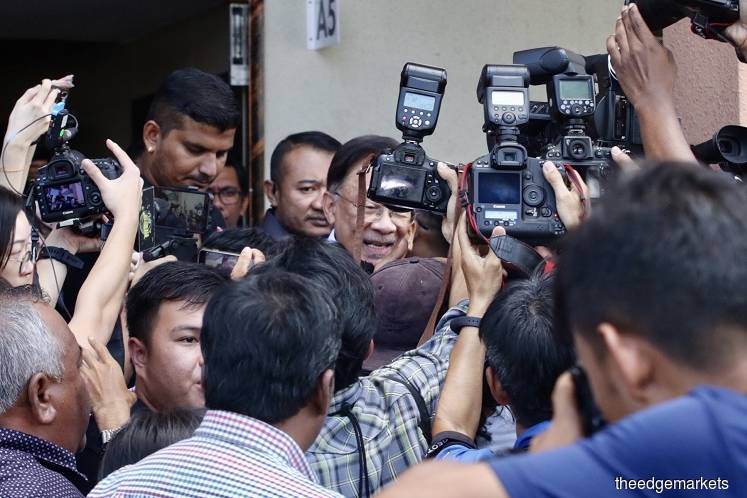 Anwar speaking to the press outside the PKR headquarters today. (Photos by Sam Fong)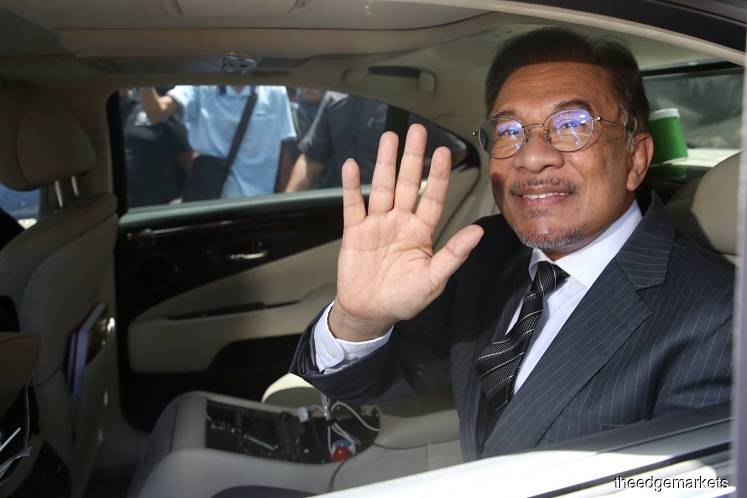 Anwar arriving at the PKR headquarters today.
PETALING JAYA (Feb 24): PKR president Datuk Seri Anwar Ibrahim said today he had a very good meeting with Prime Minister Tun Dr Mahathir Mohamad at the latter's residence in Seri Kembangan, Selangor, after unexpected talks yesterday between the premier's Parti Pribumi Bersatu Malaysia and opposition parties to form a new government, which would exclude Anwar.
Today, Anwar said he was satisfied with Dr Mahathir's stand that principles should be prioritised and that the reform agenda must prevail.
"We had a very good meeting," Anwar told reporters waiting outside the PKR headquarters, when he arrived for the PKR leadership council meeting today.
Anwar was accompanied by his wife Datuk Seri Dr Wan Azizah Wan Ismail, who is Deputy Prime Minister.
When asked whether there will be a change in the government composition, Anwar said: "We must not fall easily into the horde of people who want to betray the faith of the people that was entrusted in the last election."
Anwar said he was touched by Dr Mahathir's assurance that the latter will not bow down to those who intend to seize government power and are not proponents of the reform agenda.
Speculation is rife that there will be a change in the government composition after separate meetings were held yesterday involving several political parties, including the opposition and parties from Sabah and Sarawk.
So far, party leaders were tight-lipped as to what was discussed at the closed-door meetings, which drew intense media attention, as the succession plan remains unknown.
It was reported that Pakatan Harapan, which includes Bersatu, PKR, DAP and Parti Amanah Negara, had won Malaysia's 14th General Election in 2018 based on a promise that Dr Mahathir will relinquish power to Anwar.