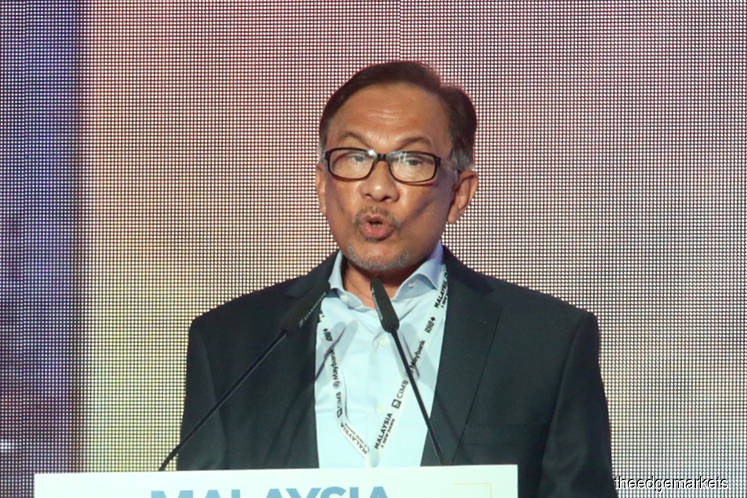 KUALA LUMPUR (July 18): PKR president Datuk Seri Anwar Ibrahim said his remarks on the fate of his deputy Datuk Seri Mohamed Azmin Ali had been taken out of context by the latter and that he does not view the Economic Affairs Minister as threat to him becoming prime minister.
"Azmin, I give him deference, he is undergoing a very difficult period.
"I will simply not respond to some of his spontaneous outbursts," said Anwar.
Anwar said his remarks were made in the context of the ongoing police investigations into the viral sex tape and "from the beginning [he has] rejected gutter politics".
When asked to whether he viewed Azmin as a threat to him becoming prime minister after Tun Dr Mahathir Mohamad eventually retires, Anwar said succession plans are on track.
"There is no issue, the MPs are with me, there is no change, the discussions are on track.
"What is the issue? I have got the numbers, the support of Pakatan Harapan and the Prime Minister.
"It is not fair to me or Azmin to indicate otherwise," responded Anwar.
Over whether he viewed this ongoing incident as having the potential to break up the PH government, Anwar said it would not be an issue as the coalition is united and rises above "gutter politics".
When asked if he had spoken to Azmin since making the remarks yesterday, Anwar said he had.
Yesterday, Anwar said Azmin should resign if it was found to be him in the video, to which Azmin retorted Anwar should look in the mirror first.
See also:
Not useful for Anwar to call for any resignation, Maria Chin says
Anwar should stop making divisive statements, says group backing Azmin
Azmin tells Anwar to 'look in the mirror'
Azmin must go on leave if he is the man in video — Anwar