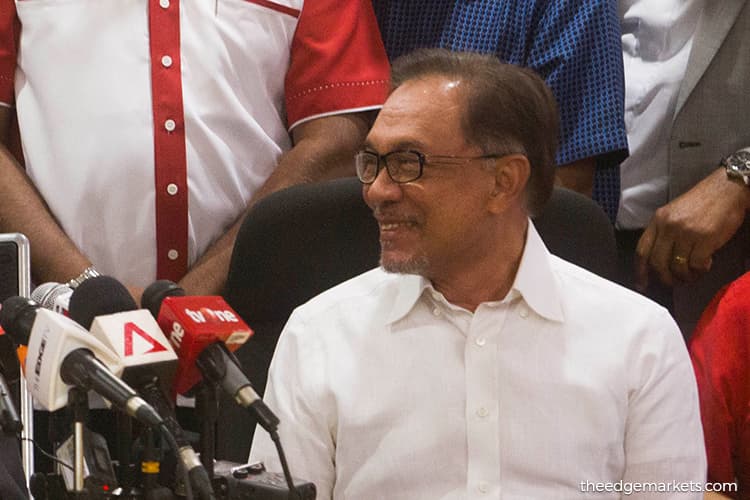 KUALA LUMPUR (Jan 4): Parti Keadilan Rakyat (PKR) president Datuk Seri Anwar Ibrahim (pictured) has brushed aside rumours that there were conspiracies within the Pakatan Harapan (PH) coalition to stop his appointment as the next premier.
"We have resolved the power transfer issue and there is no problem at all," Anwar told reporters after attending Pakatan Harapan's presidential council meeting at Yayasan Al-Bukhary here today, which was chaired by Prime Minister Tun Dr Mahathir Mohamad.
Earlier, Anwar was asked to comment on an article by the Financial Times, which had quoted him as saying that there are "pockets" of people from among the ruling coalition who were out to "sabotage these arrangements".
On Wednesday, Anwar had tweeted that Dr Mahathir must be given the space to lead the government for the duration that they have agreed upon.
"He (Dr Mahathir) has the full support of PH," he said in the Twitter post.
Recently, PH secretary-general Datuk Saifuddin Abdullah said there was no official agreement that Dr Mahathir would serve as the country's prime minister for two years.
Saifuddin had also said PH had only made the decision that Anwar would be appointed as the as the next premier after Dr Mahathir.
Today, Dr Mahathir said the government will issue a statement regarding the fuel price mechanism and subsidy later.
Separately, Dr Mahathir said the Cabinet has instructed the Ministry of Foreign Affairs to liaise with its counterpart in Singapore and have an amicable discussion and negotiation over the Seletar Airport and other related airspace issues.