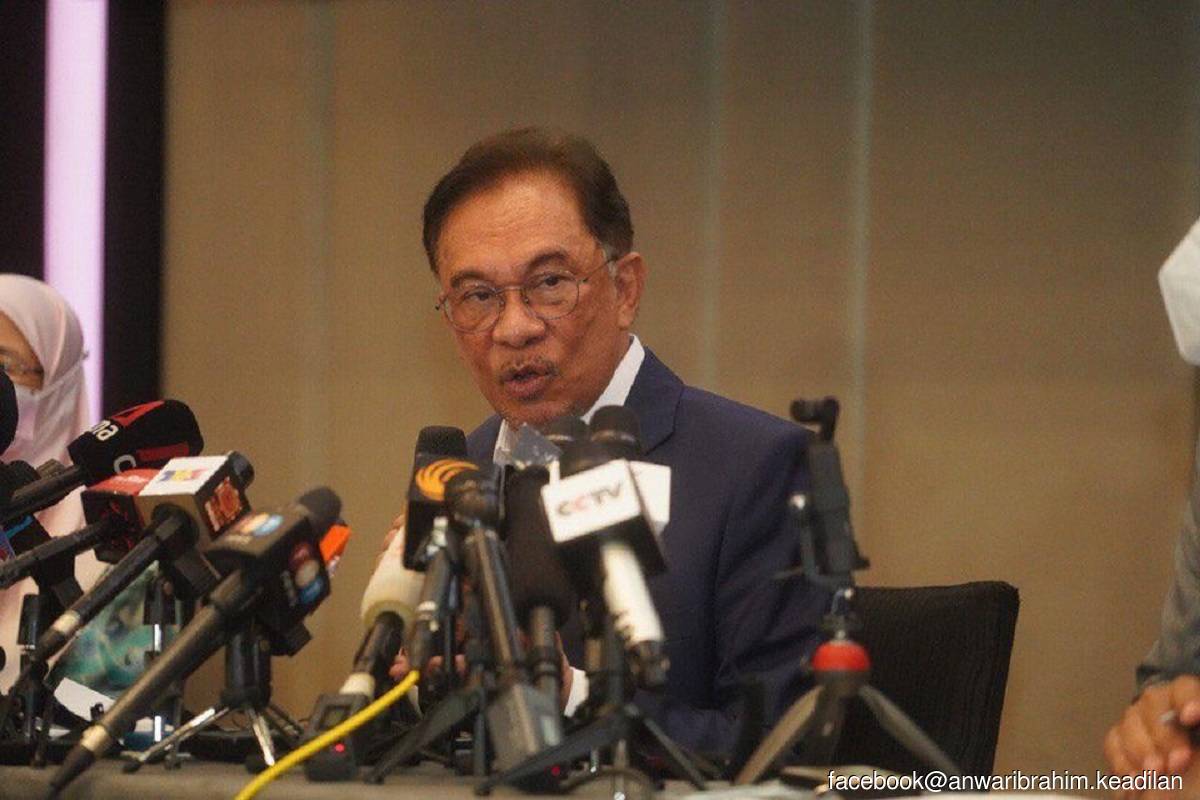 KUALA LUMPUR (Sept 23): PKR president Datuk Seri Anwar Ibrahim today claimed that he had garnered "formidable and convincing" support from among Members of Parliament (MPs) to form a new government to replace the ruling Perikatan Nasional (PN) government.
He said he had also received consent to have an audience with Yang di-Pertuan Agong Al-Sultan Abdullah Ri'ayatuddin Al-Mustafa Billah Shah yesterday, but the audience was postponed after His Majesty was admitted to the National Heart Institute for treatment.
"Alhamdulillah (Praise be to God), I have garnered strong, convincing support of MPs for me to present [my case] to the Yang di-Pertuan Agong.
"This strong and convincing support means that, at this moment, the government of Prime Minister Tan Sri Muhyiddin Yassin has fallen," he told a packed news conference at a hotel here today.
Without stating the number of MPs who he claimed are backing him, Anwar, who is also the opposition leader, said the they are mostly Malay and Muslim.
Describing the support as indisputable, Anwar said all their details and next moves will be revealed after his audience with the King.
When asked if there is a possibility of a new coalition to be formed to replace PN, Anwar said: "Of course there will be a new coalition with the new partners. With their support, we will discuss new arrangements and agreements.
"We want a to form a strong government and reject all forms of injustice."
On the possibility of forging cooperation with Muhyiddin to form the new coalition, the Port Dickson MP said he would welcome it if the latter is willing to cooperate and join him.
"I don't have any personal issue with him. His willingness to cooperate will help ensure a peaceful change and proper transition, that is, if he is prepared to serve in any position deemed suitable," he said.
On ex-premier Tun Dr Mahathir Mohamad's participation, Anwar said so far, none of the Parti Pejuang Tanah Air (Pejuang) leaders had shown any support for him.
The PKR president also stressed that his announcement today had nothing to do with the ongoing Sabah state election.
"The Sabah state election is an ongoing election. It has nothing to do with my announcement.
"I made this announcement after getting an undisputable number [of support] and after sending the letter to the King. In fact, [Datuk Seri Dr Wan] Azizah [Wan Ismail] and I already received the consent to have an audience with His Majesty yesterday.
"If based on our plan, the announcement should have been made yesterday … so, it has nothing to do with other current developments," he added.
Read also:
'Wait and see' if Anwar's majority claim is true, says Mahathir
GPS MPs still together, support PM Muhyiddin and not Anwar, says party chairman Abang Johari
PM Muhyiddin: Reject politicians 'who purposely want to adversely affect political stability'
PM Muhyiddin's Cabinet meets as usual despite Anwar's claim
Until Anwar proves his claim I'm still the rightful PM, says Muhyiddin
Many Umno, BN MPs voice support for Anwar, says Zahid
DAP, Amanah MPs express support for Anwar to form new govt