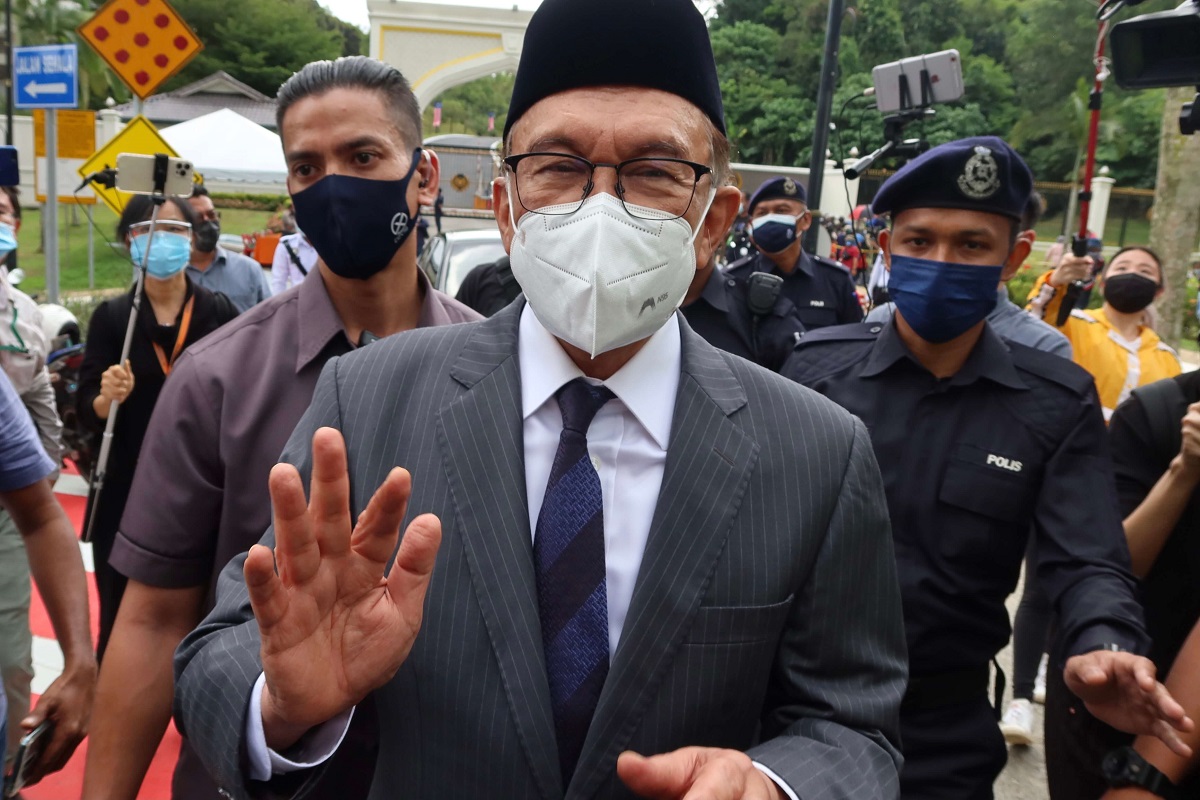 KUALA LUMPUR (Oct 4): Opposition leader Datuk Seri Anwar Ibrahim has filed a motion in the Dewan Rakyat to debate the Pandora Papers, which mentioned the opening of offshore accounts involving former and current government and political leaders.
In a letter to the Dewan Rakyat Speaker on Monday, the PKR president and Port Dickson MP urged the Dewan Rakyat to expedite the debate, which he said is of public interest, as the report on the papers cited current government leaders and several MPs.
As such, the report could cause the public to have a bad perception of the matter if it is not explained thoroughly and responsibly, Anwar said.
"This issue must be expedited as the Pandora Papers report is now available to the whole world and requires an explanation from the government, to clear the name of the government of Malaysia from accusations and claims [that it] protects Malaysian citizens if [they are] involved in any wrongdoing over international financial transactions, and to provide the space for the government and those named to provide an explanation," he added.
The Pandora Papers underlined a leak of confidential records of 14 offshore service providers, which give professional services to wealthy individuals and corporations seeking to incorporate shell companies, trusts, foundations, and other entities in low- or no-tax jurisdictions.
Anwar's letter cited five names mentioned in the Pandora Papers, namely minister of finance Tengku Datuk Seri Zafrul Tengku Aziz, deputy minister of finance II Yamani Hafez Musa, former finance minister Tun Daim Zainuddin, former deputy prime minister and Umno president Datuk Seri Ahmad Zahid Hamidi, and William Leong [PKR-Selayang].
On Monday, Tengku Zafrul has come out to explain that his directorship in Capital Investment Bank (Labuan) Ltd, part of Kenanga Holdings Bhd, followed his group directorship in the latter from 2009 to 2010.
Daim was mentioned in a Malaysiakini report on the papers, which stated that his family members and business associates had links to offshore companies and trusts owning at least £25 million.
In the report, the former finance minister responded that his dealings are legitimate and further stated that the trusts are part of estate planning.
Meanwhile, Ahmad Zahid was mentioned in the files as a director in Breedon Ltd, which had dealings in the British Virgin Islands in the '90s. In the Dewan Rakyat on Monday, he responded that the arrangement was made during his time as a chief executive of a public-listed company in order to facilitate dividend payouts from profits in its investee country.
Leong, who served as treasurer in PKR, owned Collister Holdings Ltd in Jersey alongside his wife back in 2009. According to Malaysiakini, Leong clarified that the ownership was linked to his role as executive vice president and chief operating officer of the Manila-based Philippine National Steel Mill from 1994 to 1997.
Yamani, son of former Sabah chief minister Tan Sri Musa Aman was reported as a director in Great Ocean Consultants in the British Virgin Islands between 2013 and 2015.
Read also:
Zahid on Pandora Papers: I do not avoid taxes, arrangement was for listed firm which I led 
Zafrul: I relinquished my directorship at Capital Investment Bank in June 2010
For more Parliament stories, click here.