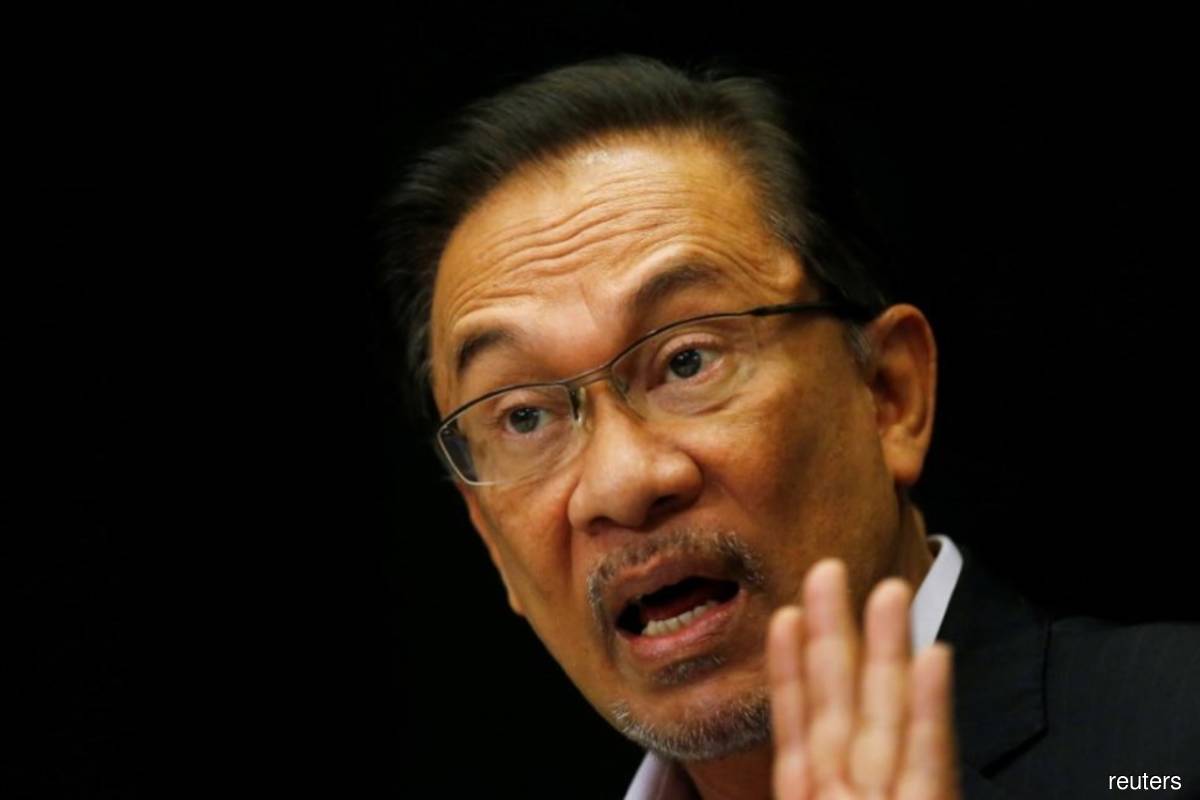 KUALA LUMPUR (Oct 12): Opposition leader and PKR president Datuk Seri Anwar Ibrahim said today he is concerned that several stocks on Bursa Malaysia had recently seen extraordinary active trading and gains on the basis that these counters are linked to him.
In a statement today, Anwar said he wants to take this opportunity to remind investors to invest carefully and not based on rumours. He also encouraged Bursa and the Securities Commission Malaysia (SC) to immediately take appropriate action against any individuals manipulating the market via malicious political rumours.
"In response, I want to stress that I have no financial interests whatsoever in these stocks. It is an unfortunate reflection of the state of our economy that such rumours can move markets," he said.
Anwar had neither specified in the statement the names of these stocks nor substantiate his claims of market manipulation via malicious political rumours.
According to news reports last Friday, Bursa's top active stock on that day was Advance Synergy Bhd, followed by Malayan United Industries Bhd (MUI) and Pan Malaysia Holdings Bhd. Anwar claimed last Thursday that he was granted an audience with Yang di-Pertuan Agong Al-Sultan Abdullah Ri'ayatuddin Al-Mustafa Billah Shah tomorrow.
"In the meeting, I will present documentation of the strong and convincing majority of MPs (Members of Parliament) as I mentioned earlier," Anwar claimed via Twitter last Thursday.
It was reported last Friday that Advance Synergy saw some 764 million shares traded, while MUI and Pan Malaysia Holdings registered trading volumes of about 390 million and 223 million shares respectively.
Advance Synergy's share price reportedly closed up 4.5 sen or 20.45% at 26.5 sen, while Pan Malaysia Holdings added four sen or 27.59% to 18.5 sen, and MUI ended unchanged at 14 sen after trading between 13 sen and 16.5 sen on that day.
Anwar's sister Farizon Ibrahim is a director of MUI and Pan Malaysia Holdings. MUI said on its website that besides MUI and Pan Malaysia Holdings, Farizon also sits on the boards of Pan Malaysian Industries Bhd, Pan Malaysia Capital Bhd and Metrojaya Bhd.
MUI and its member companies are known as the MUI Group, which includes Pan Malaysia Corp Bhd and MUI Properties Bhd.
Meanwhile, news reports indicated that Advance Synergy group chairman Datuk Ahmad Sebi Bakar is linked to Anwar, although the reports did not say how they are linked.
As at the time of writing this theedgemarkets.com report today, the official portal of Istana Negara had not issued any statement in response to Anwar's claims of having been granted the royal audience.
Neither had Bursa nor the SC issued statements in response to Anwar's claims of market manipulation via malicious political rumours. 
At Bursa's 12.30pm break today, Advance Synergy, MUI and Pan Malaysia Holdings, which were among the exchange's most active stocks, settled lower on profit taking. 
Top active stock Advance Synergy fell five sen or 18.87% to 21.5 sen, with some 374 million shares traded.
MUI dropped 1.5 sen or 10.71% to 12.5 sen, with about 68 million shares transacted, while Pan Malaysia Holdings declined 3.5 sen or 18.92% to 15 sen, with around 39 million shares changing hands.
Read also:
Political-theme play back on Bursa, Advance Synergy and MUI group lead the surge
Anwar says he will meet king next Tuesday to prove majority 
We take measures to maintain a fair, orderly market, assures SC