This article first appeared in City & Country, The Edge Malaysia Weekly, on November 25, 2019 - December 01, 2019.
Not many are aware of the whole process of buying, maintaining or investing in a property. But because there is this pressure of having to own an asset, they pay the booking fee without having the proper information." — Natasha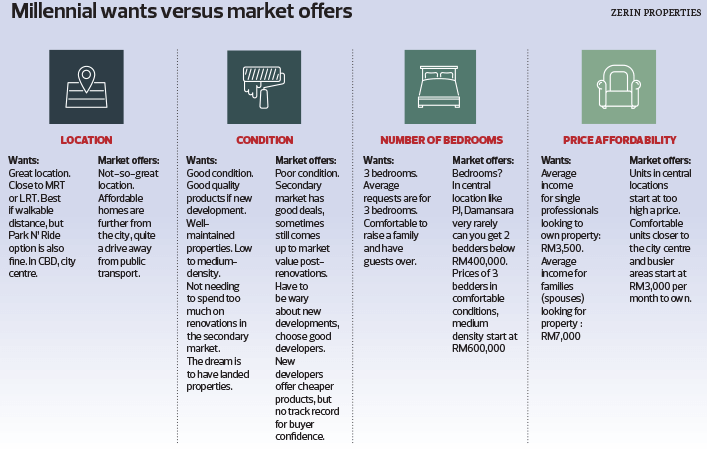 Through her work at Zerin Properties as a real estate negotiator who deals mainly with millennials (those born between 1981 and 1996) and first-time homebuyers, Natasha Gideon has realised that a number of people lack basic knowledge such as the kind of properties they can afford based on their salaries and the loan margin they can get.
"These are the basics … [but] not a lot of buyers are fully equipped," she said during her session titled "Millennial and Home Ownership".
Other problems faced by millennials include high property prices, issues with down payment, bad locations and the pressure to own an asset, said Natasha. There is a lack of value buys, especially in the primary market, due to prices that are too high based on the per square foot (psf) value, she added.
"Although the Home Ownership Campaign has assisted millennials a lot, the real good deals are in the secondary market. Another problem is that they don't have enough for a down payment, even with the money from EPF Account 2."
It is difficult to come up with the 10% down payment as well as money for hidden charges such as legal fees, which is an issue when it comes to buying in the secondary market, said Natasha.
While there are affordable homes, the problem is their location, which is far away from popular areas such as Petaling Jaya and Bangsar, she pointed out.
The pressure from society and peers to own a property has also caused some millennials to make poor choices. "Not many are aware of the whole process of buying, maintaining or investing in a property. Some don't even know the difference between residential and commercial titles. But because there is this pressure of having to own an asset, they pay the booking fee without having the proper information," remarked Natasha.
Wants versus reality
Millennials want a great location when it comes to owning a property, said Natasha. "They look for properties that are located close to MRT or LRT stations. People don't want to be stuck in traffic jams anymore."
A unit in good condition and in a low to medium-density development is next on the list. Natasha explained that a unit that is in good condition points to the quality and maintenance of the property.
Properties in the secondary market that are in good condition would mean less repair cost, she added.
Most millennials look for 3-bedroom units, revealed Natasha. "It is comfortable to raise a family and to have guests over."
In terms of income and affordability, a single buyer's average income would be RM3,500 while that of couples is RM7,000, she said.
Unfortunately, the market does not offer what millennials are looking for. "Affordable homes are further away from the city and quite a distance from public transport. Some homes or areas do not even have public transport and may not have that in the future plans," Natasha pointed out.
The secondary market has good deals but sometimes, the properties are not in good condition. "You may have to come up with more cash to repair the house after you pay the 10% down payment," she said.
As for new developments, Natasha had a word of caution for buyers — be wary of new developers. "Choose good developers and do your research based on their track record. The problem is that some new developers do offer cheaper products but you do not know whether or not they can deliver what is promised."
The starting price of a unit in a central location is usually too high, said Natasha. The monthly mortgage of a comfortable unit close to the city centre and busier areas starts at RM3,000, and the rental rate is sometimes the same, said Natasha.
Examples of primary and secondary market listings
During her talk, Natasha gave examples of primary market developments with 3-bedroom units and that are within a 3km radius of an LRT or MRT station.
In Cheras, The Netizen by KEB Group is 200m from the Bandar Tun Hussein Onn MRT station and the selling price starts at RM550,000. Priced from RM900,000, J Dupion by Jakel Development Sdn Bhd is 900m from the Taman Pertama MRT station.
Datum Jelatek by DatumCorp International in Ampang is 300m from the Jelatek LRT station and the price starts at RM2 million.
Tropicana Gardens by Tropicana Corp Bhd and Cantara Residences by Sime Darby Property Bhd are located in Damansara. The former, priced from RM1.3 million, is linked to the Surian MRT station while the latter is 650m from the Lembah Subang LRT station and the selling price starts at RM800,000.
In Sungai Buloh, D'Sara Sentral Residence by Mah Sing Group Bhd is priced from RM1.1 million and is linked to the Sungai Buloh MRT station. Alstonia Hillstop Homes @ Bukit Rahman Putra by MRCB Land Sdn Bhd is 3km from the same station and the selling price starts at RM600,000.
"The prices differ greatly compared with those in the secondary market. If you are earning only RM3,500 a month, you would not be able to afford such a unit and the banks would not approve your loan application. It is getting more difficult for millennials because not only can we not afford it but it looks like we may never be able to afford it," said Natasha.
She also gave examples of 3-bedroom units in the secondary market that are 2km to 3km from an LRT or MRT station, with a selling price that is capped at RM400,000.
In Subang Jaya, Arcadia Apartment is 2.8km from the USJ21 LRT station and priced at RM400,000. Landed compact homes in SS19 that are 2.2km from the SS15 LRT station are selling for RM399,000. Goodyear Court, which is 3km from the USJ7 LRT station, has a price tag of RM350,000.
Ampang Damai Condominium and Tiara Ampang are in Ampang, and are 2km and 3km from the Ampang LRT station respectively. The former is selling for RM350,000 while the latter is priced at RM370,000.
About 3.2km from the Puchong Prima LRT station are the terraced houses in Taman Puchong Intan that have a price tag of RM360,000.
In Damansara, Palm Springs, which is 2.3km from the Surian MRT station, is priced at RM350,000. Perdana Exclusive Condominium is 2.4km from the Mutiara Damansara MRT station and is selling for RM390,000. About 3.2km from the Kota Damansara MRT station is De Rozelle, which has a price tag of RM400,000.
"There are properties that are good buys and good deals, especially in the secondary market. I can't tell you which location won't have traffic congestion because most areas are already congested, whether there is an MRT or LRT station or not.
"Decide what are your pros and cons and ask yourself whether you would rather pay more to live closer to where you work or give that up to live in a landed property," advised Natasha.
She revealed that she bought her first property at the age of 26, with a single income of RM3,500. She initially bought the unit to live in and eventually, it became an investment.
Natasha bought the unit — BSP21 @ Bandar Saujana Putra by LBS Bina Group Bhd — in the primary market and it has a built-up of 610 sq ft with 1 bedroom. The selling price was RM273,000.
"For that area, the price was considered quite high but at the time, I felt that I needed to own an asset and maybe to rent it out [someday]. I did my research and MAHSA University is nearby, which is my anchor. There are also young couples and professionals who live there and travel to Cyberjaya or Putrajaya to work. So, these are my targets," she explained.
Her monthly instalment is about RM1,200 and her rental income is RM900, which, she said, is not a bad investment.
The home Natasha currently lives in was purchased by her husband in the secondary market. It is a renovated 3-bedroom apartment in Setia Alam with a built-up of 939 sq ft. The price tag was RM350,000.
"The problem in this area is the traffic congestion. During peak hours, it is worse as there is only one way in and out. But the Damansara-Shah Alam Elevated Expressway will be completed next year and I hope this will alleviate the problem," she said.
A participant lamented that the government's affordable housing schemes such as Rumah SelangorKu and Residensi Wilayah are beyond the reach of fresh graduates. Meanwhile, developers' affordable developments are priced at RM300,000 per unit but are too compact. He wanted to know if there are any solutions to these problems.
Natasha replied that there is a misconception between affordable housing and what the developers have to offer. "Affordable housing doesn't mean it is cheap properties."
The 1-bedroom unit that she bought was not under any government scheme. She opined that affordable housing under the government is quite reasonably priced. "Rumah SelangorKu has a few ranges, from RM100,000 for those whose income is RM2,000 and below, and RM200,000 to RM300,000 for those earning more than but below RM4,000."
The same participant then asked why the government's affordable housing units have been listed for auction.
Natasha said the market is volatile and a property may be listed for auction due to its owner's inability to pay for it. "It doesn't matter whether it is PR1MA housing or a RM1 million house. Today, I may have the RM3,500 budget but tomorrow, if I lose my job, my house would still go on the auction list."
Buy or rent?
A question that is frequently asked is whether to buy or to rent. Natasha said it ultimately depends on the stability of a person's finances and occupation as well as his or her preferences. Political stability and market conditions are also factors to take into consideration.
"I personally think that it is a buyer's market [now] because it is soft. You can get really good deals in the secondary market but only if you have the capacity to do so," she said.
She added that she has received an equal amount of enquiries from potential buyers and renters and usually, those who had enquired about rentals would return later as buyers.
"Some people rent in one place first and have an idea of buying later on. I think that is a very good idea. Before you decide to buy and live in a property with a 35-year loan commitment, it is best you rent in that area first and decide whether you would like to stay there or not."
Natasha stressed that millennials should be realistic, do more research and not make decisions based on the choices of their peers.
A participant asked about the market value of a partitioned unit and whether it would be valued lower than a non-partitioned unit.
Natasha answered that partitions could always be taken down as they are not firm structures and the value of the property would not likely be affected.