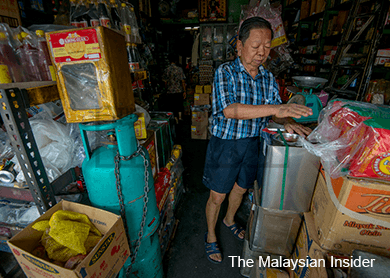 AN old corner sundry shop at the junction of Jalan C. Y. Choy and Lebuh Presgrave in George Town, Penang, is closing soon with the owner citing the goods and services tax (GST).
Lim Eng Kooi, 77, said he decided to close his business as he was unsure he would be able to manage the business once the GST kicked in.
"I know the business cannot go on forever. I am going to be 78 soon. The cost to run a business in town is also going up.
"Rental is increasing. I am already paying almost RM1,000 to rent this shop. When things become more expensive with the GST, I think it will be tougher.
"The GST is the last straw for me. There will be so much to think about and at my age, I don't want the trouble," he said.
Eng Kooi's sundry shop, which sells an assortment of items from canned food, drinks, titbits and prayer paraphernalia, has been around for 60 years since the days of his father.
He said he should have no problem selling off all his goods by the end of next month before he went into retirement.
Just two days ago, another sundry shop owner in Air Itam also said he was shutting up shop too.
Moey Kok Meng, 68, said he decided to close his shop because he could not truly understand the new tax, how it worked and how it would affect his business.
He said he did not know how to operate a computer and had been running his business the old fashion way. He even counted his stock by hand.
Chief Minister Lim Guan Eng said it was a shame that old businesses that had survived challenges through the years were being forced to close because of the GST.
He said businesses like hardware, traditional medicine and sundry shops were feeling the pressures caused by the impending consumption tax.
"These are traditional trades. It is not that their owners cannot deal with hardship. They have survived all this while.
"But now, it is the trouble, the headache coming from the GST that they are finding hard to deal with," he said.
Guan Eng said there was no telling how many more small businesses in Penang would share the same fate as Eng Kooi and Moey's sundry shops.
He said the state might be able to collect the data after the tax was implemented.
"Sometimes, taxes are more ferocious than tigers," he cited a Chinese saying.
"We are already seeing examples of the GST harming the economy and killing off small businesses.
"Will the Federal government listen to the people's pleas and postpone the tax, or will it listen to the money in its pocket?" Guan Eng added. – March 20, 2015.