This article first appeared in The Edge Financial Daily, on December 3, 2019.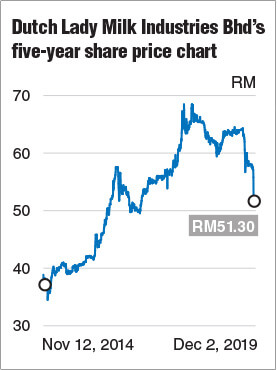 KUALA LUMPUR: Dutch Lady Milk Industries Bhd, whose profit continues to drop for the third consecutive quarter this year, was hammered by late selling in the afternoon trading session yesterday.
Its share price slid to as low as RM49.90 yesterday before it recouped some lost ground to close at RM51.30, the lowest closing since March 2017, down 8.07% or RM4.50 against last Friday's closing of RM55.80.
However, trading volume was not large at 75,600 shares, although exceeding its 200-day average trading volume of 10,188 shares.
This is the second round of fierce selling on the dairy product manufacturer this year. Dutch Lady's share price plunged 10.14% from RM63.10 to RM56.70 between Sept 5 and Sept 18 after it announced a 44% sharp fall for the second-quarter profit.
The stock has tumbled 20.4% or RM13.20 from this year's high
of RM64.50, meaning some RM844.8 million in market capitalisation has been wiped out since then.
SJ Securities Sdn Bhd senior remisier KC Goh explained that the big drop in the share price might be due to institutional funds unwinding their holdings after the latest set of disappointing quarterly results.
"The selling is done by some funds after they have digested the [financial] results and have decided to reshuffle their portfolio," said Goh.
Dutch Lady's net profit for the third quarter ended Sept 30, 2019 fell 26.33% to RM25.2 million, from RM34.21 million for the corresponding quarter last year. This was despite the quarterly revenue rising 7.49% to RM276.31 million from RM257.05 million.
Higher raw milk prices have eaten into Dutch Lady's profitability this year, with skimmed milk powder rising 48% year to date to US$3,017 (RM12,611) a tonne as at Nov 19. According to Kenanga Research analyst Nikki Thang, milk powder makes up 50% of Dutch Lady's input costs.
The saving grace is that the group maintains its dividend payment. Dutch Lady declared an interim dividend of 50 sen per share, amounting to a total payout of RM32 million, more than its quarterly net profit of RM25.22 million.
For the nine-month period, its net profit also declined 23.05% to RM76.29 million, from RM99.15 million last year, despite a tiny increment of nearly 1% to RM784.91 million from RM777.41 million.
In a note last Friday, Kenanga's Thang said Dutch Lady's nine-month bottom-line earnings came in within the research firm's own and consensus expectations, constituting 77% each of the respective full-year forecasts.
Thang said the group seems to be able to preserve its revenue on the back of fresh product innovations and pricing strategies.
More aggressive promotional prices could be a costly move at this point of time, the analyst added.
"Despite a higher-cost environment shadowing near-term profitability, we believe the share is fairly valued at this juncture, following the strong selldown after the disappointing 2QFY19 results," said Thang, who upgraded the stock to "market perform" from "underperform" after the review of the quarterly results. The target price was pegged at RM54.60.