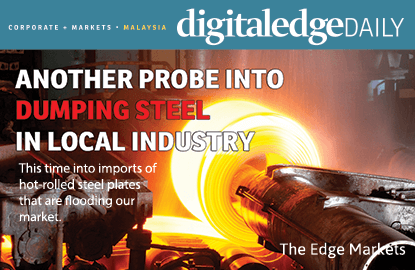 KUALA LUMPUR: The Ministry of International Trade and Industry (Miti) is initiating an investigation into imports of hot-rolled steel plates (HRPs), after it received a petition from Megasteel Sdn Bhd representing the domestic HRP industry.
This is the third investigation since June last year that the ministry launched into imported steel products that have flooded the local market.
In a statement yesterday, Miti said Megasteel submitted a petition that alleged the import of HRPs into Malaysia had been rising from 2012 to 2014, and that this is adversely affecting the local steel industry.
According to documents submitted by Megasteel to Miti, the imports of hot-rolled steel products into Malaysia have increased 29.34% from 694,305 tonnes in 2012 to 898,023 tonnes in 2014.
"In accordance with the Safeguard Act 2006 and its regulation, preliminary determination will be made within 90 days from the date of commencement of the investigation," Miti said.
"Further investigations would be carried out if preliminary affirmative determination is made by the government and during this time, the government may impose a provisional safeguard duty on the imports of HRPs [to reduce] the effects of serious [damage] to the domestic industry caused by the imports," it said.
HRP is used as a base material in various industries, such as cargo freight containers and cranes, highway guard rails, lamp posts, pipe lining for oil and gas application, structural steel, and vehicle chassis and parts.
Miti had on June 19 last year initiated an investigation on imports of hot-rolled steel coils (HRCs) based on the steel maker's petition.
The investigation was concluded in February this year and resulted in the imposition of anti-dumping duties of up to 25.4% on HRC imports from China and Indonesia.
However, the ministry said it will not impose anti-dumping duties on imports from South Korea, as the volume is at "negligible" levels.
Also, Miti had on Aug 27 initiated another investigation into imports of cold-rolled steel coils (CRCs) from China, South Korea and Vietnam after receiving a petition from CSC Steel Sdn Bhd, a unit of publicly-traded CSC Steel Holdings Bhd.
"In accordance with the Countervailing and Anti-Dumping Duties Act 1993 and its related regulations, the government will initiate a preliminary investigation on imports of CRCs from these countries, and the preliminary determination will be made within 120 days from the date of initiation," Miti said in a media release last month when announcing the investigation on CRCs.
CSC Steel's petition noted that the allegation of dumping is based on a comparison between the normal values of CRCs in these countries and their corresponding export prices into Malaysia.
"Based on this comparison, the dumping margins as alleged by the petitioner are significant for [those] producers or exporters," the petition read.
The digitalEdge WEEKLY quoted industry players reporting that the prices of CRCs exported from China, South Korea and Vietnam are 21% lower than the domestic prices in these countries.
This article first appeared in digitaledge Daily, on September 11, 2015.