This article first appeared in The Edge Financial Daily, on July 25, 2018.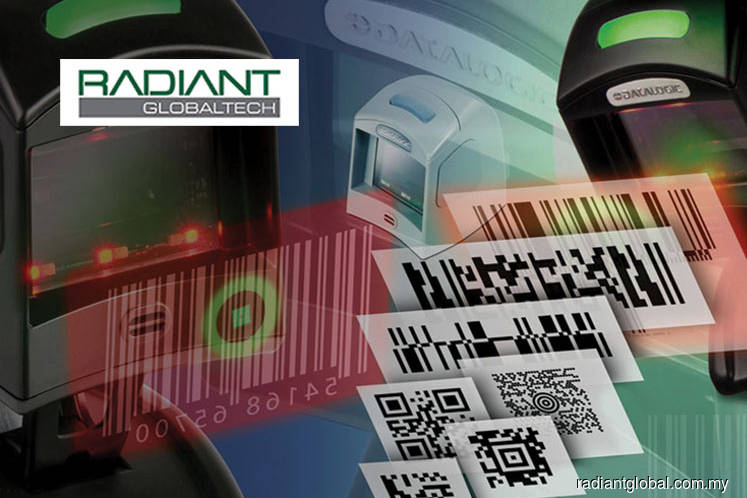 KUALA LUMPUR: Retail technology solution provider Radiant Globaltech Bhd made a strong debut on the ACE Market of Bursa Malaysia yesterday with its share more than doubling in value.
The stock opened at 50 sen, for a 27 sen or 117.4% premium to its issue price of 23 sen. It was subsequently traded between 48 sen and 65 sen before closing at 53 sen, for a 30 sen or 130.44% first-day gain.
Radiant Globaltech was the day's second-most actively traded counter with 179.57 million shares changing hands.
The company's impressive performance comes after the good showing by two other companies — Revenue Group Bhd and Nova Wellness Group Bhd — that listed their shares on the ACE Market last week.
"The premium describes the confidence in our track record and our future potential [to grow the retail technology solution market]," said Radiant Globaltech managing director Paul Yap Ban Foo.
"I can see that the shareholders support us and we are looking forward to growing the business together with them," Yap told a press conference after the group's listing.
Radiant Globaltech offers hardware and software solutions, and maintenance and technical support services. The group also provides third-party software and in-house developed portals.
Retail technology solutions are products and services used by businesses in the retail sector to automate their operations to increase efficiency and reduce costs, according to its prospectus.
Yap, with over 30 years of experience in the retail technology and point of sale industry, said the group aims to expand its customer base by leveraging on its existing retail technology solutions.
He said the group is looking at retailers in the shopping centre, airport, utility and food and beverage segments as the potential areas for expansion.
"Given our strong track record, wide portfolio and proven capabilities, we are optimistic about securing more customers going forward," he added.
Radiant Globaltech's clientele includes departmental stores, hypermarkets, supermarkets, retail chains and convenience stores such as Giant, Cold Storage, AEON BiG, Parkson, Watsons, Guardian and 99 Speedmart.
The group currently has more than 900 customers compared with 726 in 2016.
Yap said Radiant Globaltech, which has expanded into the regional market by setting up offices in Vietnam and Cambodia, will continue to focus on this market.
"The main focus will be on Southeast Asia for us to expand our business.
"In the near term, we will be more aggressive in moving into the Indonesian market after securing [sales from] a hypermarket via our distributor. We have signed with them but haven't received the official consent yet," he said, declining to identify the hypermarket.
Radiant Globaltech posted a net profit of RM189,000 on revenue of RM13.8 million for the first quarter ended March 31, 2018, with 91% of the revenue coming from the hardware and maintenance segment, and the balance from software. There are no comparative figures as this is the group's first announcement of consolidated financial results in compliance with the ACE Market listing requirements.
For the financial year ended Dec 31, 2017 (FY17), Radiant Globaltech's net profit decreased 24.9% to RM7.11 million, from RM9.47 million in FY16, while revenue grew 5.1% to RM80.78 million from RM76.85 million.
Yap said as at FY17, overseas sales contributed about 17.56% of the group's revenue, while the remaining 82.44% was from the local market.
"Going forward, we hope to grow our overseas contribution number further," he added.
Radiant Globaltech raised total proceeds of RM29.5 million from its public issue of 128.08 million new shares, representing 24.4% of the group's enlarged issued share capital.
The bulk of the initial public offering proceeds totalling RM14.6 million will be allocated for business and capital expansion, with RM10 million for Malaysia, RM1.6 million for Vietnam and RM3 million for retail software expansion.
Another RM4.8 million will be used for working capital, RM6.6 million for repayment of bank borrowings and RM3.5 million for listing expenses.