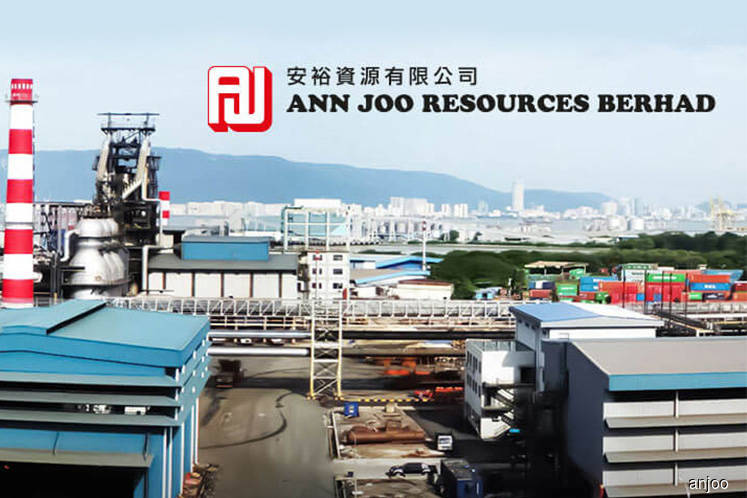 KUALA LUMPUR (Feb 24): Steelmaker Ann Joo Resources Bhd reported a 41% drop in fourth quarter net profit to RM19.52 million, from RM33.02 million a year ago, on lower selling prices and the supply-demand imbalance in the domestic market.
Earnings per share for the quarter ended Dec 31, 2019 (4QFY19) fell to 3.62 sen from 6.14 sen previously, the group's exchange filing today showed.
Rvenue contracted 10.7% year-on-year to RM603.71 million, from RM675.73 million, mainly due to lower selling prices and domestic sale tonnage, offsetting higher exports.
Ann Joo attributed this to the imbalance of supply-demand in the domestic market, due to excessive supply from foreign-owned steel mills as well as weaker demand.
The group did not recommend any interim dividend with the final quarter results, leaving total payout for FY19 at 2.5 sen per share. For 4QFY18, it had paid a dividend of six sen per share, for a full-year total of 14.5 sen.
Following the weaker 4QFY19 earnings, Ann Joo slipped into the red for the full year with a net loss of RM89.86 million, compared with a net profit of RM149.54 million in FY18. This is its first annual loss since FY15.
The loss came about despite the group's annual revenue holding up well with only a 4% drop to RM2.22 billion, from RM2.32 billion in FY18.
Ann Joo highlighted that the domestic steel bar price had regained its rising momentum from an exceptionally low level in 3QFY19 and the trend continued into the beginning of 2020.
There are also signs of improvement in market sentiment following the renewed announcements of the revival of selected mega infrastructure and development projects, and as construction activities are expected to ramp up eventually, it said.
Ann Joo noted that the Covid-19 outbreak in China has disrupted supply chains and steel prices, contributing to short-term market uncertainty and risks, but expects steel consumption to be supported by the government's fiscal and monetary policies going forward.
"Apart from the external factors impacting the steel industry, the group continues to place strong emphasis on balance sheet management as well as on cost and operational efficiency.
"The time-lag effects of the downward price trends for key raw materials in the second half of 2019, especially coke, will be reflected in lower production costs in the near term," it said.
Shares in Ann Joo closed six sen or 5.1% lower today at RM1.12, bringing a market capitalisation of RM604.34 million.