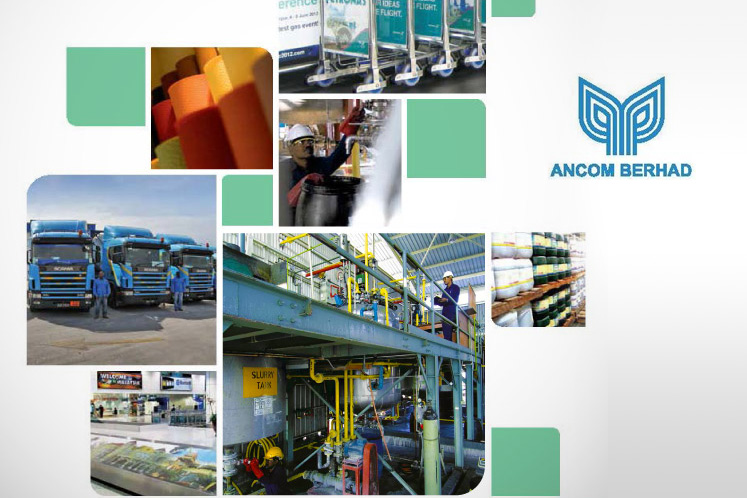 KUALA LUMPUR (May 14): Ancom Bhd returned to the black in the third quarter ended Feb 29, 2020 (3QFY2020), posting a net profit of RM165,000, from a net loss of RM3.87 million a year prior.
In a bourse filing, the group said that its quarterly net profit was underpinned by higher gross profit and other income, which was further helped by lower distribution expenses and finance costs and cost of sales.
Costs of sales for the quarter came in 19.06% lower year-on-year (y-o-y) at RM311.68 million, from RM385.09 million.
Meanwhile, gross profit rose slightly to RM48.82 million, from RM48.64 million last year.
Quarterly distribution expenses amounted to RM21.91 million, from RM25.93 million in the corresponding quarter last year.
That said, quarterly revenue fell 16.88% y-o-y at RM360.50 million, from RM422.73 million, following lower revenues from all of its segments save for its logistics business.
For the cumulative nine months ended Feb 29,2020 (9MFY2020), net profit more than halved to RM2.1 million from RM4.95 million posted in the corresponding period last year.
The nine-month revenue was also 22.82% lower at RM1.16 billion from RM1.51 billion previously.
On its prospects, the group noted Covid-19 has brought the economy to a standstill and disrupted supply chains.
"The board will continue to exercise caution in managing the group's business. Management has implemented austerity measures and is exploring ways to sustain our business in the immediate term while continuing to build new capabilities and capacities for long-term growth," Ancom said.
Ancom shares closed unchanged at 76.5 sen, giving it a market valuation of RM170.11 million. It saw 2.08 million shares traded.