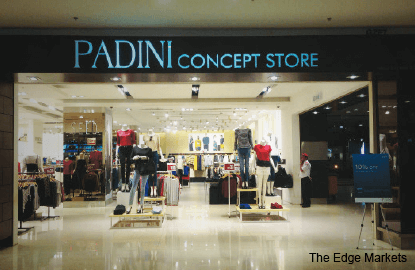 This article first appeared in digitaledge Weekly, on September 7 - 13, 2015.
PADINI Holdings Bhd's resilience during the recent stock market turmoil could be because the counter has already reached its bottom after being on a downward trend for most of the year. It has slipped 20.7% from a year ago. In fact, analysts think the worse could be over as earnings for the fashion retail group's fourth quarter, ended June 30, came in above market expectations.
Padini has been among the few counters that have been spared the recent selling frenzy. The stock managed to beat the trend, falling only 1.45% between Aug 3 and 24, even as the FBM Emas Index spiralled 12.5% during the same period. 
The carrot for an investor looking at Padini (fundamental: 2.80; valuation: 1.50) during such volatile times would be its dividend yield of 7.3% based on its share price of RM1.38 last Thursday. 
For the financial year ended June 30, 2015 (FY2015), Padini declared a dividend of 10 sen per share, compared with 11.5 sen in the previous financial year. Nevertheless, management has indicated that it is committed to a minimum of 10 sen per share, AllianceDBS Research analyst Cheah King Yoong says in a report.
Analysts say a 10 sen dividend per share payout is assured as Padini has a strong cash pile to continue rewarding shareholders. As at end-June, the group was in a net cash position of RM98.13 million, equivalent to 15 sen per share. 
It is worth noting that a large chunk of Padini's shares are held by managing director Yong Pang Chaun through his private vehicle, Yong Pang Chaun Holdings Sdn Bhd — the single largest shareholder with 43.7% equity interest. 
Where its business operations are concerned, analysts think Padini's worse days could be over as margins stabilise and consumer sentiment recovers going forward. The group maintained the prices of its products and absorbed the Goods and Services Tax (GST) implemented on April 1. This ate into its margins. 
For FY2015, gross margins fell to 43% while net margins declined to 8.2%. In FY2014, Padini registered gross margins of 46% while net margins stood at 10.4%. 
Cheah says Padini, like all other retailers, would have to start passing on the GST to its consumers soon but believes that the company would not pass on all the cost of the tax given the highly competitive operating environment. 
"Margins should start to recover when Padini starts to reprice its products (to include GST) once the group runs down its old inventory. In 4QFY15, the group fully absorbed the 6% GST, which dragged its gross margin from 44.3% in 4QFY2014 to 42.1% in 4QFY15," he says.
For the fourth quarter ended June 30, Padini's net profit rose 33% to RM18.18 million on the back of higher revenue  of RM221.94 million compared with the previous year. This was attributed to the combined 10 new Brands Outlet stores and Padini Concept Stores that opened their doors at the end of the previous year's corresponding quarter, says the company. 
Its net profit for FY2015 shrank 11.8% to RM80.22 million, or 12.19 sen per share, from RM90.91 million and 13.82 sen the previous year. However, revenue increased by 12.9% to RM977.9 million. 
While same store sales growth (SSSG) expected to decline or even turn negative, analysts opine it will be new stores that will generate sales growth. For the financial year ending June 30, 2016, it is understood that the group is planning to open another 12 outlets.  
"It is good for it to continue opening new stores because it is playing a volume game. Padini is widely spread and tapping into suburbs. New stores will help its earnings to grow and weather competition in the retail landscape," says JF Apex Securities analyst Jessica Low. 
AllianceDBS' Cheah agrees, adding that Padini's penetration into new markets could help to drive earnings growth even if margins fail to recover. Besides that, the group's value-for-money Brands Outlet stores are benefiting from consumer down-trading given current economic uncertainties. 
Low says it is possible that revenue from Brands Outlet will overtake that of Padiini Concept Stores. Revenue from Brands Outlet came in on par with its higher-end sister Padini Concept Stores, while segment profits overtook the latter in FY2015. 
Segmental information showed that Yee Fong Hung Sdn Bhd, which holds Brands Outlet and P&Co, recorded revenue of RM316.09 million and segment profit of RM44.48 million while Padini Concept Stores chalked up revenue of RM316.19 million and segment profit of RM40.3 million.  
Looking ahead, economists are expecting consumer sentiment to recover some time in the fourth quarter this year — a positive for retailers like Padini. AllianceDBS' Cheah says this will benefit Padini's flagship outlets, mid-market Padini Concept Store and value-for-money segment Brands Outlet.  
Nevertheless, JP Apex's Low says in her report that the momentum of earnings recovery may be slower than expected as the depreciating ringgit has given consumers another reason to turn cautious on spending.   
Be that as it may, the net dividend yield of 7.3% would look attractive to any investor in such volatile times. Analysts who were once bearish on the stock seem to have had a change of heart, with more turning positive on Padini. Of the nine research houses covering the stock, there are seven "buy" and three "hold" calls, with target prices between RM1.35 and RM2.19.