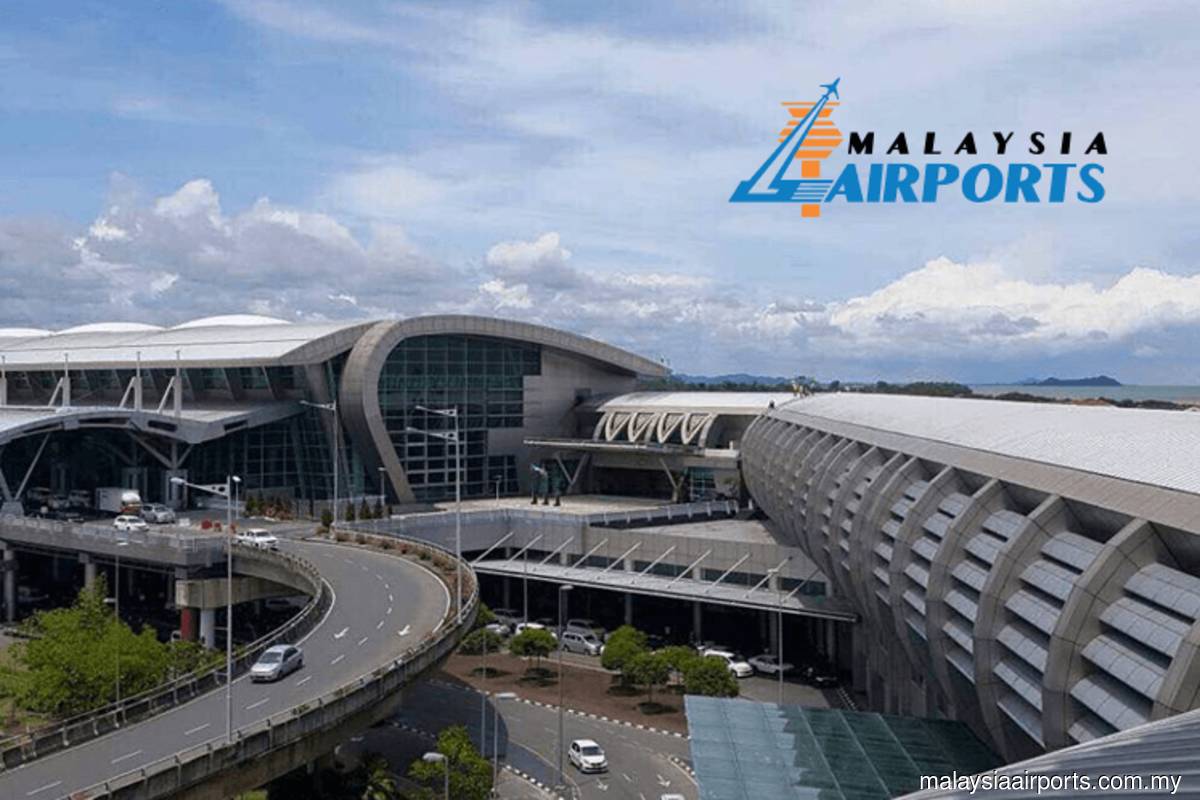 KUALA LUMPUR (Nov 30): Analysts on Tuesday (Nov 30) upgraded Malaysia Airports Holdings Bhd (MAHB) to "add" and "outperform" as they see the sharp sell-off on news of the Omicron Covid-19 variant as a good opportunity to accumulate the stock.
CGS-CIMB Research analyst Raymond Yap said in a note that after the Omicron-related sell-off, MAHB's share price is now close to its lows in July and August when Malaysia's new Covid-19 cases scaled to their peak and when movement restrictions were at their most severe.
"This may be an opportunity to accumulate and a potential rerating catalyst if Omicron turns out to be less deadly than feared," said Yap, who upgraded MAHB to "add" from "hold".
After raising his core earnings forecasts and rolling forward to end-2022, he raised his discounted cash flow-based target price (TP) for MAHB to RM7.45 from RM7.40.
Yap also highlighted that for the past several quarters, he overestimated Malaysia's cost base and MAHB's robust cost control will serve it very well in the coming recovery.
MAHB's core net loss for the cumulative nine months ended Sept 30, 2021 (9MFY21) made up just 60% of Yap's previous loss forecast for FY21, above expectations due to low operating expenditure in Malaysia.
The analyst also said MAHB's outlook for the fourth quarter ending Dec 31, 2021 (4QFY21) continued to improve.
According to him, Malaysia's pax traffic in October of 1.3 million was higher than the one million for the whole of 3QFY21 as domestic air travel restarted from Oct 11, with Malaysians allowed to travel abroad.
He also noted that Thailand opened its borders to quarantine-free inbound travel by Malaysians from November, while Singapore established a vaccinated travel lane (VTL) with Kuala Lumpur on Monday (Nov 29).
"Malaysia is working to implement something similar with Indonesia's Jakarta and Bali in early 2022, while Vietnam may reopen its borders to Malaysians — also early next year. Talks have commenced with Australia and the UK for travel arrangements," the analyst added.
Meanwhile, Kenanga Research analyst Raymond Choo said MAHB's 9MFY21 core net loss, which came in at RM630 million, was within expectations.
According to him, MAHB's domestic traffic performance registered an encouraging improvement after the launch of the Langkawi travel bubble programme on Sept 16.
"The government announcements of the reopening of interstate borders and relaxed rules for fully vaccinated Malaysian residents to travel abroad from Oct 11 were positive news for the aviation sector to restart with prospects for a gradual recovery," he said.
He also expects the Istanbul Sabiha Gokcen International Airport in Turkey to continue to benefit from less rigorous travelling restrictions, while the robust domestic market will continue to experience a traffic recovery going forward.
"Separately, the recently announced Malaysia-and-Singapore VTL between Changi Airport and KLIA (the Kuala Lumpur International Airport) saw positive responses, receiving six VTL flights carrying over 1,300 passengers from Singapore [on Monday]," he added.
He also said the expanding availability of Covid-19 vaccines had renewed optimism for air travel to return to normal sooner than expected, and he expects air travel to improve at a gradual pace from end-2021.
Choo kept his earnings forecasts unchanged for MAHB for FY21 and FY22.
He noted that its share price had retraced following his downgrade, presenting a buying opportunity. Hence, he upgraded his call to "outperform" from "market perform" and maintained his TP for the stock at RM7.
For 3QFY21, MAHB saw its net loss narrowing 43% year-on-year to RM182.32 million from RM319.72 million on the back of higher revenue, coupled with lower operational expenses.
MAHB closed seven sen or 1.21% lower at RM5.73 on Tuesday, valuing the group at RM10.09 billion.