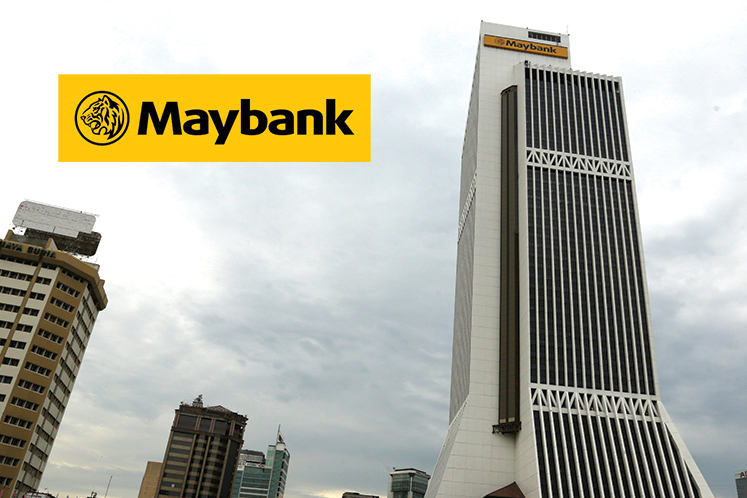 KUALA LUMPUR (May 22): While Malayan Banking Bhd (Maybank) has posted a commendable 13% increase in first quarter net profit to RM2.04 billion, earnings are poised to slide in the remaining quarters of the year, weighed down by margin compression and asset quality challenges.
Indeed, analysts covering the country's largest bank by asset have slashed their earnings projection for the financial year ended Dec 31, 2020 (FY20).
Affin Hwang Investment Bank Bhd analyst Tan Ei Leen has lowered Maybank's FY20 net profit forecast by a whopping 25% to account for a larger degree of net interest margin (NIM) compression in 2020 of 24 basis points (bps).
This took into account the impact of the RM1 billion "modification loss" arising from the hire purchase portfolio and higher net credit cost of 80bps to 89bps in 2020 to 2021, versus 52bps to 55bps previously, on additional provisions for "forward-looking assumptions" of weaker macroeconomic variables, Tan said in a note to investors today.
She has projected Maybank's net profit at RM4.88 billion in FY20, and RM6.17 billion in FY21, on revenue of RM22.72 billion and RM24.12 billion respectively.
Tan noted that Maybank's management is undertaking a more conservative provisioning stance, and has set a net credit cost (NCC) guidance of 75bps to 100bps for 2020 while expecting NCC to stay elevated in 2021.
With the group's dividend expected to come down come down by between 4% and 5.7% in 2020 to 2021, she said there could be risks of downward selling pressure on the stock. The upside risk include lower credit default risks.
Tan has maintained a 'sell' rating with a lower target price (TP) of RM5.80, based on a P/BV (price-to-book value) target of 0.77 times with a 2021 BVPS (Book value per share) of RM7.51.
UOB Kay Hian analyst Keith Wee Teck Keong said 2020 is likely to be a "write off" year for Maybank and opined that the market would start to focus on the 2021 outlook.
"Coming off a low base, we expect the group to register a 14% year-on-year (y-o-y) earnings recovery in 2021. However, as net credit cost is likely to remain elevated at 80bps, the group's ROE (return-on-equity) is likely to remain subdued at 8.5% versus its pre-COVID-19 level of 10.5%," said Wee in a note today.
Despite the group's and bank's CET1 (common equity tier 1) ratios remaining at a relatively comfortable 14.8% and 13.8% respectively, the management has indicated that it is a key priority that the group strives to conserve capital in the current environment, he noted.
Given the current environment, Wee had trimmed the dividend payout ratio assumption to 60% from 70%, adding that Maybank has a historical average of 78%.
"The group has maintained its minimum dividend payout policy of 40% to 60%, subject to Bank Negara Malaysia's approval," said Wee.
Coupled with the downward earnings revision (Wee has cut Maybank's FY20 net profit forecast by 10%), the current share price implies 2020 to 2021 dividend yields of 4.7% and 5.3% respectively, versus its historical implied yield of 6%.
Wee has forecast Maybank's net profit at RM6.55 billion in FY20 and RM7.49 billion in FY21, with revenue at RM25.05 billion and RM26.09 million.
Wee had maintained a 'hold' recommendation and TP of RM7.70, based on a one-time 2021 P/BV and 8.5% ROE, despite its earnings cut as the research firm rolled forward the Gordon Growth-derived valuation to 2021.
"We find better value in CIMB [Holdings Bhd] which trades at a much lower P/B of 0.6 times despite having a similar ROE for 2021," he added.
Is Maybank still attractive compared with other banks?
With Maybank expected to stay below the RM8-level amid the poor prospects for stocks due to the COVID-19 pandemic, is it still worth revisiting the counter?
"I like Maybank for its yield and diversified portfolio of loans. With its major investors I am quite convinced the dividend payout is there, albeit lesser but still attractive as its price has fallen," said a fund manager, who requested anonymity.
According to Bloomberg, there are 21 research houses covering the stock with seven "buy" calls, nine "hold" calls and five "sell" calls. The consensus TP is RM7.45, which is marginally higher than its closing price today of RM7.43.
In terms of valuation, Maybank has a current P/BV of 1.07 times, versus 1.18 times as at end-2019. It is also still cheaper when compared with its five-year average P/BV of 1.27 times.
However, Maybank is considered more expensive when compared with other local banks such as CIMB (which has a P/BV of 0.61 times) and Affin Bank Bhd (0.33 times, making it the cheapest). On the other hand, Public Bank Bhd's P/BV stands at 1.39 times, making it the most expensive.
Nonetheless, based on the banks' indicated dividend yields, Maybank would be the most attractive with 8.21%. Public Bank and CIMB have a yield of 4.59% and 6.97% respectively.
Maybank's shares, which were at an all-time high of RM10.88 on May 21, 2018, have shed some 31.7% since then. Year-to-date, the counter has fallen by 14%. The once RM100 billion market cap company is now worth RM83.52 billion.
Read also: