This article first appeared in The Edge Malaysia Weekly, on July 8, 2019 - July 14, 2019.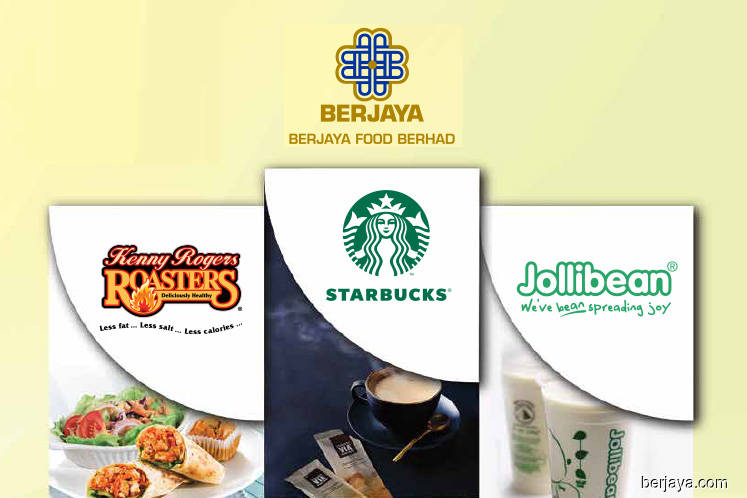 BERJAYA Food Bhd's (BFood) stock has caught the eyes of analysts on the hunt for a bargain.
With a forward price-earnings ratio (PER) of 19.07 times, BFood — a company controlled by tycoon Tan Sri Vincent Tan — appears to be undervalued compared with its global peers such as La Kaffa International Co Ltd of Taiwan (which has a PER of 25 times), Singapore-listed BreadTalk Group Ltd (PER: 26 times) and two of the largest food chains in the US, Dunkin' Brands Group Inc (PER: 29 times) and Starbucks Corp (PER: 33.4 times).
According to Maybank Investment Bank Research, BFood's current undervaluation could signal a potential buying opportunity for investors looking to increase their exposure to the stock.
"[BFood's] current valuation of 23 times PER for fiscal year 2020 is inexpensive given the decent growth from Berjaya Starbucks Coffee Co Sdn Bhd (Starbucks Malaysia) via organic and outlet expansion," it says in a June 14 report.
The counter has risen 9.5% over the past year, closing at RM1.62 last Thursday and giving the company a market capitalisation of RM580.95 million.
Still, all seven analysts covering BFood see more upside for the stock, with "buy" calls on the company and an average target price of RM2.06.
CGS-CIMB Research says in a June 13 report that it likes BFood for its healthy earnings prospects. The research firm is forecasting a three-year (FY2018 to FY2021) compound annual growth rate of 23.7% for the group's net profit.
Meanwhile, Starbucks Malaysia, which has overtaken the Kenny Rogers Roasters (KRR) chain of restaurants as the primary revenue driver for BFood since 2015, has so far been able to withstand the competition brought about by the third wave of coffee movement, which comprises independent cafés that have educated the Malaysian palate on speciality coffee.
"Despite the obvious growth of third wave coffee in Malaysia, the Starbucks brand is still very strong, particularly among young adults and tourists. I would also like to add that many of Starbucks' more profitable outlets are located in areas where independent cafés would not typically operate in, such as highways, drive-throughs and airports," says Hong Leong Investment Bank Research analyst Gan Huan Wen.
BFood has been expanding the number of Starbucks outlets in Malaysia at a fast pace. Currently, there are 282 Starbucks stores in Malaysia, up 22 from that stated in the company's annual report for the financial year ended April 30, 2018 (FY2018).
CGS-CIMB Research says the expansion of Starbucks Malaysia will also be aided by its collaboration with Petroliam Nasional Bhd, where Starbucks' kiosks can be found at selected Petronas petrol stations throughout Malaysia.
"The Starbucks kiosks are not included in the total outlet count for Starbucks Malaysia, we gather, as the kiosks are smaller outlets with limited menu items and are supported by core stores. We view this as a cost-effective way to boost transaction numbers for its core stores as we estimate the capital expenditure for kiosks to be about 20% of the total capex required for core stores," it adds.
It is worth noting that BFood's same-store sales growth (SSSG) has been in positive territory over the past few years. In FY2018, SSSG stood at 1.8% while in the financial period ended June 30, 2019 (FP2019) — covering 14 months — SSSG of 4% is expected. BFood has changed its financial year end from April 30 to June 30.
Moving forward, the SSSG numbers paint a favourable picture, with analysts estimating that SSSG for FP2019 and FY2021 will continue to remain in the positive region of 2% to 4%.
For the cumulative 12 months ended April 30, 2019, AmInvestment Research says Starbucks Malaysia's revenue grew 10.7% from a year ago to RM559 million while its earnings before interest and tax (Ebit) gained 9.4% over the same period as SSSG improved by 4% on the back of better promotions, stronger merchandising and an increase in Starbucks outlets.
BFood's overall revenue for the same period also grew 6% to RM678.4 million from RM639.7 million a year ago. However, while Starbucks Malaysia saw an improved performance, KRR and Jollibean Foods posted a drop in revenue.
Some say food and beverage (F&B) outlets such as Starbucks will also be hit hard by the weak consumer sentiment that has been plaguing Malaysian consumers — a result of the weak ringgit. Nevertheless, the positive SSSG that Starbucks has been enjoying seems to imply differently.
While the Starbucks coffee chain is growing in Malaysia, KRR operations have reported a series of losses and remain unprofitable.
The good news is that the losses from KRR have been narrowing, especially since the disposal of its unprofitable Indonesian KRR operations in November 2017. Analysts are confident that KRR Malaysia has a better chance of turning around as BFood tweaks its menu options and close unprofitable stores.
"We think KRR's turnaround is still intact as we estimate that SSSG had turned positive in the past two quarters where it was at 2.5% year on year in 3QFY2019 and 1.4% y-o-y in 4QFY2019," says CGS-CIMB Research. Nevertheless, on a 12-month basis, the SSSG remains in negative territory of 3%.
CGS-CIMB Research sees a stronger-than-expected turnaround of the KRR operations as a key rerating catalyst for the stock.
AmInvestment Research opines that BFood will continue to perform well going forward as raw material prices work in its favour alongside the planned expansion of Starbucks, KRR and Jollibean stores.
That said, the research house remains cautious as it believes that the appreciation of the US dollar against the ringgit could be a risk given that half of the company's raw material costs are in US dollars.
The ringgit closed at 4.133 against the US dollar last Thursday, a 2% decline over the past year from 4.0465.