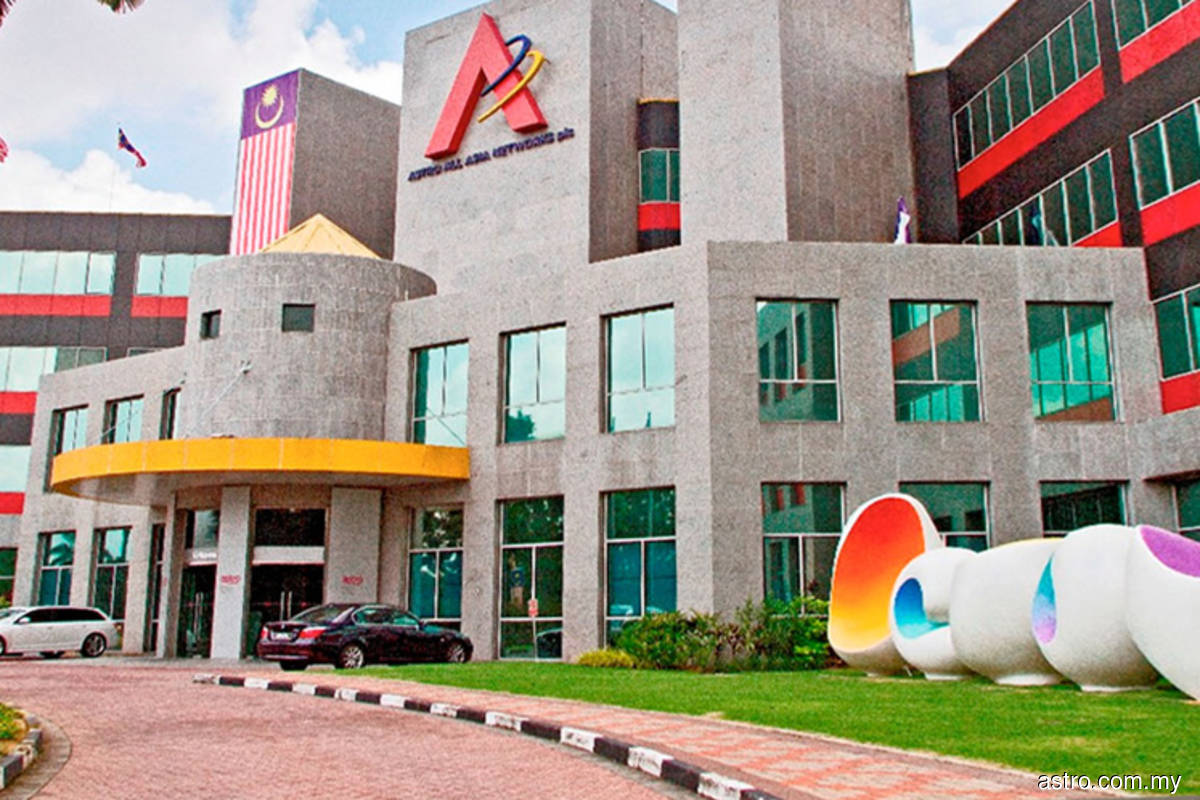 KUALA LUMPUR (Dec 4): Analysts have raised their earnings forecasts for Astro Malaysia Holdings Bhd after its net profit beat their expectations.
Hong Leong Investment Bank (HLIB) Research analyst Syifaa' Mahsuri Ismail said in a note today that given the performance beat, she had tweaked her forecasts for Astro by +17%/+15%/+11% to RM543.9 million/RM512.6 million/RM564.4 million respectively for the financial year ending Jan 31, 2021 (FY21) to FY23.
"Astro registered a 3QFY21 (third quarter ended Oct 31, 2020) core profit after tax and minority interests (PATAMI) of RM149.1 million (+27% quarter-on-quarter [q-o-q]; -6.3% year-on-year [y-o-y]), which brought its 9MFY21 (cumulative first nine months ended Oct 31, 2020) core PATAMI to RM384 million. This beat our [full-year] forecast (at 82%) but was in line with the consensus (at 76%)," she said.
She noted that Astro's advertising expenditure (adex) showed encouraging numbers with improvements of 59% q-o-q and 34% y-o-y on the back of resumption of local live shows that usually register a high adex deal.
"Despite the reintroduction of the conditional movement control order (CMCO), we are comforted by knowing that the slide should be moderate and would unlikely to regress back to what was previously charted when the MCO was first introduced," she said.
After chalking in an improvement (from a flat previous two quarters), she is more sanguine about Astro's outlook as it proactively pursues profitability through various platforms and adherance to cost discipline.
"Additionally, the recovery in adex also bodes well for the group's top line. Coupled with an attractive dividend yield of 8.9%, we opine that near-term risk to the reward equation is still tilted to the upside," she said.
She maintained her "buy" call for the stock, but raised her target price (TP) to RM1.10 from RM1.07.
Elsewhere, given the better 9MFY21 results, Affin Hwang Capital analyst Nadia Aquidah also raised her FY21 to FY23 core earnings per share (EPS) forecasts for Astro by 4% to 7%, mainly to account for lower operating expenses and higher profit from its home-shopping division.
However, she expects Astro's 4QFY21 earnings to be lower q-o-q as advertising revenue could be impacted again as advertisers turn cautious due to uncertainties and the CMCO.
She maintained her "hold" call for Astro, but raised her TP to 94 sen from 88 sen.
Meanwhile, Maybank Investment Bank Research analyst Yin Shao Yang sees Astro's dividends as having room to surprise investors.
"Its 3QFY21 earnings were above our expectations, but we maintain our earnings estimates lest the CMCO weaken its 4QFY21 earnings,
"That said, we raise our dividend estimates as Astro will revert back to a more-than-75% dividend payout ratio (DPR) going forward. Our dividend per share (DPS) estimates are based on a 60% DPR," he said.
He raised his FY21/FY22/FY23 net DPS estimates for Astro, by one sen/one sen/1.5 sen, to 6.5 sen/5.5 sen/seven sen respectively.
He maintained his "buy" call, but trimmed his TP by one sen to RM1.24.
At 10.20am today, Astro had risen one sen or 1.14% to 89 sen, valuing the group at RM4.59 billion.