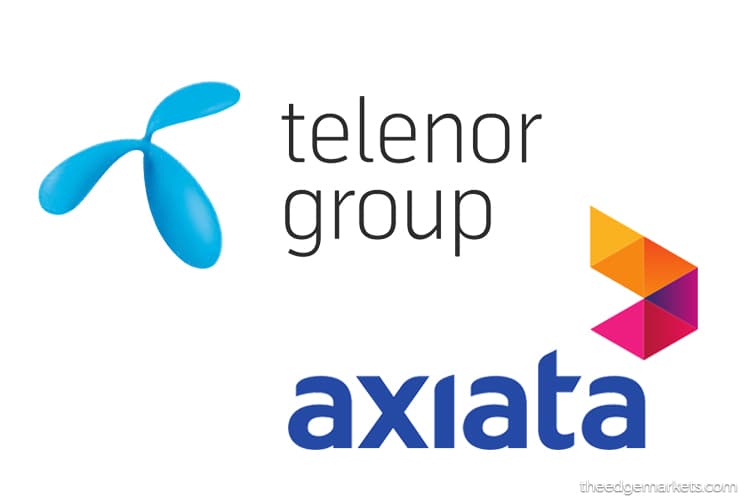 KUALA LUMPUR (May 7): Axiata Group Bhd and Digi.Com Bhd saw greater levels of interest on Bursa Malaysia following news that Axiata and Norwegian telecommunications company (telco) Telenor Group would be merging operations in Asia, with the ideal aim to create a merged entity that would potentially be listed on Bursa.
Generally, analysts are positive on the potential merger, as they forecast greater synergy and scale benefits as well as a more competitive operating environment in Malaysia, but noted that a key risk is whether or not the Malaysian Communications and Multimedia Commission (MCMC) would curtail competition.
CIMB Research said the merger, which would result in the creation of a merged company (MergeCo), would realise RM15 billion to RM20 billion in cost synergies for Axiata and Telenor.
Approximately RM7 billion to RM9 billion in savings would arise from the merger between Telenor's 49%-owned Digi and Axiata's wholly-owned Celcom Axiata Bhd.
"This will mainly be derived from opex (operational expenditure) savings from the removal of duplicate network sites, sharing of IT system platforms and rationalisation of sales and marketing expenses. Combining spectrum holdings will also lead to more efficient usage and greater capacity, resulting in capex (capital expenditure) avoidance," said CIMB Research in a note today.
TA Securities said improved opex and capex will carry weight in terms of easing top line pressures.
"Improved opex and capex efficiency will carry weight in easing the pressure on the top line, especially for operations in mature markets like Malaysia where mobile penetration rates are high and prospects for service revenue growth are subdued," said TA Securities.
It added that Axiata, in particular, stands to benefit from wider and more diversified exposure to the group in markets in areas that it does not have an overlapping presence in with Telenor, such as Myanmar and Thailand.
It said the merged entity would be able to leverage from an enlarged base of 21 million customers (12 million customers from Digi and 9 million from Celcom).
TA Securities forecasted an increasingly competitive local operating environment resulting from the merger.
"Hence, we could foresee peers like Maxis Bhd and Telekom Malaysia Bhd, which themselves have been pushing for convergence, working harder to defend their market share," said TA Securities.
Sharing a similar sentiment, MIDF Amanah Investment Bank Bhd Research said in a note that Axiata's unit edotco, which deals in telco towers, would benefit from the merger as it would stand to take over Telenor's entire tower portfolio in Asia.
"Post consolidation, the enhanced edotco will become a top five global tower company, possibly in return for share of edotco. Thus, Axiata do not have to source for additional capital to fund edotco's M&A (merger and acquisition) plan which could further strain its balance sheet," said MIDF Research.
AllianceDBS Research is of the view that Digi is the more direct and immediate beneficiary of the merger, given that the bulk of the expected synergies expected is to be derived from its Malaysian operations.
"Meanwhile, Axiata will be a proxy to the MergedCo via its 43.5% stake, before MergedCo is eventually listed," said AllianceDBS in a note.
According to AllianceDBS, Digi maintained 28% of total subscribers in Malaysia in 2018.
JF Apex Securities noted that while it is positive on the deal, there are concerns over the MergedCo obtaining the necessary government approvals.
"There are also concerns in obtaining government approval as MCMC will decide whether Celcom and Digi's merger would curtail competition based on its Guideline on Substantial Lessening of Competition 2014," said JF Apex Research.
At 12:01pm, shares in Axiata rose 13.86% or 56 sen to RM4.60, with 16.91 million units traded, giving it a market capitalisation of RM36.68 billion. Digi's share price jumped 8.85% or 40 sen to RM4.92, with 21.85 million shares traded, giving the group a market capitalisation of RM35.14 billion.