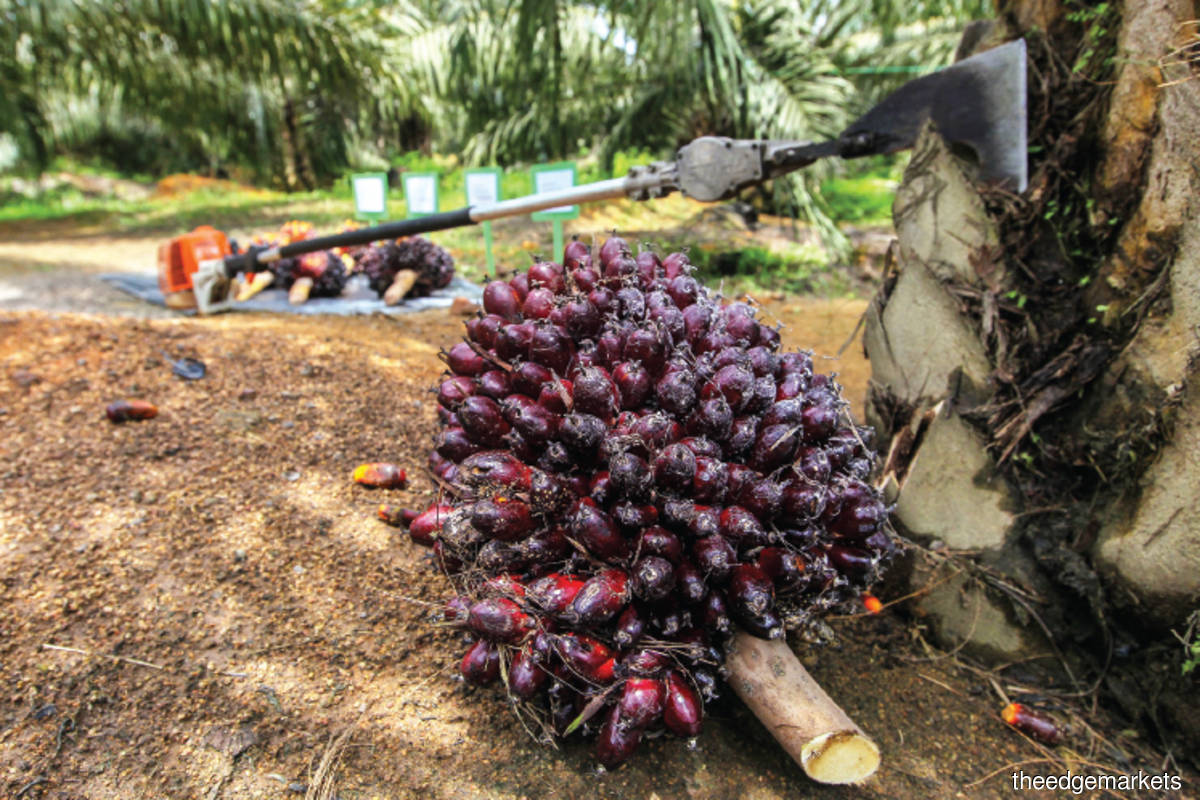 KUALA LUMPUR (July 4): Analysts are mixed on the plantation sector in view of the impact of supply concerns due to the prolonged war in Ukraine, Indonesia's proposed palm oil export quota hike and excessive inventories.
MIDF Research stayed "positive" on the sector, anticipating that crude palm oil (CPO) prices would remain elevated in the second half of 2022 (2H22).
"From a technical point of view, it does seem that the CPO price rally is waning in correction mode given the weak numbers seen to date of RM4,766 per tonne, but we believe there are signs that this soft pace [will be] short-lived," it said in a note on Monday (July 4).
It forecast CPO prices to rest above the RM5,000 level in 2H22 amid tight supply of edible oils due to subdued soybean production, supply concerns as the Russia–Ukraine war prolongs (disrupted sunflower supply) and lower-than-expected Malaysian palm oil production.
MIDF Research maintained its 2022 CPO price forecast of RM5,500 per metric ton.
"Despite our positive view on the sector, we do expect CPO prices to ease in 2H22 but at a gradual pace on concern of inflationary pressure globally after achieving higher-than-expected CPO prices in 1H22," it said.
Meanwhile, Public Investment Bank Bhd (PIVB) retained its "neutral" stance on the plantation outlook with a full-year CPO price forecast of RM5,000 per tonne.
It said Malaysian palm oil exporters may be facing stiffer competition in the coming months after Indonesia proposed to raise palm oil export quotas last Friday due to excessive palm oil inventories in the world's largest producing country.
"Following this announcement, CPO futures tumbled 4.2% or RM207 to RM4,703 per tonne.
"This does not bode well for Malaysian upstream plantation players as margins are shrinking sharply amid high production costs," it said in a note.
The Indonesian government has now allowed palm oil producers to export seven times the amount of their domestic sales from the current level of five times due to oversupply of palm oil in the domestic market.
Meanwhile, in Malaysia, it was reported that some palm oil mills had temporarily halted production following the plunge in CPO prices as they stand to lose at least RM150,000 for every 100 tonnes of CPO produced based on current prices.
The stoppage may range from one day to one week, which could potentially affect the oil extraction rate, said PIVB.