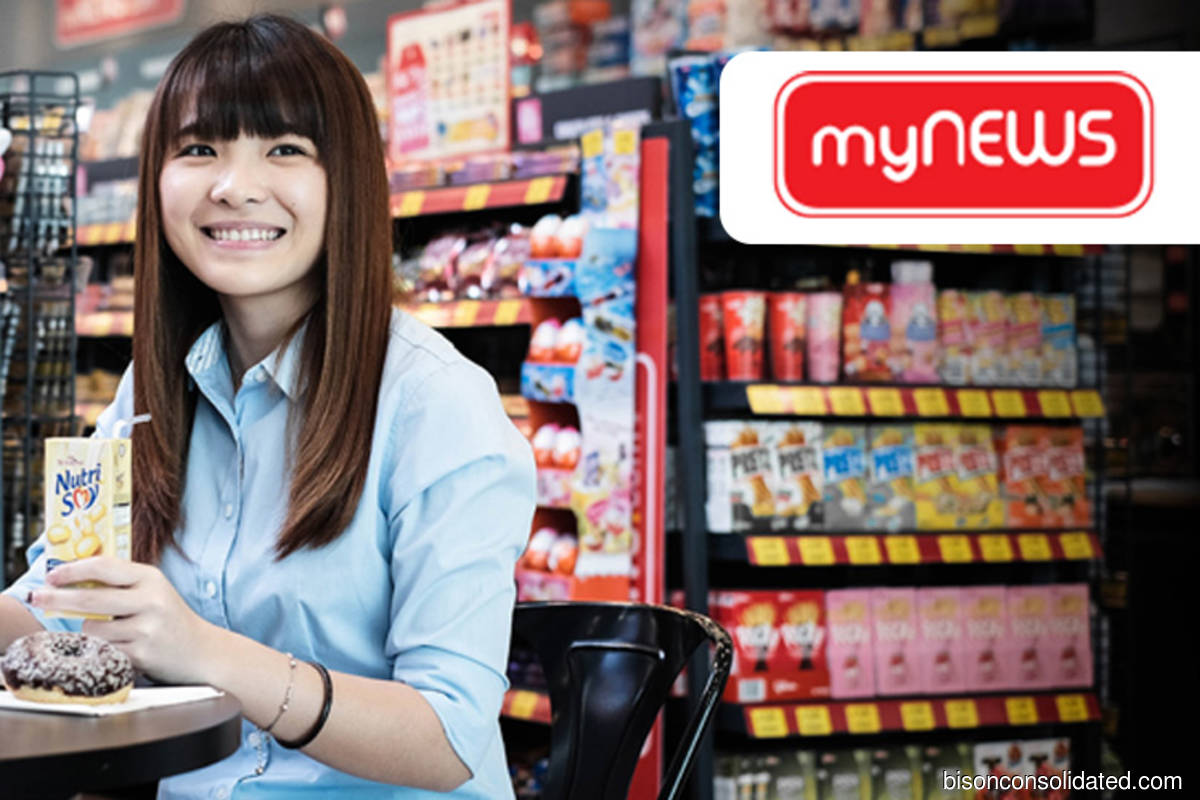 KUALA LUMPUR (Sept 30): Several analysts covering MyNews Holdings Bhd have lowered their respective target prices for the stock as the convenience store operator saw its losses for the third quarter ended July 31, 2020 (3QFY20) widening to RM6.09 million, from RM2.33 million in the immediate preceding quarter.
The group posted a net profit of RM7.45 million a year ago in 2QFY19.
Revenue at RM110.1 million is down 10.8% from RM123.5 million in the preceding quarter. Topline is also down some 16.4% from RM131.7 million a year earlier. MyNews blamed the impact of Covid-19, particularly the Movement Control Order (MCO), for the weaker performance.
CGS-CIMB Research, AmResearch and RHB Research have lowered their target prices for MyNews but kept their respective calls for the stock.
CGS-CIMB Research maintained its "hold" call for the stock and lowered its target price to 64 sen from 70.4 sen.
AmResearch also kept its "hold" call for the group and lowered its fair value by about 10% to 60 sen from 67 sen.
Meanwhile, RHB Research maintained its "buy" call for MyNews and lowered its target price for the stock to 75 sen from 90 sen.
The research house believes the worst is over for the convenience store operator.
"MyNews has gradually reopened some of its outlets, and footfall should recover following the resumption of its business activities in stages. We believe investors should look beyond near-term earnings weakness, as the beauty of MyNews lies in its business scalability and entrepreneurial management team," RHB Research noted in a report today.
It added that outlets have been progressively reopened, signalling a recovery.
"MyNews said only circa 5% of its outlets remain temporarily closed due to low foot traffic — an improvement from circa 10% a few months ago. However, it had reduced its new outlet opening target to circa 50-60 new stores from circa 100 stores previously," RHB Research noted.
Meanwhile, CGS-CIMB Research noted that MyNews' 3QFY20 revenue declined by 16.4% year-on-year (y-o-y) and 10.8% quarter-on-quarter (q-o-q), mainly impacted by temporary closures of some of its outlets and weak footfall during the government-imposed MCO period beginning March 18.
"3QFY20 EBITDA margin declined by 8.0% pts y-o-y and 3.8% pts q-o-q, due to a higher store base (531 as at end-3QFY20 vs. 472 as at end-3QFY19), leading to a core net loss of RM5.7 million in 3QFY20 (vs. RM7.5 million net profit in 3QFY19), bringing 9MFY20 to a core net loss of RM3.7 million (vs. a core net profit of RM23.8 million in 9MFY19).
"This is well behind our and consensus estimates as we had forecast a narrowing of losses in 3QFY20," it added.
CGS-CIMB Research pointed out that the wider q-o-q losses came as a negative surprise and to make matters worse, consumers also shifted to lower gross margin offerings, which the research house suspects also involved higher cigarette sales contribution. As a result, it said MyNews' gross margins declined to 29.5% in 3QFY20 (from 33.3% in 2QFY20).
AmResearch noted that the impact from the Covid-19 pandemic has set back the turnaround period for its food processing centre (FPC), prolonging the gestational period.
"We think that the earnings performance will start to recover in the upcoming quarter as the full-blown impact of the MCO has passed," it said in a report today.
"The FPC resumed production mid-June 2020 which should improve the group's sales mix with the high-margin ready-to-eat (RTE) offerings back on the shelves. We think that demand will creep back up following the easing of the MCO with the return of footfall albeit at a slower pace as the recovery MCO (RMCO) was extended until the end of the year," it added.
MyNews shares were down one sen or 1.61% to 61 sen at the time of writing, and its market capitalisation stood at RM422.9 million.